This Was Muhammad Ali's Final Professional Fight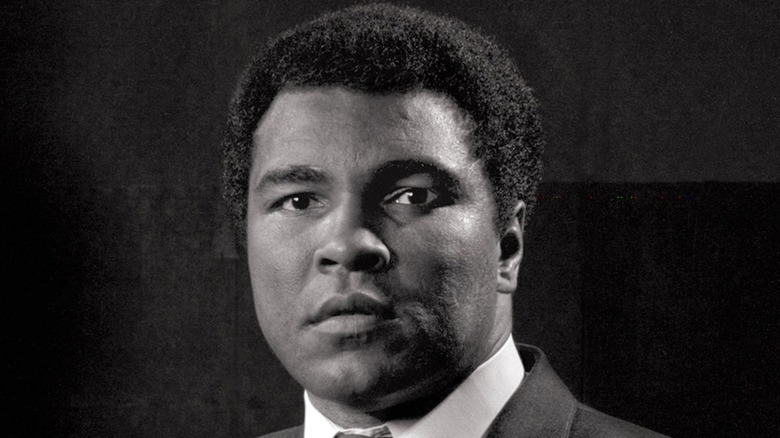 Mickey Adair/Getty Images
On September 9, 2021, the documentary "Blood Brothers: Malcolm X and Muhammad Ali" will be out on Netflix, and it promises viewers a closer look at the friendship between the two Black icons and how everything fell apart "under the weight of distrust and shifting ideals." As such, people are talking about Ali's tragic life story and how he was still in what should have been the prime of his life when he was diagnosed with Parkinson's disease in 1984. Still, that doesn't diminish the fact that he accomplished so much during his lifetime. Aside from his exploits as a boxer, Ali dabbled a bit in professional wrestling (though the less said about his match versus Antonio Inoki, the better) and tried his hand at a recording career, releasing one spoken-word album of smack talk back in 1963.
But really, when talking about Muhammad Ali, the first thing that comes to mind is pugilistic greatness. After mowing his way through a parade of journeyman opponents, he set his sights on the top heavyweights of his era, including, but not limited to Sonny Liston and Ernie Terrell, and it wasn't until 1971, during his first of three fights against Joe Frazier, that he finally tasted defeat (via BoxRec). Yet he still remained dominant in his 30s, and as far as that trilogy with Frazier goes? He won the next two fights convincingly.
Unfortunately, this is the point where we reveal that Ali's boxing career, sadly, ended with a whimper rather than a bang. Here's the story of his last professional fight and the events that led up to that bout.
Ali fought Trevor Berbick one year after a one-sided loss to Larry Holmes
He may have been on the wrong side of 30. He may have been far removed from the pugilist who had shuffled his way to greatness for much of the 1960s and 1970s. But Muhammad Ali still felt he had something left in the tank when, not long after announcing his retirement, he came back to fight World Boxing Council heavyweight titleholder Larry Holmes in hopes of becoming a four-time champion. That bout, which took place on October 2, 1980, was a one-sided disaster that ended in the 10th round after Ali's legendary trainer, Angelo Dundee, threw in the figurative towel (via The New York Times). 
Still, Ali refused to go quietly; on December 11, 1981, in Nassau, Bahamas, he hit the ring for what would be his last professional fight ever — a non-title bout against a young Jamaican boxer named Trevor Berbick. The then-27-year-old Berbick was no tomato can by any stretch of the imagination — according to his BoxRec page, he had a 19-2-1 record heading into the Ali fight, with one of his two losses coming against Holmes in a WBC heavyweight title bout. He was also a former Olympian who competed — but did not medal — in the 1976 Montreal Games.
Per Boxing News Online, Ali's former doctor Ferdie Pacheco felt the fight was not a good idea; at that point, Ali was seen as "punch-drunk" from the Holmes fight and, as a result, likely no match for a promising fighter 12 years his junior.
Ali fought well for a guy his age, but it wasn't good enough
Muhammad Ali's performance against Larry Holmes in their 1980 bout was so bad that fans had the arguable G.O.A.T. written off as someone who couldn't quit while he was ahead. But considering that lackluster showing, as well as the fact he was just weeks away from his 40th birthday, Ali performed creditably against Trevor Berbick in their fight, dubbed "Drama in Bahama." However, as Boxing News Online opined, it was still a "dreadful" showing compared to just about any other Ali fight aside from the Holmes debacle from a year prior. While he won a few of the bout's 10 rounds, he was simply outclassed by his younger opponent as he lost via unanimous decision, with two 99-94 scores and one 97-94 score favoring Berbick.
Speaking to reporters post-fight, Ali agreed with the judges' decision, though he quipped that if Berbick was 39 years old like he was, he would have lost the fight. "I found I couldn't tie him up and move the way I wanted to," he added. "It was a good fight but he was too young and too tough for me. He beat me on aggression." More tellingly, Ali admitted that he felt he was "finished" and that "Father Time [had] caught up" with him. And with that, he finally hung up his gloves, closing the book on an iconic 21-year pro boxing career.