The Surprisingly Young Age Serial Killer Craig Price Began His Life Of Crime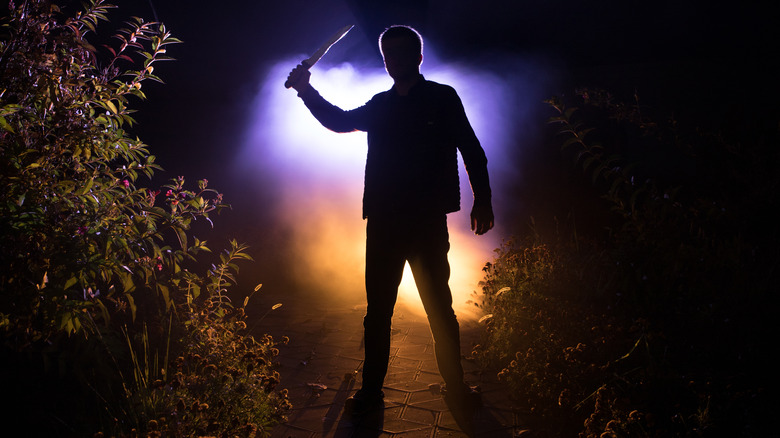 zef art/Shutterstock
In the early morning hours of July 27, 1987, Rebecca Spencer's brother returned home from working the night shift to find his sister stabbed to death. As reported by Sword and Scale, authorities determined someone broke into Spencer's home, grabbed a 10-inch knife from the kitchen, and stabbed the 27-year-old woman 58 times in the chest and head. Thankfully, her two children were not home when the crime occurred.
As authorities had little evidence and no suspects, Spencer's murder went unsolved for nearly two years. But on the evening of September 4, 1989, an intruder entered the home of 39-year-old Joan Heaton, who was one of Spencer's neighbors. Sword and Scale reports that Heaton was stabbed 11 times in the chest, face, and head. She had also suffered blunt force trauma in the attack. Heaton's daughters, 8-year-old Melissa and 10-year-old Jennifer, were also killed by the intruder. Authorities said Melissa was beaten and was ultimately stabbed seven times; Jennifer suffered blunt force trauma to the head and was stabbed a total of 62 times.
The intruder covered the Heatons' bodies with several rugs or blankets. However, they did very little to cover their tracks or cloak their identity — authorities found a number of bloody fingerprints at the scene along with several bandage wrappers. Officials immediately began searching for someone with fresh injuries on their hands. One week later, 15-year-old Craig Price was arrested and charged with murder.
Craig Price's life of crime began at a very young age
While in police custody, Craig Price confessed to killing Joan, Jennifer, and Melissa Heaton. As reported by Teen Killers, he also confessed to killing Rebecca Spencer — when he was only 13 years old.
On the surface, Price was an intelligent and soft-spoken boy who loved making people laugh. Podgist reports he was also a member of the local youth football team and had a lot of friends. However, he also had a dark side. At the age of 12, Price was arrested for breaking and entering. Although he was sentenced to six months of family counseling, he continued getting into trouble and started using drugs before he turned 13.
As reported by Teen Killers, Price said he was high on marijuana when he killed Spencer and high on LSD and marijuana when he killed the Heaton family. However, that does not explain why a young teen would commit such brutal crimes. Dr. Spencer DeVault conducted psychological and personality testing on Price in the months following his arrest. DeVault noted the teen was well-spoken and articulate, but he also noted Price did not display any empathy, regret, or remorse. DeVault said Price carried a lot of anger about "past degradations" and "past humiliations," and he was simply unable to overcome or suppress that anger. He also lacked the capacity to control his impulses in relation to that anger. 
Craig Price did not have any remorse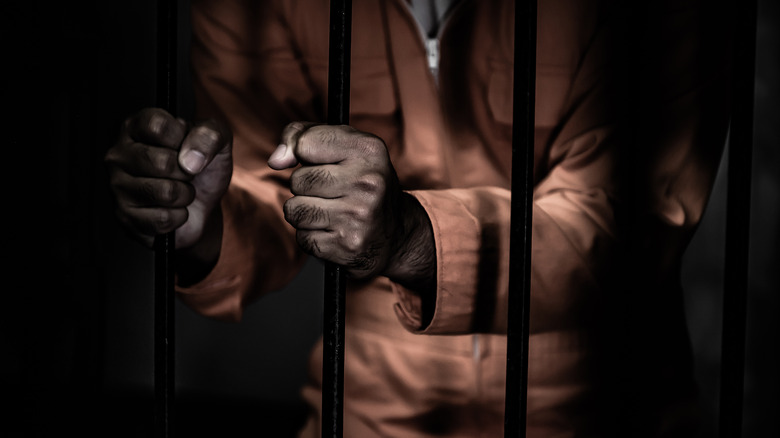 kittirat roekburi/Shutterstock
As reported by Sword and Scale, Craig Price said he targeted Rebecca Spencer and the Heaton family because they were racist. Price said he heard a man inside Spencer's house shouting racial slurs out the window in the weeks before he killed her. And in the weeks before he killed the Heaton family, he reportedly helped one of them with their bicycle chain, and he believed Joan Heaton had "an aura of racial bigotry."
Under Rhode Island law, Price was tried and sentenced as a juvenile. As release from a juvenile detention center was mandatory at the age of 21, the maximum sentence he could receive was five years in Juvenile Training School. However, he could not be released until he participated in a mental health assessment and treatment program. Although Price initially refused mental health treatment, he eventually consented. But he lied during his counseling, essentially negating the point of his treatment. The serial killer was subsequently charged with criminal contempt, found guilty, and sentenced to a minimum of 10 years in prison.
On April 4, 2017, Price entered the cell of fellow inmate Joshua Davis and proceeded to stab him repeatedly. As reported by Providence Journal, authorities believe he "intended to inflict mortal wounds." Although Davis survived the incident, Price was sentenced to 25 additional years in prison for attempted murder and 10 years probation for the possession of contraband.