The Sad Truth About Princess Helen From Serbia
When most of us picture life as a princess, we picture a fairytale. However, the story of Princess Helen of Serbia turned out to be more of a nightmare. She entered the world at a time of political upheaval in Serbia and lost her mother at a young age. Despite the early chaos, she spent lots of time with her mother's two sisters, Milica and Anastasia, and pursued an education, according to Factinate. Her aunts had a significant influence over her and encouraged her to become a strong woman who was devoted to her family above all else. This was a quality that she would need later on in life.
As a princess, one of Helen's obligations was to get married and make lots of royal babies to continue the family line. While Helen was not necessarily renowned for her beauty, she still managed to snag herself a prince. Per The Royal History of Women, Helen's other aunt, Elena, Queen of Italy, played matchmaker and set Helen up with Prince John Constantinovich of Russia. The two fell head over heels in love and married in 1911. The couple had two children that were born during World War I. In addition to her new husband, Helen's family had multiple ties to another famous Russian dynasty, the Romanovs. 
Constant political turmoil cost Princess Helen everything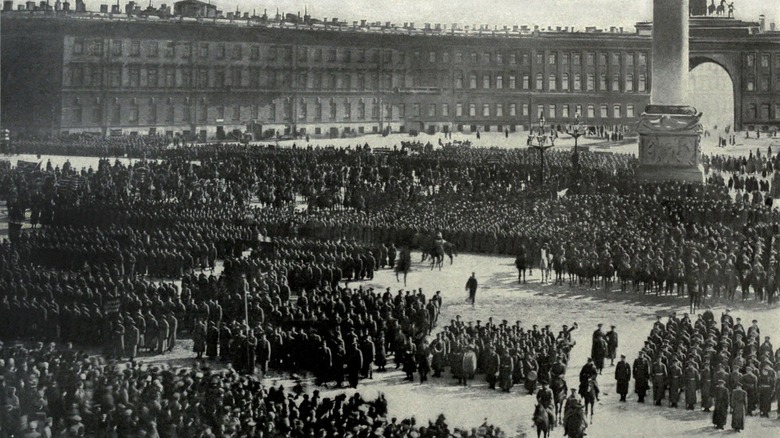 Everett Collection/Shutterstock
While her husband was at the front defending Russia, Helena worked as a nurse while raising their kids. Before the war was even over, the Russian Revolution broke out in 1917 when the Bolshevik party took over the capital of Petrograd, according to National Geographic. She and her family were soon deemed a threat by this new government, and that led to their downfall.
Helen fought valiantly to protect her family and friends from the new regime. She followed her husband into exile and left her kids with her mother-in-law in hopes of protecting them. Her husband eventually convinced her to go back to their children. This turned out to be a mistake and resulted in them all being kept apart when the government denied her access to her kids and barred her from going back to her husband. Helen did everything in her power to reunite with her loved ones but it was in vain. Factinate states that she was imprisoned while and her husband and his side of the family, along with her friends the Romanovs, were brutally executed by the government.
While she did lose her husband and friends, Helen was eventually released from prison and reunited with her children. She managed to raise them to adulthood and lived out the rest of her days in solitude while struggling to support herself. Helen, Princess of Serbia, died at the age of 77 and is buried in Nice, France.