How Ted Bundy's Ashes Have An Eerie Connection To His Victims
Ted Bundy confessed to killing more than 30 women in several states between 1974 and 1978, though according to People, it's believed he killed many more. Five of his victims were found on Taylor Mountain in Washington state. That particular dumping ground was one that Bundy later told investigators he would return to in order to further copulate with their corpses. According to Murderpedia, sometimes he would just lay with them. Other times he put makeup on them. 
At least seven of Bundy's victims were plucked from the state of Washington, The Seattle Times reported, though Murderpedia lists nine victims from that state — one an unknown hitchhiker whom Bundy said he killed in 1973 and whose remains were never found. 
Bundy became a prolific killer in Washington, but his murderous career ended in Florida where he was convicted of killing two sorority sisters at Florida State University in 1979, then convicted again in 1980 of the murder of 12-year-old Kimberly Leach. Bundy was sentenced to death for all three murders. 
It was shortly before his 1989 execution was set to take place that Bundy started talking to investigators about the full scope of the murders he had committed not only in Washington, but also Colorado, Utah, Oregon, and more, according to the South Florida Sun-Sentinel. 
Ted Bundy's ashes are scattered near where some of his victims were found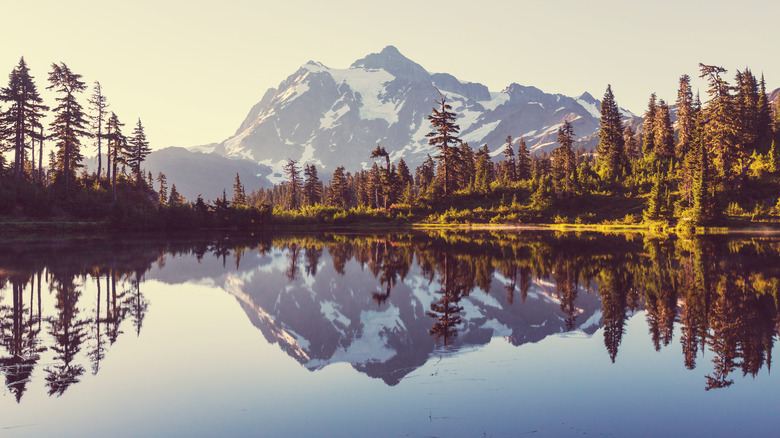 Galyna Andrushko/Shutterstock
But when it came to deciding what he wanted to happen to his own remains after he was put to death by the state of Florida, he wanted to go back to his roots — he asked that his ashes be scattered over the Cascade Mountains in Washington. However, Bundy didn't just kill in Washington. He also grew up there. Though he was born in Burlington, Vermont, as a child he eventually moved to Tacoma, Washington with his mother and step-father, according to Biography. 
Later he would go to the University of Washington where he met the woman who would eventually break his heart. So when Bundy asked that his ashes be scattered somewhere over the Cascade Mountain range in Washington, it's clear there were a lot of ties there for him — though it's also plausible that more of his victims' bodies than have been — or will ever be found — are somewhere in those mountains. 
According to Sarah Marshall, whose article "The Earthly Remains: Revisiting Ted Bundy" was published at The Order of the Good Death, "It is not so far-fetched to guess that there may be other, undiscovered bodies somewhere in the Washington Cascades — perhaps one, perhaps a dozen, perhaps all of them clustered in the undisclosed location where Bundy's ashes were laid to rest."