What You Didn't Know About Johnny Cash's Time As A Minister
George Wilkes Archive/Getty Images
Johnny Cash, also known as the Man in Black, was a charismatic country singer with popular hits such as "Folsom Prison Blues" and "Ring of Fire". Cash had a successful career and was a hardworking musician, and he was often on the road traveling to different locations to perform. It was during his tiring travels when he started the habit of taking amphetamines to help with his fatigue. Cash became heavily dependent on drugs and was popping as much as 100 pills a day, per The Daily Mail.
While Cash's career was taking off, his personal life was getting more troublesome. He continued taking drugs and battling his personal demons. As a result, his wife Vivan Liberto filed for divorce. Cash entered a romantic relationship with one of Elvis Presley's backup singers, June Carter, and the two wed two years after Cash's divorce. Carter was supportive of Cash and tried her best to care for him and keep him on the straight and narrow. However, his drug addiction was hard to beat. In the late 1970s, Cash realized that his life was getting out of control and that was when he decided to return back to his Christian roots.
Johnny Cash goes back to his faith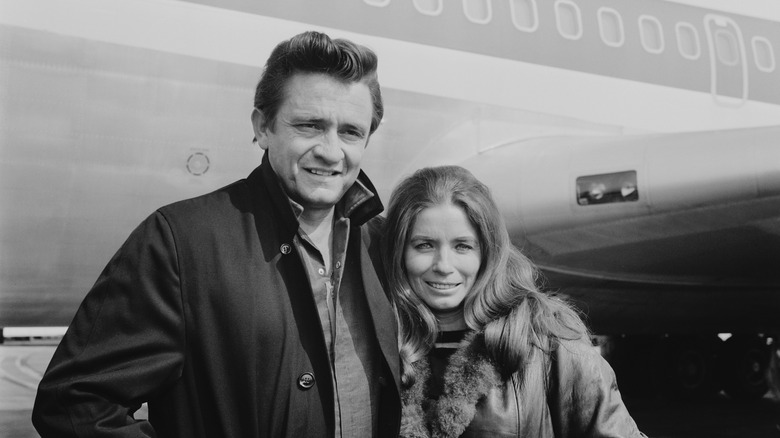 George Stroud/Getty Images
Johnny Cash was born and raised in a Christian household, and June Carter was a devout Christian as well. Together, per Mental Floss, the couple went to Bible study classes to restore Cash's faith and to help him get through his drug addiction. "I've lived my life for the devil up until now and from here on, I'm going to live it for the Lord," he said (via the Daily Mail). In the late 1970s, Cash studied for a couple of years and gained a degree in theology. He then became an ordained minister in the early 1980s, but he wanted to keep that fact out of public knowledge. At that time, Cash developed a relationship with evangelist Reverend Billy Graham, who became a close friend of Cash and Carter.
Cash started spending his time ministering to those dealing with drug and alcohol abuse. He figured it was his purpose to talk to them as he had the same experiences. "I love drug addicts. And I love alcoholics. When Jesus said He was sent to heal the brokenhearted and preach deliverance to the captives, I believe these were some of the people he was talking about," he said (via BillyGraham.org).
Despite going back to his faith, Johnny Cash still struggled with his drug abuse and was never able to fully kick the bad habit. He died on September 12, 2003, due to diabetes complications.