What Happened To The Remnant Fellowship Church Cult After Gwen Shamblin Lara's Death?
"GOD IS IN CONTROL, and we will not stop moving forward with WHAT GOD WANTS with this church." That was the text from Elizabeth Shamblin Hannah, the daughter of Gwen Shamblin Lara, to friends after her mother's plane crashed. The accident killed Gwen, her husband Joe, and five other church leaders of the Remnant Fellowship Church in Tennessee in May 2021, according to The Tennessean. Elizabeth's husband, Brandon, also died in the crash
Joe was piloting the small 1982 Cessna even though his license had lapsed. But instead of despair over the loss of her mother and husband, Elizabeth focused on keeping the controversial church Gwen founded in 1999 afloat. 
Gwen, who was an experienced dietician, taught that people should "put food back in its place and turn to God as the one who can meet your emotional and spiritual needs," according to the Weigh Down website. In other words, food isn't love — God is. 
The Guardian reported that Gwen espoused that people should only eat when their stomach is growling, and they should "pray through cravings." Per The Tennessean, Gwen Shamblin Lara considered being overweight a "sign of greed and gluttony." According to the Weigh Down philosophy, which Gwen founded in 1986 prior to opening the church, "God is brokenhearted over the fact that so many of His children have learned to run to food instead of to Him for comfort, companionship, and acceptance." 
Gwen Shamblin Lara's kids are running the church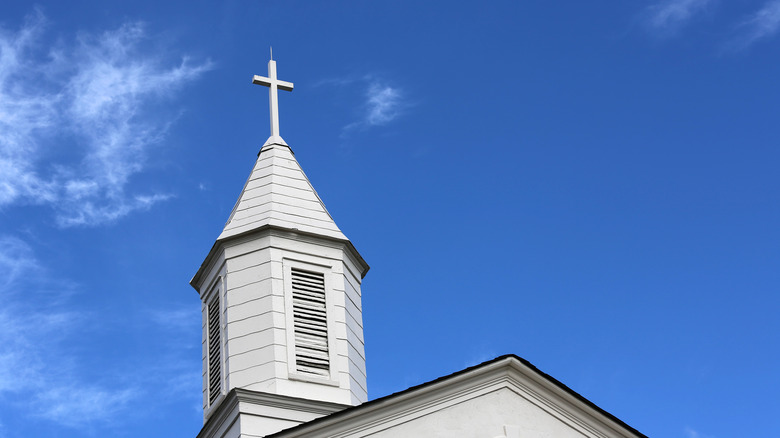 Steven Kyle Adair/Shutterstock
The philosophy struck a chord with people. The Remnant Fellowship had around 1,500 members in 150 worldwide congregations when Gwen Shamblin Lara died, according to the Tennessean. The Remnant Fellowship's website says the church has 120 leaders who serve as deacons, shepherds, ministry leaders, and ministry assistants. Photographs on the church's website and its Instagram page have copious images of slender people, often in coordinated clothing with plastered on smiles.
In the months since the plane crash, Gwen's adult children, Elizabeth Shamblin Hannah and Michael Shamblin, took over top leadership of her church. Elizabeth has a penchant for writing certain words in all caps. On her webpage, she shares how much she and her family "LOVE" God and "LOVE to get on their knees and pray every morning and night," writing the church is "a place where God would get to rule, Leaders are PURE, and where Husbands are kind like Christ, women are submissive, and children obey their parents and find HAPPINESS in doing so ... A place where we could lay down our addictions and worldly desires and be FREE to love only God."
Michael says on his webpage that he and his wife's "lives have changed dramatically because of the Weigh Down/Remnant teachings, including both of us having lost weight and laid down addictions to substances, etc., as well as numerous internal/heart changes." He invites people to "check it out" to be "amazed by what God has done!"