What You Didn't Know About Charles Lindbergh's Secret Families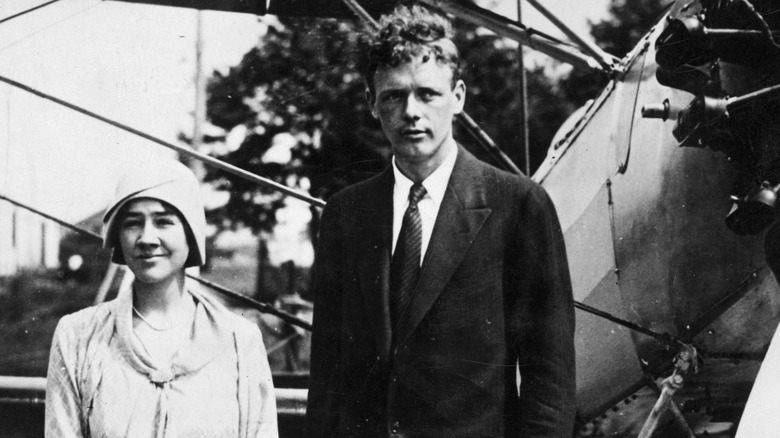 Hulton Archive/Getty Images
After only four dates, famed pilot Charles Lindbergh and Anne Morrow married on May 27, 1929 (via Princeton Magazine). It was quite literally a match made in heaven, as Morrow later learned to fly and frequently flew with her husband. According to The Irish Times, the couple later had six children together. At 20 months old, their first son, Charles A. Lindbergh Jr., was kidnapped from their New Jersey estate and murdered (per Biography). This created a media sensation that added to the grieving process of the already devastated Lindbergh's.
The power couple decided to leave the U.S. for good and moved to Europe in 1935. After being invited to Berlin to report on Germany's aviation industry, Lindbergh gained a complicated reputation as being a Nazi sympathizer. Per Ozy, this tarnished his reputation throughout the war, but not enough to stop President Dwight D. Eisenhower and Pan Am airlines from choosing Lindbergh as their international spokesperson of sorts in the 1950s.
Until recently, no one knew that from 1957 to 1974, Lindbergh led a double life. Spending much of his time overseas from Morrow and his children (due to his professional commitments), he was able to have multiple love affairs that resulted in seven secret children (via DW).
Charles Lindbergh had three German mistresses
Keystone/Getty Images
According to Ozy, it was on one of these overseas trips that 55-year-old Charles Lindbergh met 31-year-old Brigitte Hesshaimer. They proceeded to have an affair and had three children. At the same time, Lindbergh pursued Brigitte's sister, Marietta, and his secretary/translator Valeska, which produced two children each (via Minnesota Historical Society).
For years until his death in 1974, Lindbergh would visit each of his lovers and children a few times out of the year. They were told he was a famous American writer named Careu Kent, whose identity needed to be kept secret. Per DW, the children remember going to the park and eating pancakes with Lindbergh. But although they remember him fondly, they did not really know who he was. It was not until one of Brigitte's children found 150 letters and a picture of Lindbergh that they put all the pieces together.
In 2003, the three children of Lindbergh and Hesshaimer came forward in a press conference to announce that Lindbergh was their father (via The Daily Beast). As evidence, they provided the letters. A few months later, a DNA test proved that Lindbergh, the first man who famously flew across the Atlantic, was indeed their father.
After the revelation, the German Lindbergh's made no claim to their late father's estate, later saying they wanted the truth to be out for the future generations of their family. Per The Irish Times, shortly before his death, Lindbergh wrote to his mistresses that the children be a secret. All three of them kept their vow of silence, with only Hesshaimer's children coming clean after her death.