The Time Thieves Tried To Steal Sigmund Freud's Ashes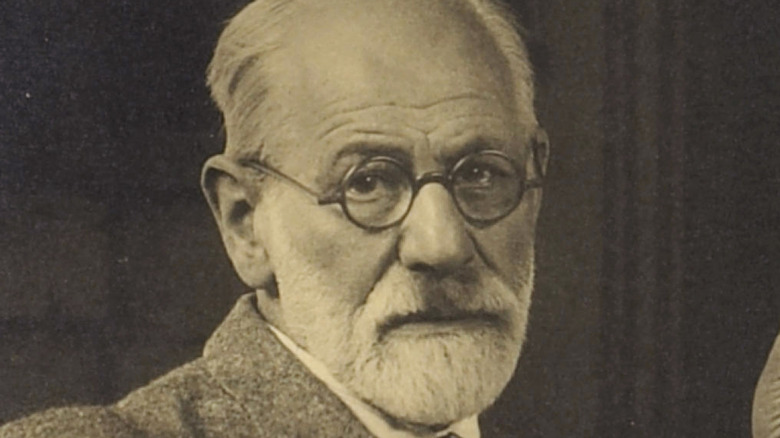 Heritage Images/Getty Images
London's Golders Green Crematorium holds the last remains of numerous European luminaries, among them the comedian Peter Sellers, "Dracula" author Bram Stoker, and singer Amy Winehouse, according to The Independent. It is also the resting place of the father of psychoanalysis, Sigmund Freud, whose ashes have been stored in a priceless 2,300-year-old Greek urn since his death in 1939, along with those of his wife, Martha. The area in which their remains are on display is now a popular tourist attraction and has come to be known as "Freud Corner."
Freud has remained a controversial figure since his death, with his writings on the human mind and the development of the "talking cure" — the precursor to therapy which has become a staple of mental health treatment in the 21st century — proving to be incredibly influential. Despite this influence, many modern psychologists have debunked many of his theories and methods, as Louis Menand has discussed in The New Yorker. But according to numerous sources, Freud's stature likely had little to do with an act of vandalism that desecrated his final resting place in 2014.
Burglars ruined Sigmund Freud's resting place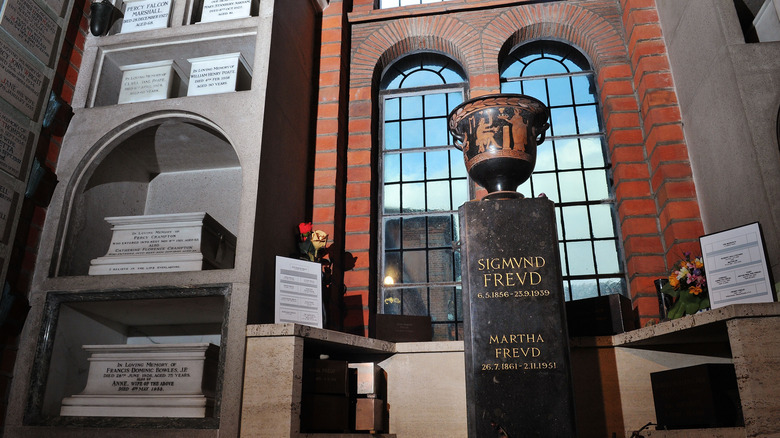 Jim Dyson/Getty Images
In the middle of January 2014, news broke that burglars had badly damaged the urn containing the remains of Sigmund and Martha Freud. Detective Constable Daniel Candler, who was investigating the crime, called the vandalism "a despicable act," according to The Guardian. Experts, however, don't believe that the thieves were targeting the ashes themselves, but rather that they were attempting to steal the ancient urn, which was gifted to Freud from the great-grandniece of Napoleon, Princess Marie Bonaparte, before he fled Nazi Germany for Britain, per the same source. "Even leaving aside the financial value of the irreplaceable urn, and the historical significance of to whom it related, the fact that someone set out to take an object knowing it contained the last remains of a person defies belief," Candler added.
Following the attempted theft, the urn was hidden in a secure location while it underwent restoration work. According to Victorian Web, the urn is now once again on display, albeit in a protective case.