William Shatner Confirms He's Visiting The Final Frontier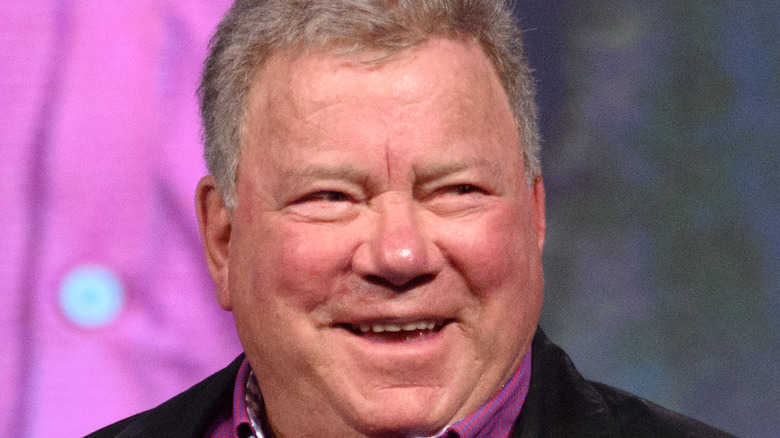 Daniel Boczarski/Getty Images
William Shatner really knows how to keep it interesting. At 90 years old, he will be the oldest human to boldly go where a handful of people have already gone — thanks to Jeff Bezos' Blue Origin space flights. Shatner will follow Bezos in the second of the company's space flights, slated to launch on October 12 out of Texas.
According to Blue Origin, three others will be joining Shatner on the flight, including Blue Origin's vice president of Mission and Flight Operations, Audrey Powers. The other two astronauts are former NASA engineer and co-founder of Planet Labs, Dr. Chris Boshuizen, and vice-chair of Life Sciences Healthcare and co-founder of Medidata, Glen de Vries, Blue Origin announced in a press release. 
Shatner, who stared as "Star Trek's" Captain James T. Kirk from the original series which began in 1966, per IMDb, became a cult classic icon after the show took on a life of its own thanks to its dedicated fan base, called "Trekkies." Shatner went on to star in several "Star Trek" movies spanning from 1979 to 1991, and has a seven-decade body of film and TV work totally unrelated to "Star Trek."
"I've heard about space for a long time now. I'm taking the opportunity to see it for myself. What a miracle," Shatner said, per Blue Origin's press release.
The oldest person to ever go to space
It's not yet clear if taking cool and interesting seniors to space is going to be a theme, but In Blue Origin's original space flight, they already broke the world record for sending the oldest person into space when 82-year-old female aviation pioneer Wally Funk made the flight. That initial flight broke three other world records, according to Blue Origin, which included the youngest person ever to go to space — an 18-year-old — the first siblings to go to space at the same time, Jeff Bezos and his brother, Mark Bezos, and being the first suborbital spacecraft to take "paying customers" to space and back.
Certainly this will set the record for an actor going to space who also happened to play the captain of the U.S.S. Enterprise, the flagship of the United Federation of Planets whose mission was literally "to explore strange, new worlds; to seek out new life and new civilizations; to boldly go where no man has gone before," as "Star Trek" explained at the beginning of each episode. True, Blue Origin's New Shepard NS-18 won't make it to other planets and is unlikely to find any new life in its 11-minute trip just past the internationally recognized boundary of space, called the Kármán line, but the fact that people can now pay to go to space is a reminder that "things are only impossible until they're not," as "Star Trek's" Captain Jean-Luc Picard would say, per Tech Republic.