This Is Where Jimi Hendrix Is Buried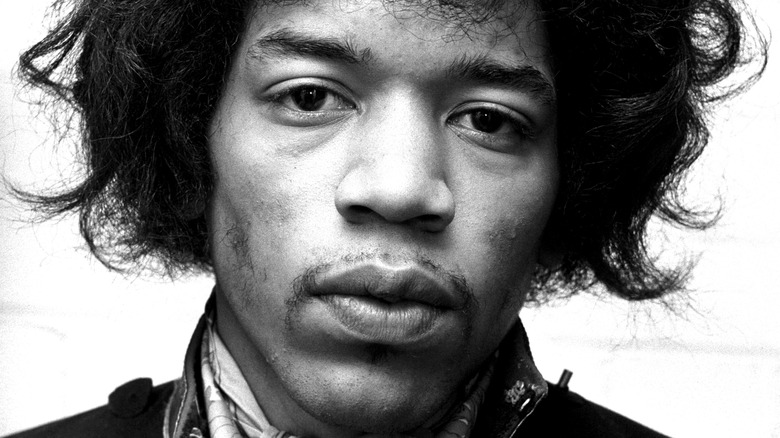 Photoshot/Getty Images
Rock legend Jimi Hendrix evolved the possibilities of the electric guitar and engineered new sounds no one had yet heard in the 1960s (via PBS). Born Johnny Allen Hendrix in Seattle, Washington (later renamed by his father to James Marshall), he was completely self-taught (per Jimi Hendrix). As a child, Hendrix would pretend a broom was a guitar. Eventually, his father, Al, bought him a real guitar. According to Biography, he continued his musical pursuits even when he joined the army in 1961.
After being honorably discharged a year later following an injury, Hendrix became a session musician. A chance meeting with Chas Chandler, the bassist for the English band "The Animals" led Hendrix to move to London and form his own band, "The Jimi Hendrix Experience." Their first single "Hey Joe" became an instant success. Hendrix's explosive guitar playing and stage presence captivated the audience.
His performances at the Monterey Pop Festival and Woodstock later cemented his status as a legendary icon. Although there is much speculation about the extent of Hendrix's drug use, a January 1970 Rolling Stone article stated that he used marijuana, hash, cocaine, and acid. Hendrix would be dead by September of that year.
Jimi Hendrix's remains were moved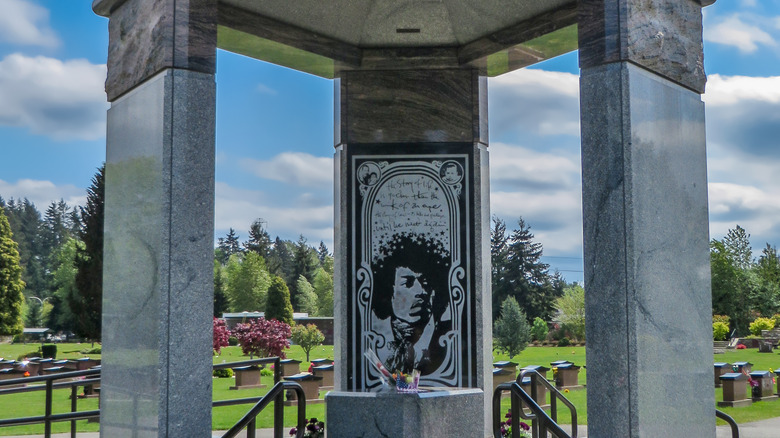 Nolleks86/Shutterstock
According to Rolling Stone, Jimi Hendrix was only 27 when he died in a London apartment. A coroner's inquest later found his death was the cause of a drug overdose; Hendrix had taken too many sleeping pills and suffocated on his own vomit. Some believe it was a suicide, others believe it was an accident. The truth, however, will forever remain disputed
Per Atlas Obscura, Hendrix is buried at the Greenwood Memorial Park & Funeral Home in Renton, Washington. His father, Al, buried him in a section set aside for family. Hendrix was given a simple grave and fans flocked to it year after year since his death in 1970. When Al was given the rights to his son's music in 1995, he began to plan the construction of a memorial that would honor Hendrix. In 2002, the monument was finally completed.
Another Rolling Stone article states that Hendrix's remains were moved shortly after and reburied at this new memorial that is located at the same cemetery. It features a marble structure and an etched portrait of Hendrix, as well as his original headstone that reads "forever in our hearts." According to Find a Grave, Hendrix's father, mother, stepmother, and grandmother are all buried at Greenwood as well.