How Vladimir Putin Really Feels About Religion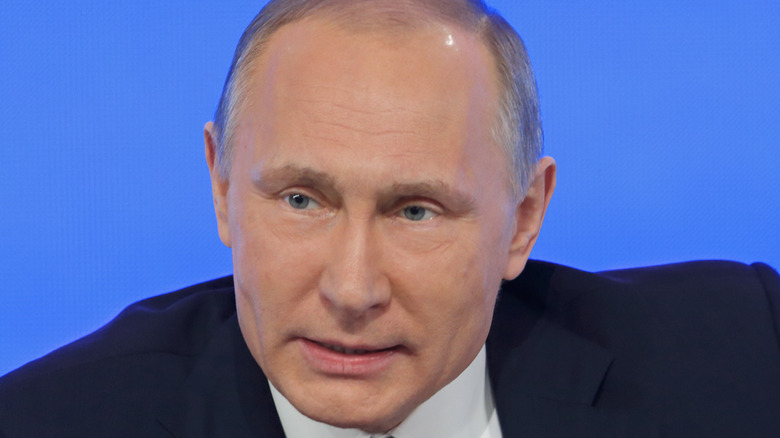 ID1974/Shutterstock
Russian President Vladimir Putin is one of those looming characters who embodies a certain mystery and power that warrants a little side-eye. Like, we can't exactly prove it, but we think he's not above poisoning people or meddling in other nations' elections. 
Putin plays the long game. He's on his fourth term of presidency in Russia, per History, which was punctuated by a stint as prime minister. Before that, he was a member of the KGB — the now-dissolved Russian Intelligence agency that was also considered the "secret police" according to History. Because of his life's work in high and secretive places, it's probably safe to say the dude knows things — inside things. And word on the street is that he's not above being involved in shady plots as a means to his ends. 
But, he does have Jesus. According to Biography, Putin is an Orthodox Christian who goes to church on the high holidays and is a cheerleader for restoring and constructing thousands of Russian churches, which came under attack in the early 20th century when Russia was transformed from a God-fearing nation of Christians into the atheist Soviet Union — at least on paper. More recently though, per Religion and Politics, a religious revival is underway in Russia, which is encouraged by Putin. 
Putin once said he doesn't think people can have morals without religion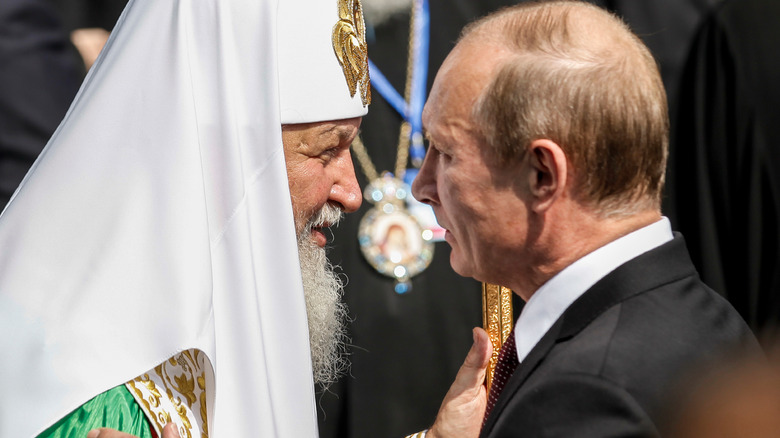 paparazzza/Shutterstock
Vladimir Putin was raised by a Christian Orthodox mother and an atheist father, according to Religion Facts, but like many boys, he never outgrew wanting to please his mama. He told a Russian journalist in 2000, "In 1993, when I worked on the Leningrad City Council, I went to Israel as part of an official delegation. Mama gave me my baptismal cross to get it blessed at the Lord's Tomb. I did as she said and then put the cross around my neck. I have never taken it off since," Religion Facts reported. 
However, as far as religion and government are concerned, he told Time in 2007 that common sense should be the guiding principle of governing, but he thinks that morality is also important saying, "it is not possible today to have morality separated from religious values," per Religion Facts. When it came to the question of whether he believed in a "Supreme God," Putin got cagey in the Time interview, saying "There are things I believe, which should not in my position, at least, be shared with the public at large for everybody's consumption because that would look like self-advertising or a political striptease."
And as vague as Putin is on his personal beliefs, Russia also has its own spin regarding which religions are acceptable. Per The Washington Post, Buddhism, Judaism, and Islam are all cool with the Kremlin, and so is Christianity of course, but not all Christian denominations are OK, it turns out.
Jehovah's Witnesses are considered an extremist organization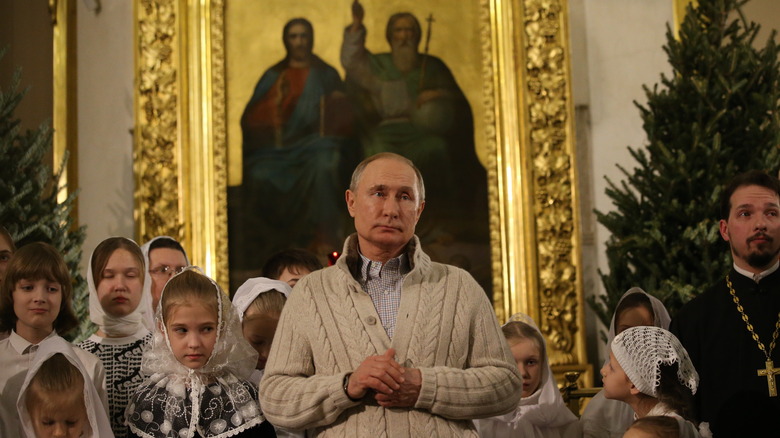 Mikhail Svetlov/Getty Images
According to The Washington Post, Jehovah's Witnesses were declared an extremist organization by the Russian courts in 2017. Though Putin has said he wasn't clear on why that particular denomination was singled out since they are Christian, and said the situation "should be looked into," The Washington Post reported that it has not been looked into, and in actuality being a Jehovah's Witness in Russia can land in you in prison.
Per Religion Facts, Putin signed an "anti-extremism" law in 2016 that aimed to limit the sharing of religious beliefs to state-registered places of worship only." Some religions are not sanctioned by Russia. Besides Jehovah's Witnesses, Christian Protestants and Hare Krishnas do not meet the standards for state registration. 
So maybe it's fair to say that even though Putin is far more accepting of religion than some of his predecessors, he is not a proponent of full freedom of religion. While Russia's constitution declared in 1993 that "Everyone shall be guaranteed the freedom of conscience, the freedom of religion, including the right to profess individually or together with other any religion or to profess no religion at all, to freely choose, possess and disseminate religious and other views and act according to them," we all know who's really calling the shots.