The Truth About The Nun Who Joined The FBI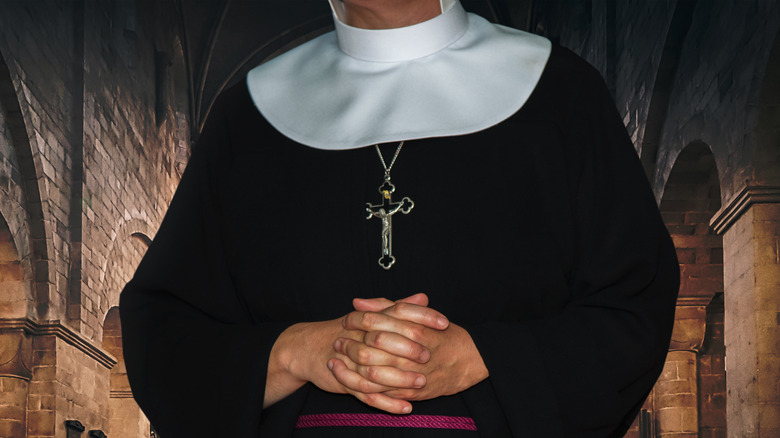 WDnet Creation/Shutterstock
In 1960, Joanne Pierce joined the Sisters of Mercy convent and began teaching history in Catholic schools around Niagara Falls, New York (via Mental Floss). According to The Buffalo News, Pierce had been a nun for 12 years when she started to have a change of heart. Born in 1941, she had lived and gone to school in the area most of her life and was fully dedicated to her vocation as a nun. But as she turned 30, Pierce realized she wanted to get married and have children.
As she was contemplating leaving the convent, an FBI agent showed up for career day at the school where she was teaching. Then-Sister Joanne liked what she heard and asked the agent if they were hiring. They were, but only for clerical positions. Per Intelligence, the FBI Director at the time, J. Edgar Hoover prohibited women from being special agents. Nonetheless, Pierce was hired as a researcher in 1970, and her days as a nun were subsequently over.
When Hoover died in 1972, Pierce was told she could apply to become an agent. Although her supervisor warned that the job was intense, she was up for a challenge, and she and another woman, Susan Roley Malone, joined 43 men for training in the FBI academy near Quantico, Virginia.
She was one of the first female agents in FBI history
Per Mental Floss, the training was grueling; she later said the hardest part was the physical aspect of it (via the FBI). After 14 weeks, she passed and was assigned to a branch in St Louis, Missouri. Shortly after, the newly-minted agent became a part of the action. She was deployed to Wounded Knee, South Dakota, where a demonstration turned into a fierce occupation. A sniper later fired gunshots at agents, including Pierce. Although unharmed, her new career was a far cry from her previously sheltered lifestyle as a nun. According to The Buffalo News, she married a fellow agent, Michael Misko. Joanne Misko later worked in Pittsburgh and Miami.
In 1994, she retired after 22 years, due to the lack of opportunity to further advance her career in the bureau. That same year, Joanne Misko sued the FBI for discrimination. Although she was treated fairly by her coworkers, she believes she was passed over on numerous jobs due to her gender. That case was later settled for an undisclosed amount in 1996. Despite being one out of two female agents who joined the FBI in 1972, she does not see herself as a pioneer. Regarding her career, Joanne Misko later said that it wasn't something she was planning to do or ever thought would happen.