Steven Seagal Worked With This Legendary Singer On His Debut Album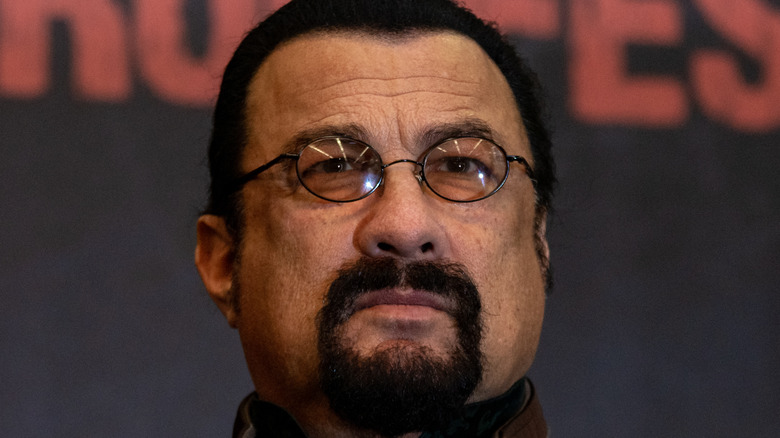 Markus Wissmann/Shutterstock
Actor and martial arts expert Steven Seagal is well known for his starring roles in campy '80s and '90s action movies like "Hard To Kill" and "Under Siege." Per Biography, Seagal was born in Lansing, Michigan in 1952 and began studying martial arts as a child. When he was 17, he went to Japan to teach English, study Zen, and further his studies of martial arts, earning black belts in aikido, karate, judo, and kendo. He returned to the United States after 15 years, opened a martial arts academy, and began working as a celebrity bodyguard. One of his clients, agent Michael Ovitz, helped him break into film and his debut, 1988's "Above The Law," was an enormous hit. Countless action movies followed with varying levels of critical and box office success, but Seagal remained in the public eye and like many other actors before and after him, decided to branch out from acting and introduce the world to his musical side.
Yes, it's not as iconic as his acting career, but Steven Seagal has made not one but two blues-rock albums, beginning with his 2004 debut "Songs From The Crystal Cave." According to AllMusic, the album features a variety of styles, including pop, rock, blues, "faux soul," and even Jamaican dancehall — and Seagal's Buddhist faith provides what the reviewer calls "optimistic overtones" throughout. Seagal sings and plays lead guitar on every song and even wrote a few of the tunes, including "My God" and "Route 23."
Steven Seagal called Stevie Wonder "a great friend and musician"
Featureflash Photo Agency/Shutterstock
Steven Seagal's 2004 debut album "Songs From The Crystal Cave" included several guest performers, per AllMusic, including dancehall icon Lady Saw and, incredibly, living legend and R&B superstar Stevie Wonder. Stevie Wonder has contributed harmonica solos to such pop hits as Chaka Khan's "I Feel For You" and Elton John's "I Guess That's Why They Call It The Blues" and his work can also be found on the Steven Seagal song "My God." In fact, according to the AllMusic review, Wonder's "killer" solo saves the Seagal-penned number with its "obvious to the point of overkill" lyrics. 
How did this seemingly unlikely collaboration come to be? In a 2007 interview with Seagal in the Eastern Daily Press, he called Stevie Wonder "an old friend of mine. A great friend and musician and he was kind enough to come and do it." Unfortunately, no further details about this fascinating friendship are readily available, and Wonder didn't appear on Seagal's follow-up album, 2006's "Mojo Priest." However, blues legends Bo Diddley and Ruth Brown cameoed on "Shake" and "Love Doctor," respectively, per AllMusic, which called the album "a kind of watered-down, nocturnal form of urban blues." Seagal told the Eastern Daily Press that he'd received his first guitar at the age of 12, which means his love of music dates back nearly as far as his love of the martial arts that made him famous and explained "The blues got into my blood, you know. I started to imitate them and tried to learn from them."