Here's Who Michael Jackson Didn't Include In His Will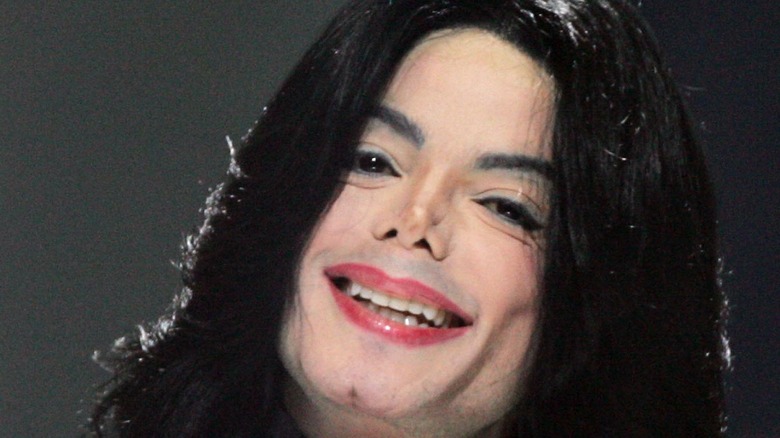 Dave Hogan/Getty Images
Pop music legend Michael Jackson died on June 25, 2009, in Los Angeles, California at just 50 years old. He was thought to have left behind an estate worth approximately $567 million (via ABC News). Much controversy swirled around the King of Pop in the final years of his life. Four years earlier, Jackson had been tried and acquitted on charges related to child molestation and other crimes, according to National Public Radio. His legal issues definitely must have drained some of his wealth, but he was also planning a musical featuring his hits at the time of his passing, which could have provided an influx of cash for the singer (via The Guardian).
Jackson started performing when he was only 5 years old, according to MTV. And during his lifetime, he sold more than 750 million records as a member of the Jackson 5 and as a solo artist. Jackson racked up 13 No. 1 hits and the 1982 album "Thriller" has been one of the top-selling records of all time. All of this success led Jackson to leave behind one tremendous estate. And who Jackson named in his will — and who he left out — provided some interesting insights on Jackson's relationship with his family.
Michael Jackson gave his money to his mom and his kids
Kathy Hutchins/Shutterstock
In his will, Jackson left his money to be held in the Michael Jackson Family Trust (via The New York Times). The beneficiaries of this trust were his mother, Katherine Jackson, and his three children, Prince Michael Jackson, Jr., Paris Michael Katherine Jackson, and Prince Michael Joseph Jackson II. Jackson intentionally left out his many siblings and his father Joe. He had revealed the abuse he suffered at the hands of his father in the 2003 documentary "Living With Michael Jackson" (via Entertainment Weekly). Jackson claimed that his father "would lose his temper" and hit him with "whatever was around." This abusive relationship may be the reason behind Jackson omitting his father from his will.
Jackson divided up his estate into three sections with his mother getting 40%, his children getting 40%, and 20% to be given to children's charities (via ABC News). Jackson made it very clear in his will that he "intentionally omitted" Debbie Rowe, his ex-wife and mother of two of his children. In fact, he gave custody of all his children to his mother. And he stipulated that if his mother couldn't be the children's guardian, singer Diana Ross would be the one to look after his kids.