Why Abraham Lincoln Nearly Dueled His Rival James Shields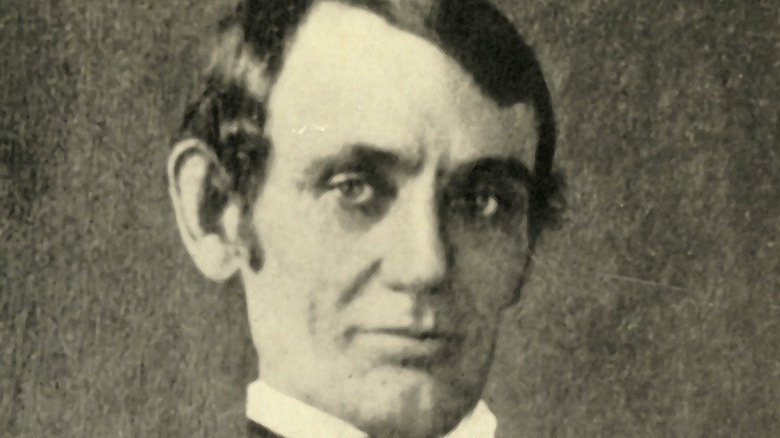 Print Collector/Getty Images
While many have defined Abraham Lincoln by his presidency during the U.S. Civil War, on a personal level he was much more than that. Lincoln was a family man that cared very much for the well-being of his wife and sons. While growing up, his older sister Sarah played a major role in his upbringing after their mother died. Lincoln cared very much for his sister, and when she died in childbirth, her husband and his perceived negligence earned the eternal hatred of Lincoln (via Mental Floss). 
Throughout his early life he was exceptionally athletic as well and was victorious over hundreds of challengers in wrestling matches that were still being referenced when he moved into politics (via All That's Interesting). These were often in good fun, but at times Lincoln found himself in very serious conflict with other individuals. On one occasion, Lincoln's proclivity for witty written insults led to him being challenged by the Illinois state auditor to a duel.
Swords would be safer than pistols in a duel
When auditor James Shields was the deciding voice in closing the bankrupt Illinois State Bank, Abraham Lincoln, then a novice lawyer, opted to make his displeasure heard. He used his connection to a local newspaper editor and a false name to not only publish scathing responses to Shields' actions, but to level eloquent insults against his character as well (via Battlefields). After sharing the letters with her, he even inspired Mary Todd to do the same under her own false name. Eventually Shields extracted Lincoln's identity from the paper, and when Lincoln critiqued his demand for a retraction, he challenged the future president to a duel.
Once the pair left for the duel-friendly state of Missouri, Lincoln set the terms of the duel as was his right as the one challenged (via HistoryNet). He made cavalry swords the weapons to be used instead of pistols, and a plank was to be placed between them that neither was allowed to cross. Under these conditions, Lincoln rationalized that he could possibly disarm Shields with his larger reach and keeping either of them from dying (via We Are The Mighty). When the day finally came, Lincoln's severing of a tree branch high above Shields' head convinced the latter that he had little chance and initiated a truce before the duel was truly underway. Interestingly, during the Civil War, Shields actually served as a general under his former enemy.