Richard Nixon's Hidden Talent May Surprise You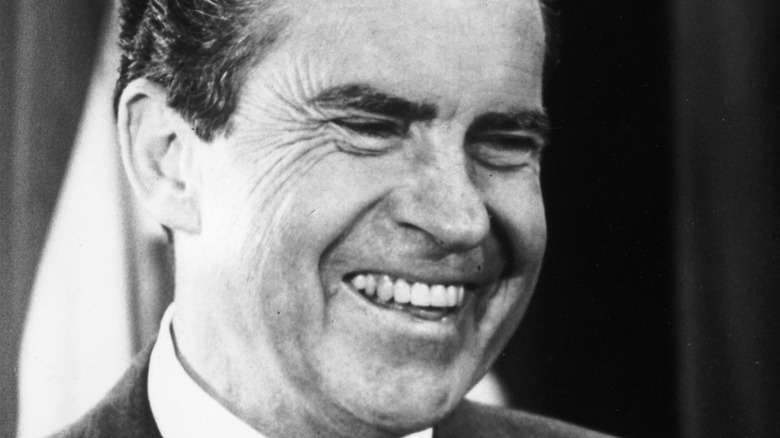 Consolidated News Pictures/Getty Images
President Richard Nixon is perhaps most remembered for the notorious Watergate scandal, which eventually brought down his entire administration. He publicly insisted he was not a crook when in fact he was very much a crook, although the pardon from his successor, Gerald Ford (who had served as Nixon's vice president), ensured he wouldn't be brought to trial. The other attributes and achievements of "Tricky Dick" are overshadowed by the events that led to him becoming the first (and thus far, only) president to resign in order to avoid impeachment. It therefore might come as a surprise that Nixon was one of the most musical presidents in the history of the United States. 
Per History, Nixon played five instruments: the saxophone, the clarinet, the accordion, the violin, and his favorite, the piano. He studied piano from a young age. In the seventh grade he lived with and took lessons from an aunt who had studied at the Indianapolis Conservatory of Music. It's actually possible that Nixon's musical talent is the reason he eventually made it all the way to the White House. In 1963, he appeared on "The Jack Paar Program" a year after losing the California gubernatorial election and three years after getting trounced by John F. Kennedy during the first televised presidential debates. On the Paar show, Nixon performed his own composition, accompanied by an orchestra (available on YouTube). He joked with Paar that if his loss in California hadn't ended his possible political future, this performance would do so. 
Richard Nixon appreciated both jazz and country music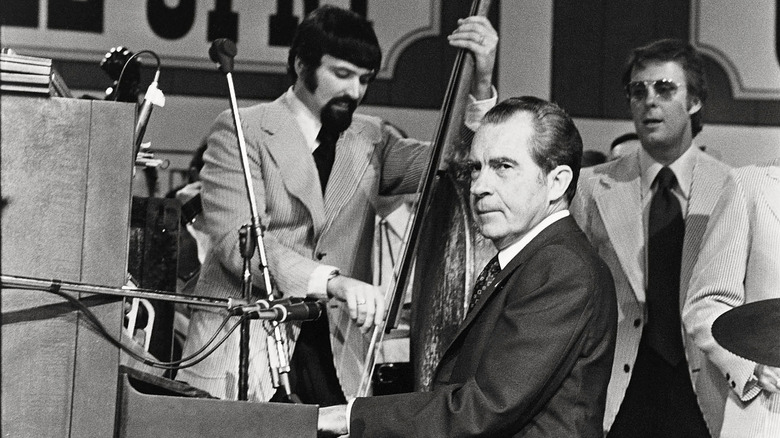 David Hume Kennerly/Getty Images
According to History, Nixon's performance on the Paar program actually improved his image with the American public. Five years later he was elected the 37th president of the United States. In 1969, Nixon hosted a 70th birthday party for Duke Ellington at the White House at which Nixon awarded the jazz legend the Presidential Medal of Freedom and played Ellington "Happy Birthday" on the piano. Ellington performed an original composition, "Pat," in honor of first lady Pat Nixon; it's all available on YouTube. Showing his appreciation for a range of musical genres, Nixon played at the March 16, 1974 opening and dedication of the second Grand Ole Opry country music venue in Nashville, Tennessee (also on YouTube); it happened to be his wife's birthday and he serenaded her with "Happy Birthday" and "My Wild Irish Rose" before leading the 4,000 people in the audience in a singalong of "God Bless America."
It was the second time that month that Nixon had performed those songs. On March 4, less than a week after a grand jury named him a co-conspirator in an attempt to cover up the Watergate robbery, he'd welcomed singer Pearl Bailey to the White House to entertain his guests, the National Governors' Association. Per Mental Floss, Bailey pulled Nixon up on stage to join her, where they traded jokes, including Bailey quipping, "You don't play as well as I sing. But I don't sing as well as you govern."