This Is The Only Song Led Zeppelin Recorded With A Guest Vocalist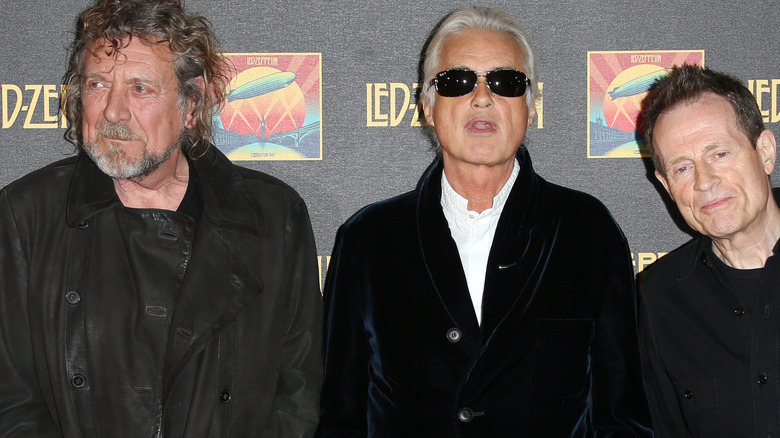 Featureflash Photo Agency/Shutterstock
Led Zeppelin is one of the most influential and iconic rock 'n' roll bands of all time and one of the key elements of their distinctive sound is the vocals of lead singer Robert Plant. Once called "the greatest rock singer of all time" by Far Out Magazine, Plant has few peers when it comes to range, delivery, and style. Throughout Led Zeppelin's run, Plant alone provided the vocals for every single song with one gigantic, notable exception. "The Battle of Evermore" is a song from the 1971 untitled album commonly known as "Led Zeppelin IV." Like several other Led Zeppelin songs, including "Stairway To Heaven" and "Misty Mountain Hop," the lyrics reference J.R.R. Tolkien's "The Lord of the Rings" with allusions to the Dark Lord, Ringwraiths, sword battles, runes, and a dragon. 
According to a 1993 interview in "Guitar World" magazine with producer Andy Johns, quoted in the 2016 book "No Quarter: The Three Lives of Jimmy Page," the song's origin seemed almost magical, coming together as the band sat around a fire drinking tea: "Jimmy [Page] picked up [bassist John Paul Jones'] mandolin and started playing. I put a microphone on him ... Robert started singing and we had this amazing track out of nothing." When it came time to record the song, Plant realized that the lyrics needed to be sung by two people; "No Quarter" quotes a 1972 interview in which he explained, "I realized I needed another completely different voice ... to give the song its full impact."
Sandy Denny was Led Zeppelin's only guest vocalist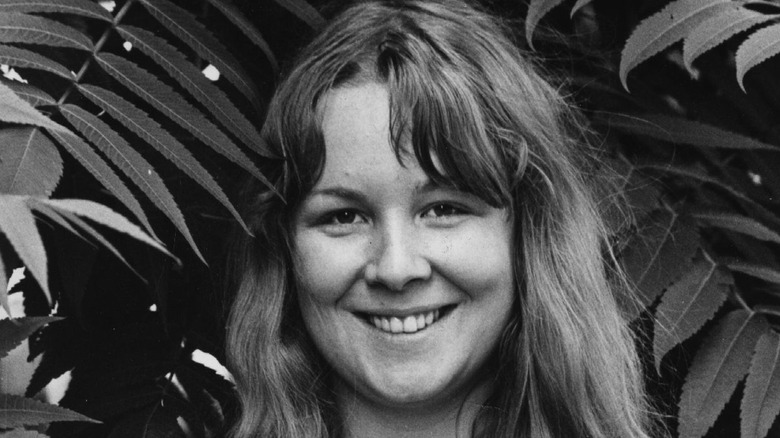 Steve Wood/Getty Images
Led Zeppelin called in British folk songwriter and singer Sandy Denny to sing with Robert Plant on "The Battle of Evermore." Sandy Denny was the lead vocalist for the folk group Fairport Convention; she wrote her most famous song "Who Knows Where The Time Goes" when she was just 19 and it has been recorded by a slew of other singers, including Nina Simone and Judy Collins. NPR featured her as one of their 50 Great Voices and quoted Robert Plant as having called her his "favorite singer out of all the British girls that ever were." According to "No Quarter: The Three Lives of Jimmy Page," guitarist Page and Denny had met in the mid-1960s while Denny was attending Kingston Art College and Page was a huge fan of the iconic Fairport Convention album "Liege and Leaf." When they asked Denny to sing on "The Battle of Evermore," she had left Fairport Convention and just folded her second band, Fotheringay, to focus on a solo career. 
Denny's role in the song has been described as that of "a town crier urging people to throw down their weapons" and her "nightingale-like voice" provided a contrast the song's subject matter of violence and battle. American Songwriter notes that Denny's contribution to the song "balances the masculine warrior Plant" and that her presence on the record literally and figuratively broke into Led Zeppelin's tight-knit "division of four" set up. For their fourth album, Plant, Page, Jones, and drummer John Bonham all created or selected symbols to use instead of their names; Per Extrachill, Denny selected her own symbol, a rune featuring three triangles, to represent her place on the album.