The Sad Death Of J. Edgar Hoover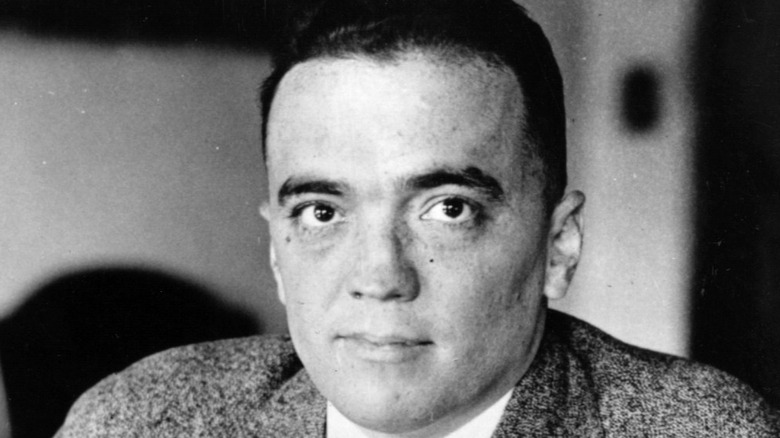 Topical Press Agency/Getty Images
J. Edgar Hoover headed up the Federal Bureau of Investigations for 48 years, but he spent his final years under intense scrutiny for the way he ran the agency. He had overseen the FBI through many eras of American history, including the Cold War and the civil rights movement. During that time, he became known for his intensive surveillance of numerous political activists and even some celebrities.
Hoover used the investigative powers of his agency to develop his own set of secret files, which he wasn't above using against someone to get his way. According to The Washington Post, Hoover had files on 432,000 people. He had information gathered on a veritable who's who of American culture, from civil rights leader Martin Luther King Jr. to actress Marilyn Monroe. Hoover was even able to keep tabs on the presidents he worked under, from Franklin D. Roosevelt to Richard Nixon. He made himself practically bulletproof against any attempt to remove him from his post with all the personal tidbits he knew about those in power.
J. Edgar Hoover's career began to unravel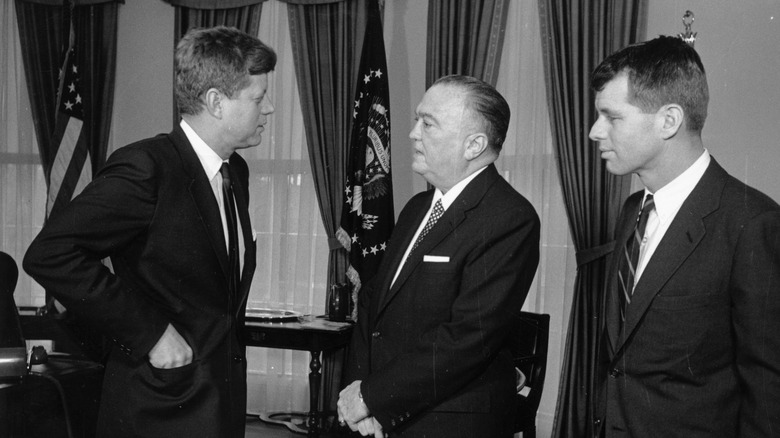 Keystone/Getty Images
Early in his career, Hoover was seen as America's top lawman, taking down the country's most notorious criminals. He then became known for his fight against communism, and he seemed to think nearly everyone was associated with it. Hoover even thought that the civil rights movement was somehow related to communism (via History). Still Hoover remained popular with many Americans, even in the 1960s. President John F. Kennedy considered letting Hoover go, but he then decided that he couldn't fire him (via The Washington Post). It's unclear if Kennedy worried about a public backlash or Hoover knew too many of his secrets.
In 1965, Hoover was required to retire when he turned 70 years old, but President Lyndon B. Johnson set the rule aside for him. Around this time, Hoover publicly clashed with civil rights leader Martin Luther King. Hoover soon found himself a subject of criticism for his allegedly unconstitutional and illegal methods of information gathering and other hardball tactics. Senator Harry Reid later said that "this small man violated the rights of hundreds, if not thousands, of people — famous and not so famous" (via the Los Angeles Times). The once shining star of the FBI lived to see his reputation start to crumble, spending his final years working under President Richard Nixon. Some White House staffers called for Hoover to be removed, but Nixon decided not to replace him because he was afraid that Hoover had damaging information on him. 
A nation says goodbye to J. Edgar Hoover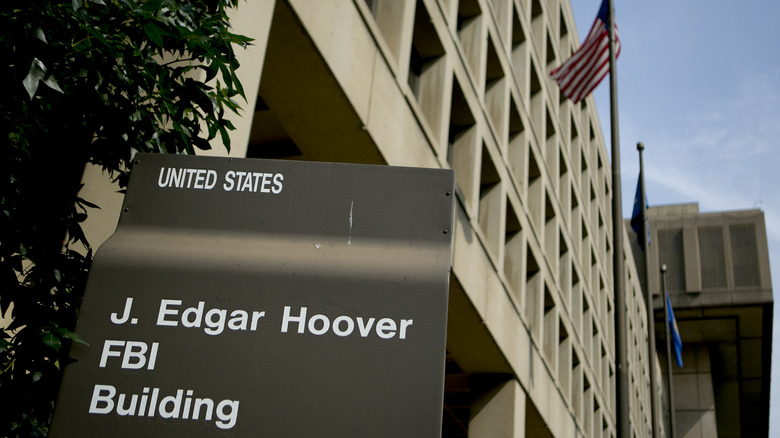 Bloomberg/Getty Images
J. Edgar Hoover died on May 2, 1972, in Washington, D.C. His housekeeper arrived at his home to find the legendary lawman's lifeless body by his bed, according to The New York Times. His cause of death was later revealed to be "hypertensive cardiovascular disease." Hoover had been struggling with heart issues for a while before his death. 
As soon as Nixon heard of Hoover's death, he ordered Hoover's secret files be taken from his office. But the Nixon staffers arrived too late, Hoover's secretary had already destroyed them, per Hoover's instructions (via History). Despite any concerns about his heavy-handed tactics, Hoover was honored for his service to his country by being given a hero's sendoff. Congress approved a plan for Hoover's body to lie in the Capitol Rotunda, an honor usually only reserved for presidents and former presidents. President Nixon gave the eulogy at Hoover's funeral, which was held at the National Presbyterian Church.  
Not long after his death, more information about Hoover's abuse of power started to emerge. The Watergate scandal soon broke, and in the process, it was revealed that the FBI had acted illegally by preventing any investigation into President Nixon. News of this and other FBI activities led Congress to investigate the bureau itself. One of the most dramatic changes that came from the investigation was setting a 10-year limit on how long someone could serve as the director of the FBI.