Is Mindhunter Based On True Events?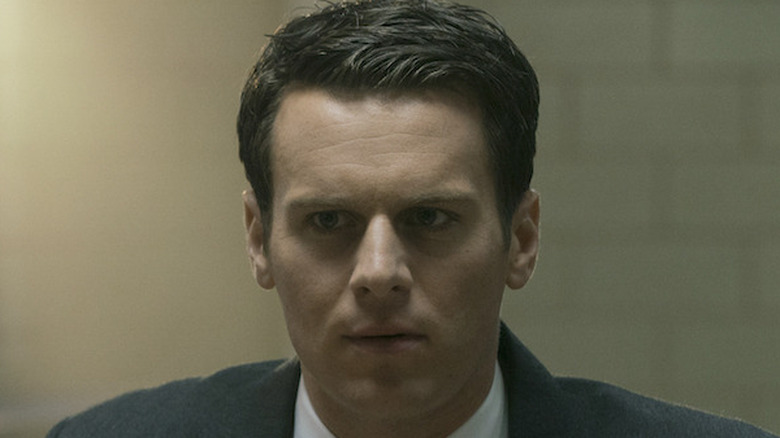 Netflix
As of now, we still don't know if Season 3 of the Netflix series "Mindhunter" will ever become a reality. At the rate things are going, viewers shouldn't get their hopes up. In October 2020, co-executive producer David Fincher revealed to Vulture that the psychological crime drama was "probably" done, given how working on the show had been stressful for him and how its viewership numbers didn't quite justify its big budget. Then again, fans can at least take solace that for two seasons, "Mindhunter" offered a gripping change of pace and scenery for those who felt inundated by the plethora of teen-oriented content Netflix has seemingly focused on in recent years.
In case you haven't watched the show or need a quick backgrounder on it, "Mindhunter" follows the exploits of Holden Ford (Jonathan Groff), a young, idealistic FBI agent who, in the late '70s and early '80s, works for the agency's Behavioral Science Unit alongside veteran agent Bill Tench (Holt McCallany) and psychologist Wendy Carr (Anna Torv). As he gets to interact with some of America's worst serial killers, Ford encounters multiple challenges, including his battle with panic disorder, as well as a curmudgeonly boss (Robert Shepard, played by Cotter Smith) who has nothing but contempt for Ford and skepticism regarding the Behavioral Science Unit from the word "go." All in all, it's a pretty intense ride, as one can expect from a David Fincher project, but how much of "Mindhunter" is based on real-life events and people?
The main characters are based on real people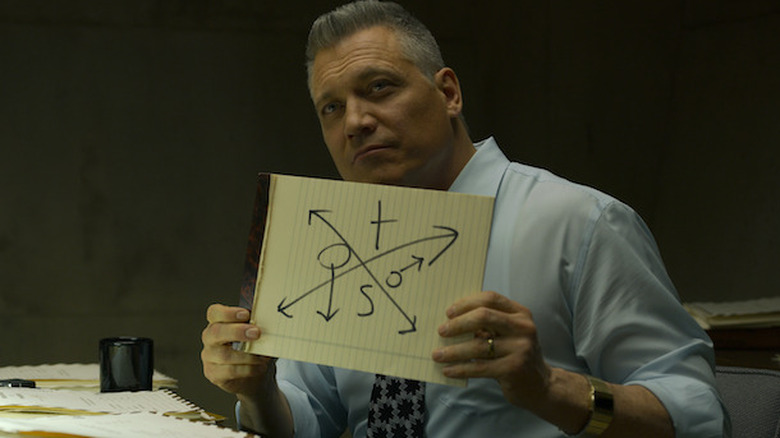 Netflix
First off, "Mindhunter" is based on the New York Times bestselling book "Mindhunter: Inside the FBI's Elite Serial Crime Unit" by John E. Douglas and co-author Mark Olshaker. Douglas, as noted by Cosmopolitan, served as the inspiration for the Holden Ford character, and just like his fictional equivalent, he worked as a hostage negotiator for the FBI — among other roles — before he started the agency's Behavioral Science Unit, or BSU. Part of his role as one of the FBI's very first criminal profilers was to see what made serial killers tick, with the hope that such knowledge could be used in solving deadly crimes going forward.
The other main characters are also based on real people; Bill Tench (pictured above) was inspired by FBI agent Robert Ressler, whose name should also be familiar to true-crime aficionados — he was, after all, credited for popularizing the term "serial killer." According to Psychology Today, Ressler and Douglas, along with other BSU agents, interviewed 36 serial killers between 1976 and 1979, though we shall get that particular aspect of "Mindhunter" in a little bit.
Wendy Carr also has a real-life equivalent in Boston College professor Dr. Ann Wolbert Burgess, who did work closely with Douglas and Ressler. However, "Mindhunter" made Carr rather distinct from the person who inspired her, particularly in terms of the character's sexuality. Similarly, Ford's Season 1 girlfriend Debbie Mitford (Hannah Gross) was a character specifically created for the series; per the Philadelphia Inquirer, Douglas was actually a married dad during the time period covered by "Mindhunter." And speaking of kids, there's no evidence that Ressler's son Aaron was anywhere as creepy as Tench's little boy Brian, as pointed out by Vulture.
Several real-life serial killers were portrayed on Mindhunter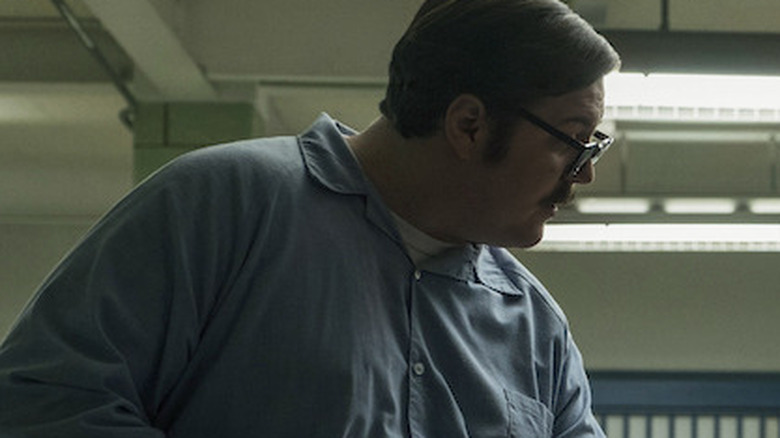 Netflix
Per Cosmopolitan, Season 1 alone of "Mindhunter" featured several serial killers and mass murderers, including Ed Kemper (played by Cameron Britton, pictured above), Jerry Brudos, Richard Speck, and Montie Rissell, all of whom were interviewed by John E. Douglas in real life. And while suspected pedophile Roger Wade, a school principal who appears in the eighth episode of Season 1, was a character mainly created for the show, Jonathan Groff told IndieWire that Wade was inspired by an actual Texas schoolteacher whose case Douglas was personally interested in.
Season 2 offers more of the same as it primarily focuses on the Atlanta Child Murders, where Wayne Williams was suspected of killing anywhere between 20 and 30 young boys and girls between 1979 and 1981. Other 1970s serial killers, including David "Son of Sam" Berkowitz and Elmer Wayne Henley, were likewise portrayed on the show's 2nd season, as was Charles Manson, whose actor, Damon Herriman, also played the mass murderer in Quentin Tarantino's 2019 film "Once Upon a Time... in Hollywood," per Vulture.
Then you've got Dennis "BTK" Rader, who appears at various points of Seasons 1 and 2 of "Mindhunter." Given that the real BTK was only captured in 2005, some 25 years after the events of the show's second season, it's possible that he was meant to be the series' equivalent of a final boss. Due to all the uncertainty regarding the series' future, we doubt we'll ever see Rader's arrest play out on "Mindhunter," but for what it's worth, Tench is shown in Season 2, Episode 2 interviewing Kevin Bright, whose sister, Kathryn, was one of Rader's first victims.