What Happened To Olof Palme's Wife?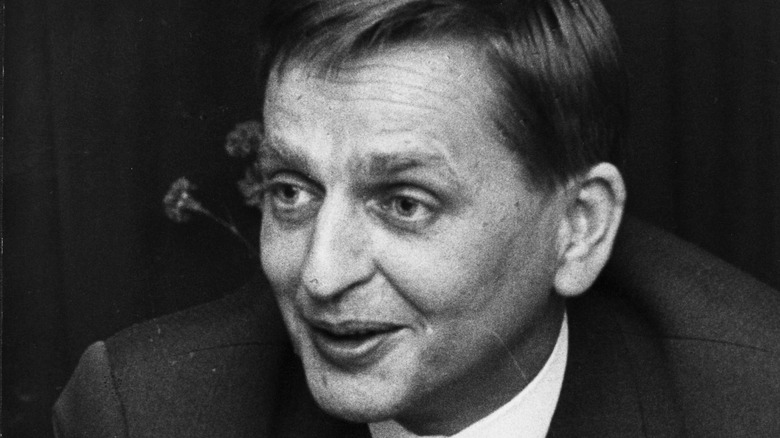 Keystone/Getty Images
It should come as no surprise that politicians, heads of state in particular, almost always travel with a full security detail. Further, they make sure to limit their activities in public in order to avoid exposure to people who may be inclined to carry out acts of violence against them. After all, as decision-makers and public figures, politicians are often the targets of deranged people who want to settle their differences through murder.
However, back in the middle 1980s, political violence was a non-issue in Sweden, and then-Prime Minister Olof Palme (above) went about his life with little to no attention being paid to possible attempts on his life. On February 28, 1986, Palme and his wife, son, and his son's girlfriend went to the movies, without their security detail, according to BBC News, and an assassin took advantage of this lapse in judgment to fire multiple shots into the politician's back, killing him at the scene. Though they were feet away, Palme's companions were uninjured. Meanwhile, the assailant escaped into the night. The man believed to be responsible for the assassination would die before he was brought to justice.
Lisbeth Palme lived well into her 80s
Olof Palme's widow, Lisbeth Palme (born Anna Lisbeth Christina Beck-Friis) was born into an aristocratic Swedish family, according to the Swedish Women's Biographical Dictionary. By the time she was an adult and married to her country's prime minister, she'd studied as a child psychologist and had worked as an advocate for children.
On the night her husband was murdered, police arrived on the scene of the crime, and were initially unsure of who the victim was, according to The New York Times. Lisbeth reportedly shouted, "Don't you see who it is? They've shot my Olof!"
In addition to seeing her husband murdered, Lisbeth also was forced to deal with intrusive questions from the press for years after the incident. However, she eventually went back to work advocating for the rights of children, via UNICEF and the United Nations. Later in her career she served on a panel that pointed out the failures of the international community to stop the genocide in Rwanda in 1994. She died on October 18, 2018, at the age of 87. She was buried beside her husband in a Stockholm cemetery.
"The Unlikely Murderer," telling the story of the Palme killing, premieres November 5 on Netflix. The trailer is posted on YouTube.