Princes William And Harry Say This Interview Led To Princess Diana's Divorce And Death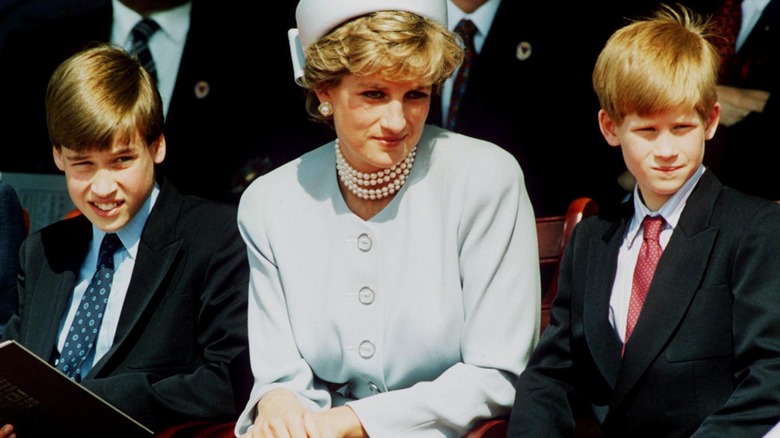 Anwar Hussein/Getty Images
Last year the British Broadcasting Company, better known simply as the BBC, launched an investigation into journalist Martin Bashir's decades-old interview with Princess Diana (via The Guardian). In 1995, Bashir secured a televised meeting with the princess for the network. But the means by which he was able to get her to sit down was apparently based on deceptive information. Bashir had faked documents and used them to earn the trust of her brother, Earl Spencer, and it subsequently helped convince Princess Diana to agree to the interview for Bashir's show "Panorama."
In her talk with Bashir, it was the first time the public learned intricate details of Princess Diana's marriage to Prince Charles. She discussed their separate affairs, along with what life was like as a royal in her own words. There had been a lot of previous and unconfirmed speculation about the couple's marriage, but when she finally spoke her truth, the perception would vastly change. The result was a bombshell interview that proved to be one of the most controversial in modern British history (via Vanity Fair). It would also help propel a triumphant career for Bashir, despite an inquiry in 1996 that developed nothing. That same year the royals divorced, and a year after that, Diana tragically died. 
Everything seemingly turned for the worse after that interview, and it is something that her sons believe led to their mother's divorce and death.
The cause and effect of Princess Diana's infamous interview
This past spring, the BBC released a report apologizing to Princes William and Harry, as well as their father, Prince Charles, and Diana's brother Earl (per the BBC). Their findings exposed what they likely knew decades ago: that Bashir faked information to get the interview, and the BBC knew all along but brushed it off to get Princess Diana's exclusive.
In response to the investigation, her sons released statements criticizing the media company for playing on Princess Diana's fears, and the broadcaster's overall lack of ethical oversight. Prince William stated that after the show aired, things back at home never got better. "The interview was a major contribution to making my parents' relationship worse and has since hurt countless others ... it brings indescribable sadness to know that the BBC's failures contributed significantly to her fear, paranoia and isolation that I remember from those final years with her," said Prince William (via NPR).
His younger brother echoed his words, and in a statement said the infamous interview was just the start of the princess's downward spiral that led to her death. "The ripple effect of a culture of exploitation and unethical practices ultimately took her life," said Prince Harry (via CNBC).
Bashir left the BBC in May 2021 (via The New York Times), and as of last month, no charges were brought against him for the findings of the investigation, nor are they being considered (via BBC).