Tragic Music Festival Disasters That Are Absolutely Heartbreaking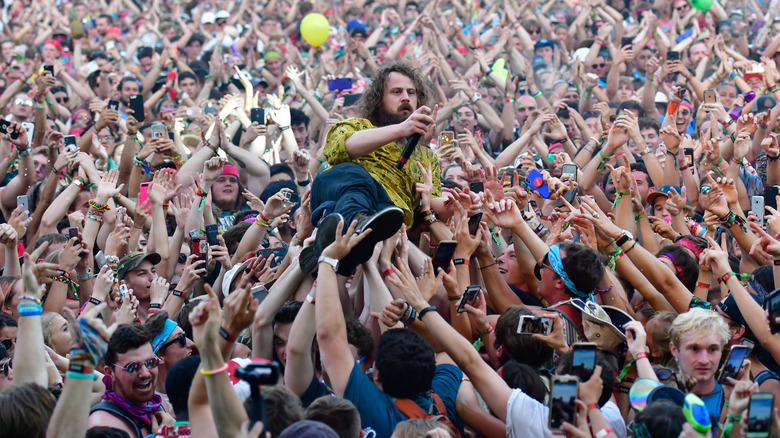 micksphotos/Shutterstock
You may find it hard to believe, but music festivals have been around for centuries — sort of. No one was getting excited about Bonnaroo or Coachella in the 6th century B.C., but as Britannica notes, they were getting excited about the Pythian Games. In addition to athletic competitions, music competitions were held as well, setting the stage (metaphorically) for their descendants centuries later. By the late 1960s, according to Time, music festivals at places such as Monterey, Newport, and Milwaukee were already taking place, and Woodstock later cemented the music festival in the popular consciousness.
Today, music festivals are a multi-million-dollar industry. And though the industry took a huge hit during the COVID-19 pandemic due to restrictions on large crowds, it has slowly been crawling back to life.
Unfortunately, bringing tens of thousands of people together into a confined area can result in problems, and tragedy can strike. Similarly, not every music festival organizer has been competent or even ethical, and sometimes attendees have been left holding nothing but a worthless receipt.
Time Warp Argentina (2016)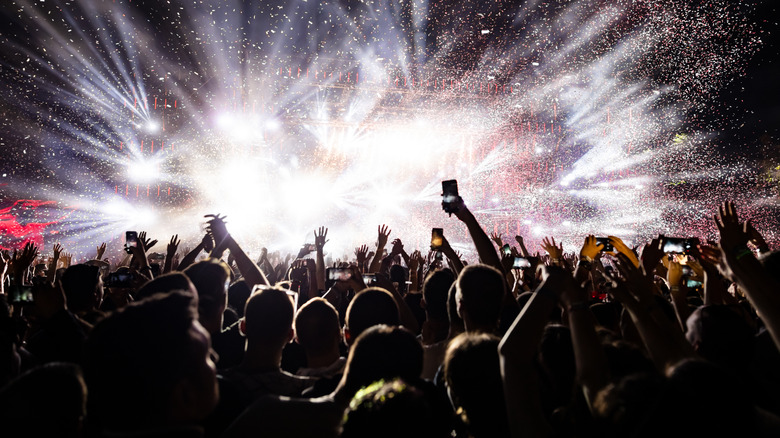 Drazen Zigic/Shutterstock
In 2016, Argentina's fans of Electronic Dance Music convened on Buenos Aires for what was to be a two-night music festival known as Time Warp. Unfortunately, as Vice reports, the festival lasted only one night. That's because within hours of the first performers taking the stage, several concert-goers had been severely sickened, with five people dead and another five in critical condition. According to a follow-up Vice report, the death toll would end at six, with another sickened victim, a teenage girl, likely requiring lengthy professional follow-up care.
It would later be revealed that the sickened concert-goers had taken a drug called "Superman," which was a mix of ecstasy and methamphetamine. Further, concert-goers claimed that there were too many people crowded into a hot, poorly ventilated, and too-small performance space. "We couldn't stay inside, we couldn't breathe," one attendee told a reporter, via BBC News. When the dust had settled, multiple people were arrested, and the Argentine government banned electronic music festivals until further notice.
Roskilde (2000)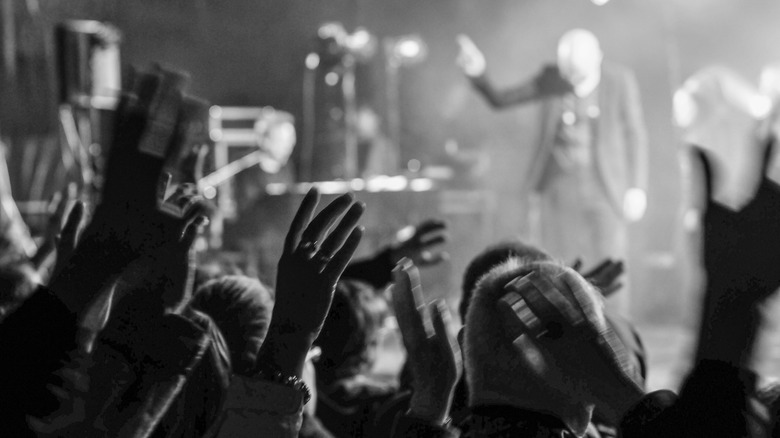 vikalika/Shutterstock
Poor planning helped contribute to the deaths of nine people at the Roskilde Music Festival in Denmark in 2000. As Rolling Stone reports, late in the evening of June 30, Pearl Jam was performing when the mosh pit in front of the stage got out of control. The area was positioned in such a way that neither the band, nor security, nor the crowd could see what was amiss. Fans crowded into the mosh pit, having no control over how they were moved due to the sway of the crowd, and soon found themselves suffocating. One attendee would later say that she and a companion thought they were standing on bags when they'd actually been standing on the body of a victim.
Meanwhile, security was trying valiantly to stop the show, but because of the unclear chain of command, it took a while before anyone in charge became aware of the problems, continuing the tragedy. Eventually Pearl Jam lead singer Eddie Vedder himself had to command the crowd to step back. When the dust had settled, nine people were dead of asphyxiation. "There are absolutely no words to express our anguish in regard to the parents and loved ones of these precious lives that were lost," Pearl Jam would later say in a statement.
Germany's Love Parade (2010)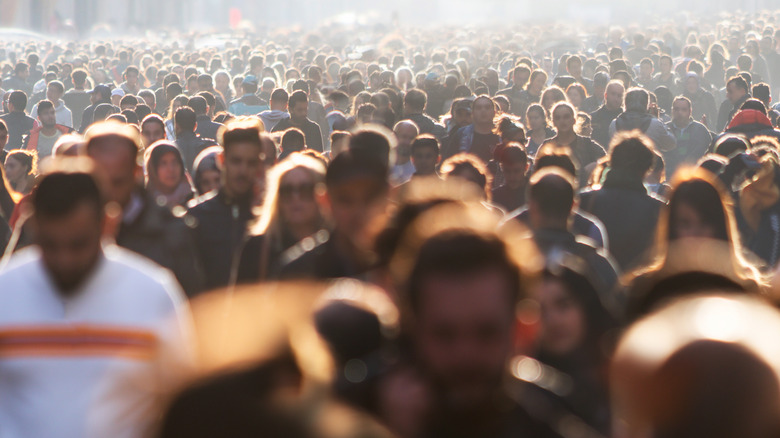 Aleksandr Ozerov/Shutterstock
In another case of poor planning ending in tragedy, the German city of Duisburg found itself the scene of unimaginable suffering when the Love Parade festival got out of hand. As The Guardian reports, in 2010 organizers of the festival decided to hold it in an abandoned railyard in the comparatively small city, rather than a larger German city capable of handling large crowds, such as Berlin. Soon the city of 500,000 people found itself hosting 1.4 million concert-goers. What's more, eventually concert-goers found themselves cut off from the action after police closed the main entrance due to over-capacity. That meant that the only way into or out of the grounds was a narrow tunnel. Making matters worse, there was no crowd control.
As people tried to make their way through what police would later call "like the eye of a needle," panic ensued, and soon victims were being trampled and crushed. "There were 25 people lying in a heap. I screamed — people could no longer get any air. I saw dead people, and one person was sitting there looking extremely pale. I wanted to give him some water, but the ambulance medic told me there was no point as he was already dead," said a survivor. When all was said and done, according to BBC News, 21 people were dead, and over 500 people were injured, while 10 festival organizers would go on trial for their roles in the tragedy.
Montreux Jazz Festival (1971)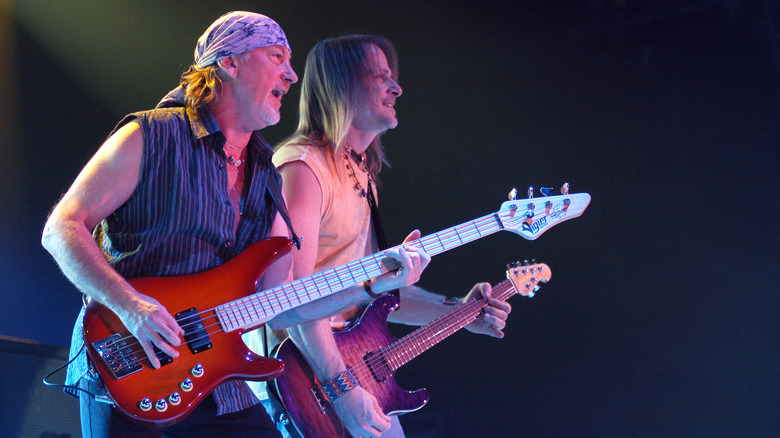 haak78/Shutterstock
If you were to ask any music fan to sound out one of the greatest and most-recognizable opening guitar riffs in history, it's a fair bet that at least a few would belt out those first few notes of Deep Purple's "Smoke on the Water." The song has been a staple of Classic Rock radio for decades, and it was born out of a tragedy.
In 1971, the band was in Montreux, Switzerland, on the shores of beautiful Lake Geneva, to lay down some tracks. Meanwhile, Frank Zappa and the Mothers were playing a set at the Montreux Casino. At some point in the show, a deranged fan launched a flare gun toward the stage, as Far Out Magazine reports, and soon, the casino was in flames. Fortunately, several things were working in the attendees' favor, not the least of which was the fact that the crowd had largely left due to technical issues plaguing Zappa's set. Though there were a few injuries, everyone managed to get out alive. However, the band's equipment was destroyed, and the casino was burned to the ground. The aftermath? Deep Purple went down in Rock & Roll history with one of the greatest songs ever written about a fire.
Fyre Festival (2017)
The line between incompetence and criminality can sometimes be a thin one indeed, although a court has decided that Fyre Festival organizer Billy McFarland was definitely on the criminal side of that equation. As BBC News explains, he's currently serving six years for his role in a music festival that never happened.
As Vanity Fair reported in 2017, McFarland had always been fascinated by wealth and celebrity, and desperately wanted to be a part of those worlds. However, his dreams exceeded his ability to carry them out, and he lived by the motto "Fake it 'til you make it." Nevertheless, his incompetence didn't stop him, and by 2016, he'd set upon the idea of holding the Fyre Festival in the Bahamas, in order to promote his festival-booking app, as Vice reported. To make a very long story short, the festival was to be headlined by Ja Rule, and was to feature wealthy celebrities and influencers partying it up in the Bahamas while scantily-clad waitresses handed out drinks.
But it was all a house of cards; McFarland had neither the time, the money, nor the connections to get the festival up and running, and soon planes full of concert-goers were arriving, finding only an empty beach, FEMA tents instead of luxury cabanas, and cheese sandwiches instead of gourmet catering. Some of the attendees had paid thousands for their worthless tickets. In 2018, McFarland was sentenced to six years in prison for his role in the fraud.
The Altamont Festival (1969)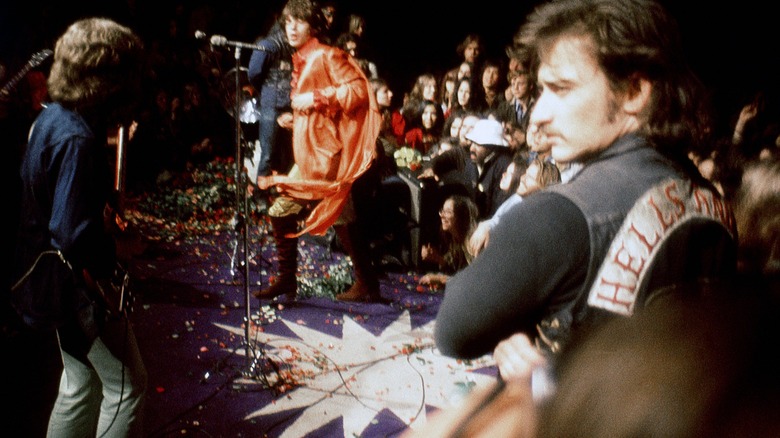 Icon And Image/Getty Images
As far as tragic music festival disasters go, the Rolling Stones' infamous 1969 Altamont Festival is among the worst. For the end of the Rolling Stones 1969 American Tour, they decided on having not just a concert but an entire free festival on December 6, 1969, complete with some of the biggest bands of the day. However, their choice of hiring the Hells Angels as security guards and paying them in beer turned out to be a poor one with deadly consequences.
During Jefferson Airplane's set, one of the Hells Angels repeatedly knocked guitarist Marty Balin out, but that wasn't the worst. The Stones came on to close the festival, but during their performance of "Under My Thumb," one of the attendees, 18-year-old Meredith Hunter, pulled out a gun. It's unknown if he was trying to shoot at the band or the Hells Angels, but Hells Angel member Alan Passaro stabbed Hunter to death before he could fire. Unaware, the Stones completed their set. 
The stabbing was caught on camera and released as part of the "Gimme Shelter" documentary, and Passaro was later acquitted of Hunter's death following a 1971 trial. In addition to Hunter's death, three other attendees died, two after being hit by a car and another from drowning, bringing the horrendous death total to four in just a few hours. For many, Altamont was the "anti-Woodstock" and epitomized all that was wrong with the excess of the counterculture movement, and it ended in tragedy.
Woodstock '99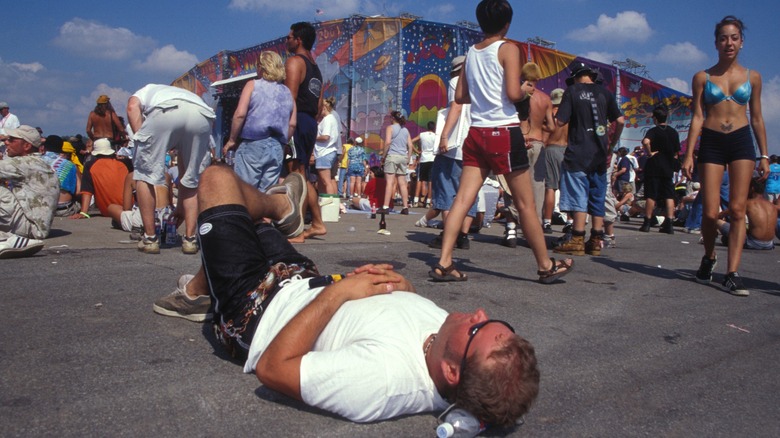 John Atashian/Getty Images
The original Woodstock from 1969 is widely regarded as one of the most successful and iconic music festivals of all time. The first reincarnation in 1994 had some issues but overall was considered a success. Yet, the third attempt to do Woodstock from July 22-25, 1999, was a complete and unmitigated disaster.
From the beginning, there was an element of greed in the air from the organizers, which was only compounded by the fact that attendees actually had to pay for any water after the normal supply was contaminated. This was even though there were triple-digit temperatures and widespread bouts of dehydration and heat exhaustion. The porta-potty system broke down and during Limp Bizkit's set a riot broke out, which was compounded by people almost destroying the radio tower — which was full of MTV personnel. During the Red Hot Chili Peppers' set, concertgoers set the place on fire and flipped cars, with a few also stealing from some of the vendors.
A week after the festival, The New York Times noted that four women had reported being raped. Witnesses claimed to have seen several others sexually assaulted during the concerts, and a father claimed his daughter had been raped on the Woodstock website. The festival organizers originally denied any assaults took place before later admitting it, and it was a horrifying scene. In addition, three people died at the festival, making it an utter tragedy in every sense of the word.
Supernova (2023)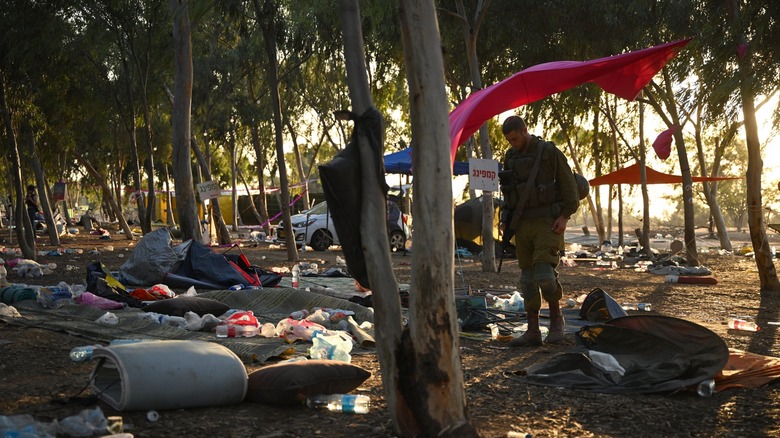 Leon Neal/Getty Images
Israel's 2023 Supernova music festival was supposed to be a time of carefree bliss amidst waves of psychedelic music. However, it coincided with the 2023 Hamas terrorist attack on Israel, and as a result, it turned into maybe the worst and most tragic music festival disaster of all time.
There were as many as 4,000 attendees at the festival, and they were in the middle of dancing and having a good time when the terrorists began their attack at 6:40 in the morning on October 7, 2023. Hamas militants quickly overwhelmed the 30-odd security guards at the festival and began a murderous rampage that eventually claimed the lives of at least 260 people as of October 15 (via Rolling Stone).
At first, when the rockets and mortars began firing in the distance, concertgoers could not hear them over the music, and some people thought the explosions were fireworks at first. People began fleeing in all directions to escape the gunfire and chaos as Hamas militants chased them around the desert, and some had to hide for hours as terrorists searched the grounds around them. In addition, it's thought at least 150 people were kidnapped by Hamas during the attack.
The Israeli army, which was under siege throughout the country, could not make it until 8 hours later, after which time the grounds were in shambles. Disturbing footage of concertgoers running for their lives quickly circulated on social media, showing the entire world the horror witnessed at Supernova.
Mawazine Festival (2009)
On May 24, 2009, 70,000 people attended the Mawazine Festival in Rabat, Morocco, but what started out as a great time turned into a horrible disaster. The festival was supposed to be a highlight for Morocco and was personally backed by the Moroccan King Mohammed VI, and there were many foreign star performers at the festival, including Alicia Keys, Kylie Minogue, and even Stevie Wonder.
According to Reuters, the concert was ending when a massive human stampede broke out, injuring 40 people and killing 11. A crowd surge turned into a stampede after a fence broke down, and the festival was being held at the Hay Nahda soccer stadium (via The New York Times). The festival had been going on since 2002, and it had developed into one of the country's most important cultural events by 2009. The final act of the night was a pop star from Morocco, Abdelaziz Stati (pictured), and his performance was supposed to mark the end of the entire festival.
According to France 24, many of the injured victims were children, and there were around 3,000 police officers at the event when the calamity happened. It was one of Morocco's worst disasters, but it did not stop Mawazine, which came back to Rabat the following year.
Astroworld (2021)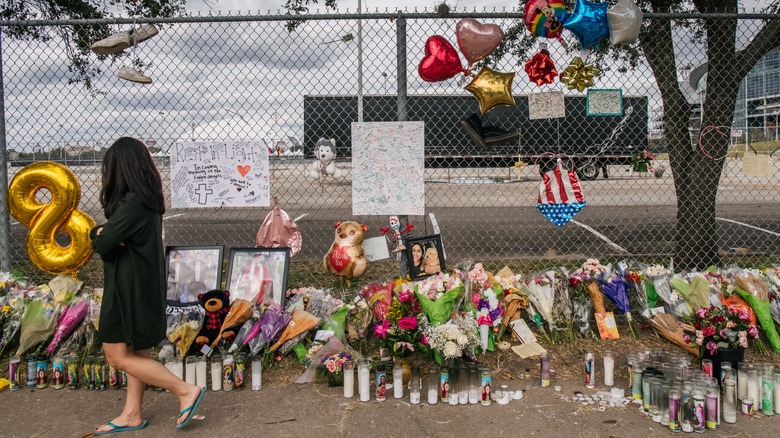 Brandon Bell/Getty Images
When rapper Travis Scott became one of the most popular music artists on the planet, he began throwing his own festival called Astroworld. There were festivals in 2018 and 2019, but it was postponed in 2020 due to COVID-19. It later returned in 2021, but things turned into a complete disaster, and it has not been back since.
The concert took place on November 5, 2021, at the NRG Park in Houston. It started off on a bad note when eager fans started bypassing security early in the day, and there were dozens of injuries already by 4 in the afternoon. Scott's set began around 9 p.m., and there was immediate trouble in the crowd. A few people fell down, causing a chain reaction that led to tons of fans piling on each other, leaving several trapped at the bottom. From the stage, Scott could see a disturbance and paused his show several times. However, he did not know exactly what was happening and never stopped, so the concert went on for more than a half-hour after there were reports of mass casualties to police.
In the end, 10 people died and around 300 sustained injuries from the crowd push, with a few having to be hospitalized. Following the festival, victims hit Scott with hundreds of civil lawsuits. It was a horrific end to the Astroworld festivals, and one that sullied Scott's name in the aftermath.
Electric Zoo (2013)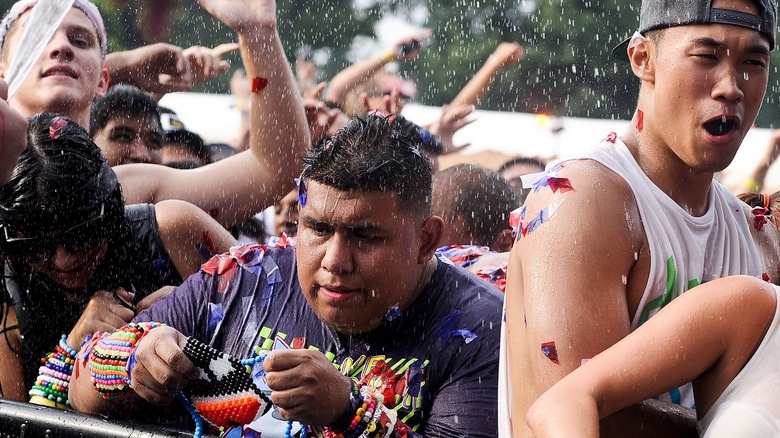 Daniel Zuchnik/Getty Images
Widely known as one of the biggest summer dance festivals in New York City, the Electric Zoo Festival of 2013 is certainly one the organizers would rather forget. The festival was in its fifth year and began on Friday, August 31, 2013, and was scheduled to conclude on Sunday, September 2. However, after two concertgoers died and several more fell ill on Saturday, the last day of the festival was canceled.
According to authorities, the likely cause of the deaths was due to the use of MDMA, or molly, which was apparently a frequently used drug among attendees. Security was supposed to stop them from bringing them in through a five-checkpoint system but failed conclusively, and some people were not even searched at all. Unlike Woodstock '99, the water was plentiful in the scorching heat, but that did not save several attendees who fell ill due to a combination of alcohol and drug use. The two dead fans were both in their early 20s, including one who was there with members of his fraternity he had gone to school with the year prior. Both of them died after being transported to a nearby hospital, and there were a whopping 31 arrests at the festival related to drugs.
Reportedly, there were several medical tents and a full staffing of paramedics and emergency medical personnel, but they could only do so much. The following year, Electric Zoo returned to New York City, and is still going as of 2023.
Faster Horses Festival (2021)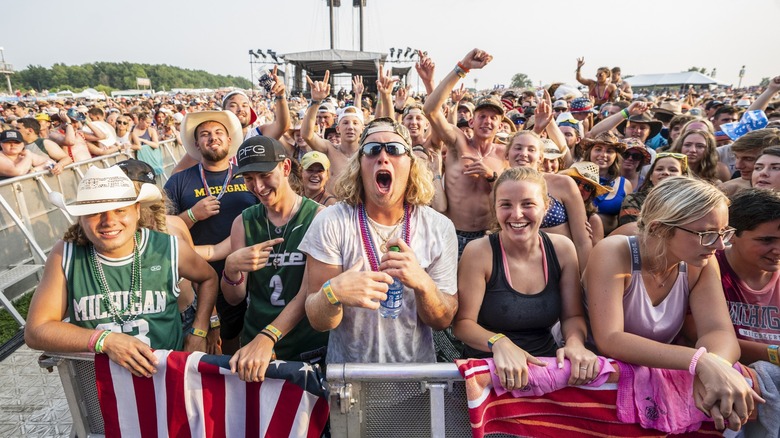 Erika Goldring/Getty Images
While the Faster Horses Festival has been plagued by incidents since it first began in 2013, by far the worst year was the tragic 2021 festival. The festival took place from July 16-18, 2021 at the Michigan International Speedway, but while the music largely went off without a hitch, behind the scenes it was a different story.
On July 17, three young fans were found dead at the concert from carbon monoxide poisoning, and two others were hospitalized. The victims had set up a generator near their camper and for some reason the exhaust was fed underneath it, slowly but steadily filling the camper with carbon monoxide. It's unknown exactly when they died, but they were found later in the day by a concerned friend. The dead were all between 19 and 20 years old; the two who were hospitalized survived. In 2023, a judge ruled they were liable for their own deaths due to their negligent placement of the generator and exhaust.
In addition, a fourth woman also died from natural causes due to complications from being overweight and using drugs and alcohol, and there were three instances of criminal sexual conduct and eight assaults (via MLive). The year 2021 was hardly the only time Faster Horses has had incidents, and there have been an astonishing 30 cases of criminal sexual conduct from 2013–2021 at the festival, bringing into serious question the event's commitment and dedication to safety.
If you or anyone you know has been a victim of sexual assault, help is available. Visit the Rape, Abuse & Incest National Network website or contact RAINN's National Helpline at 1-800-656-HOPE (4673).
The Labor Day Soda Pop Festival (1972)
While it might be somewhat obscure and occurred more than 50 years ago, the 1972 Labor Day Soda Pop Festival was unfortunately one of the most tragic music festival disasters of all time. Most people know the event as the Erie Canal Soda Pop Festival, but the organizers actually had to rename it last minute after they were no longer allowed to host it in Indiana due to security and sanitation concerns. The festival ended up taking place at Bull Island, a small island in Illinois up against the Indiana border, over Labor Day Weekend 1972.
As many as 300,000 attended the concert, roughly 245,000 more than expected, throwing the event into chaos from the beginning. It was like Woodstock only with violence replacing peace, including the killing of a cow from a nearby farm, the hijacking and looting of a delivery truck before it was set on fire, and several other incidents of overturned RVs and theft. There were also four deaths, an overdose and three drownings, and the stage was set on fire in a symbolic reflection of the pandemonium. Most of the big-name acts never even took the stage
In a 2022 Loudersound interview with promotors Chuck Pulin and Bob Alexander, Alexander said all they had wanted was "to have a great show and make a lot of money." However, not only did they lose money but they also faced numerous lawsuits, and it has gone down in infamy decades later.
The Route 91 Harvest Country Music Festival (2017)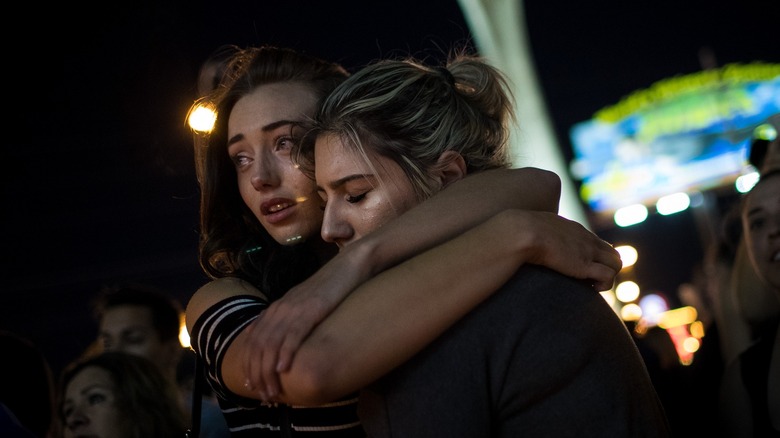 Drew Angerer/Getty Images
Back on October 1, 2017, for just over an hour the Las Vegas strip was practically turned into a warzone. It was during the fourth iteration of the Route 91 Harvest Country Music Festival, which had begun a few years prior in 2014. However, while the first three festivals largely went fine, the fourth year was marred by one of the worst terror attacks of the 21st century.
The shooter, Stephen Paddock, had arrived in Las Vegas a few days before the massacre at the end of September, and he began setting up his room on the 32nd floor with weapons and cameras as the festival started to get underway. Then, on October 1, the third day of the festival at exactly 10:05 p.m., Paddock began his reign of horror. After it was all done, police found that Paddock had used at least 14 different guns and fired more than 1,050 rounds, including multiple weapons he fired at least 100 rounds from (via the Las Vegas Police Department). Fifty-eight lay dead by the end of the night, not including Paddock, and two more died of their wounds over the next year, bringing the unofficial death toll to 60.
It was the deadliest mass shooting in United States' history, and in addition to the dead there were more than 800 festival goers who ended up wounded. It was a horrific tragedy, and one that still strongly resonates with many Americans today. 
If you have been impacted by incidents of mass violence, or are experiencing emotional distress related to incidents of mass violence, you can call or text Disaster Distress Helpline at 1-800-985-5990 for support.