What Robert Stroud's Life In Prison Was Really Like
Robert Stroud, also known as the "Birdman of Alcatraz," was a murderer who spent 54 years in prison. His life of crime started at an early age, and he was sentenced to death after stabbing a prison guard to death in 1916. Stroud's mother pleaded for her son's case, and in 1920, President Woodrow Wilson agreed to commute his death sentence and instead gave him life in prison without parole, per Alcatraz History. Stroud was a difficult prisoner and was prone to violence and outbursts, and because of that, he spent decades in solitary confinement.
Stroud was imprisoned at the Leavenworth Federal Penitentiary located in Kansas. There, he was allowed time at the recreation yard where he found an injured bird. It was at that time when he gained interest in birds, particularly canaries. He was given the privilege of studying and breeding birds inside his cell, and he learned more about them by reading books from the prison library. The warden provided him with some tools and equipment for his research, as he was impressed with the inmate's new interest. Stroud eventually became an expert on the subject, and he even published two books, "Stroud's Digest on the Diseases of Birds" and "Diseases of Canaries," as reported by The Vintage News. His study of birds was halted, however, as prison officials found out that he was using his research equipment to brew alcohol. It was for that reason that he was transferred to Alcatraz in 1942.
Robert Stroud's prison experience in his own words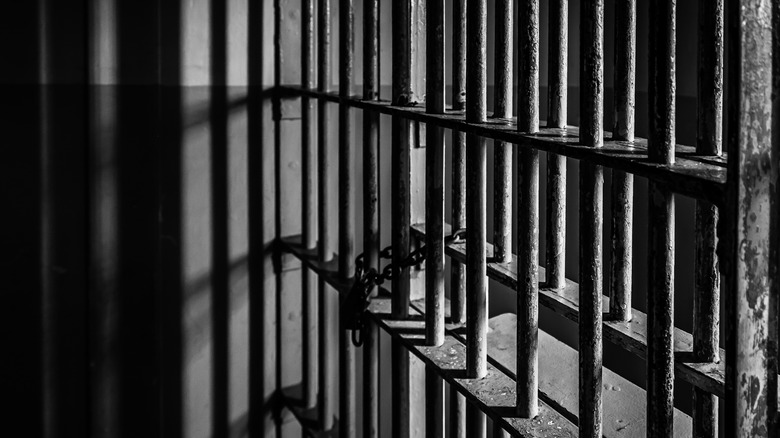 Dan Henson/Shutterstock
Alcatraz was known for housing the most violent criminals, and prisoners had to abide by strict rules or face consequences. For Robert Stroud, that meant that he wouldn't be able to continue researching birds and publishing books. Stroud was regarded as a great ornithologist and corresponded with other experts as well. "Here is a guy with a third-grade education who somehow educated himself to write books on birds that were followed around the world," his lawyer Dudley Martin said, as reported by Reuters.
When he arrived at Alcatraz, Stroud focused his attention on the prison system. He wrote a 2,000-page manuscript based on what he learned from others, as well as his own experiences. He wanted to publish his writing, but the U.S. Bureau of Prisons didn't want his book to see the light of day. According to the Daily Mail, it wasn't until the 1980s — long after Stroud's death — when his lawyers were able to gain possession of the manuscript. It has since been published as a four-part book titled "Looking Outward: A History of the U.S. Prison System from Colonial Times to the Formation of the Bureau of Prisons."
Stroud died at the Medical Center for Federal Prisoners in Springfield, Missouri, in 1963. At that time, he was fighting for his manuscript to be published. His lawyer said that Stroud will be happy to know that the public now has access to his writing. "He'd be honored. He would feel appreciated for what he had done," Martin said.