How Many Cats Did Freddie Mercury Have?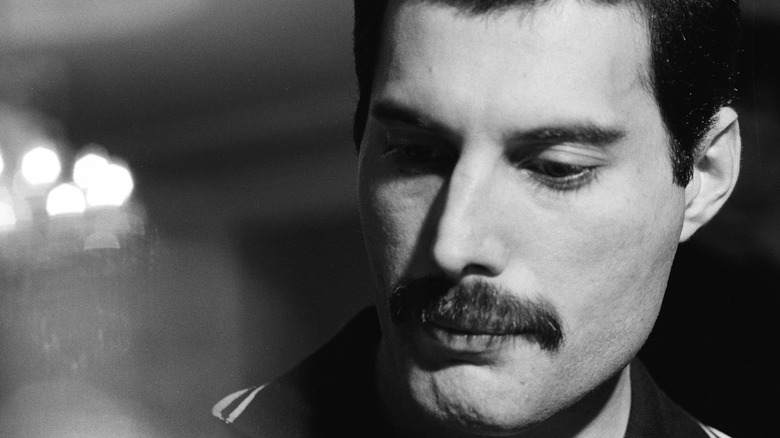 Midori Tsukagoshi/shinko Music/Getty Images
Queen star Freddie Mercury is fondly remembered for many things. His stunning vocal range. His utterly unstoppable energy on stage. He was as riveting to watch as he was to listen to, and for many, he was the ultimate rock frontman. As Brian May succinctly put it in an interview with On: Yorkshire Magazine, Mercury was a musician destined to "always be impossible to equal."
He was quite the enigma away from the limelight, though. In the same interview, Brian May states, "we didn't really spend our time talking about what it was like to be a rock star ... we were speaking for the normal person." This is reflected in the way Mercury lived his life, as a man who kept his attention-grabbing theatrics to the stage and wanted his private life to remain so.
As a result, those who aren't long-time Queen fans may find they know very little about Freddie Mercury himself. Here's one fascinating detail about him: he was a committed cat-lover and had a lot of furry feline friends. 
According to Vanity Fair, Mercury met Mary Austin in 1969. He was only a 24-year-old future rock legend at the time, and the pair embarked on a whirlwind romance that culminated in Mercury's proposal in 1973. The wedding would be called off and they would sadly split, but they remained very close.
Freddie Mercury had a whole furry litter
SakSa/Shutterstock
Around the time of the proposal, per Vanity Fair, Austin would change Mercury's life forever by buying two cats, named Tom and Jerry after the beloved cartoon duo. The singer was besotted and would go on to own at least 10 cats. According to All That's Interesting, these included Romeo, Delilah, Oscar, Goliath, and Lily.
Mercury was committed to his furry family. As Queen Vault reveals, the liner notes for his 1985 album "Mr. Bad Guy" include a dedication "to my cat Jerry — also Tom, Oscar, and Tiffany and all the cat lovers across the universe." They were given the run of his home and his favorite cat, Delilah (per All That's Interesting), even had a song dedicated to and named for her.
In a tragic, poignant twist, "Delilah" featured on the last album Mercury made with Queen, 1991's "Innuendo," before his death that year aged just 45. A fitting swansong for the ultimate cat lover, a man who, while on tour, would ensure he took the time to speak to each of his beloved pets. As his personal assistant, Peter Freestone, wrote in his biography, "Mister Mercury" (per All That's Interesting), "Mary [Austin] would hold Tom and Jerry in turn up to the receiver to listen to Freddie talking."