The Real Reason Fleetwood Mac Reunited In 1993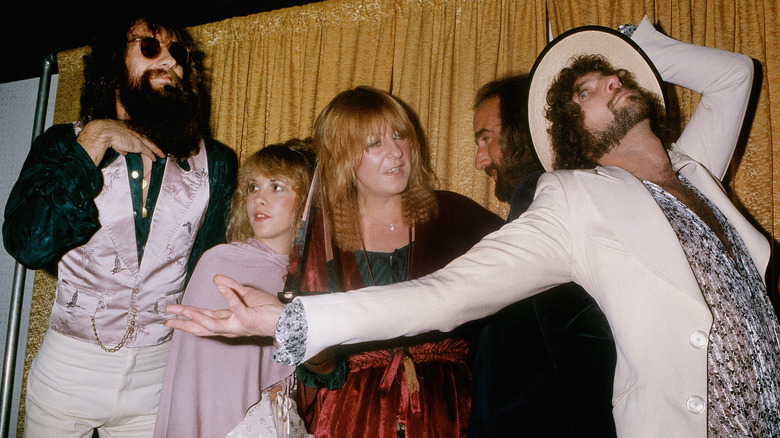 Michael Ochs Archives/Getty Images
It's hard to think of another band that has gone through as much drama as Fleetwood Mac. Part of it has to do with the fact that they've been making music for more than five decades, but even in their earlier days as an all-British blues band, there were lineup changes aplenty — most notably, singer-guitarist Peter Green and guitarists Jeremy Spencer and Danny Kirwan all left the group amid unusual circumstances. Fleetwood Mac's first American member, Bob Welch, also wasn't long for the band, though he did have a decent career as a solo artist. And that all brings us to the classic lineup of Mick Fleetwood, John and Christine McVie, Stevie Nicks, and Lindsey Buckingham.
Despite — and because of — all the turmoil that can be expected from a band with two ex-couples, their 1977 album "Rumours" became a massive breakthrough hit, and was followed up by another three studio albums, all successful to varying degrees, all with the same lineup. Then, in 1987, Buckingham left Fleetwood Mac (it wouldn't be the only time) and was followed out three years later by his ex-girlfriend Nicks. That's a whole lot of lineup changes we've documented thus far (again, not the only ones), but in 1993, the five men and women who recorded "Rumours," "Tusk," "Mirage," and "Tango in the Night" together reunited for a one-off performance to commemorate a special occasion.
They reunited to play just one song at Bill Clinton's inaugural gala
Dia Dipasupil/Getty Images
One event, one song. That's what the reunion of Fleetwood Mac's classic lineup in 1993 all boiled down to. As recalled by Far Out Magazine, President Bill Clinton's choice of the "Rumours" hit "Don't Stop" as his campaign song served as the impetus for Fleetwood, Buckingham, Nicks, and the McVies to get back together onstage. (That's them pictured above in 2018, flanked by Clinton and music executive Neil Portnow.) The band agreed to perform at Clinton's inaugural gala at the Capital Centre in Landover, Maryland, on January 19, 1993, and while they only performed "Don't Stop" at the event, it was a far cry from their erstwhile status as a nostalgia act playing alongside other perceived has-beens from the '70s and '80s.
Despite the hype that surrounded Fleetwood Mac following the show, Lindsey Buckingham squashed any speculation that it was going to be more than a one-time deal for the "Rumours" lineup. "I didn't feel overly connected to any of it, really. It was short and sweet," he told Westword in 1993. "There were a lot of questions about whether this suggested a long-term reunion, and those were quickly put to rest by me. And that was it." As an aside, one can't help but notice the saltiness in those remarks.
Meanwhile, Stevie Nicks was far more positive when commenting about the reunion, though there was certainly some yearning for the old days. "At the inauguration, I just realized I wanted it to be back the way it was, or I didn't want to be in it anymore ... I couldn't continue to be in a Fleetwood Mac that didn't have Lindsey in it," she said in an interview with the Houston Press.