The True Inspiration Behind The Beatles' Eleanor Rigby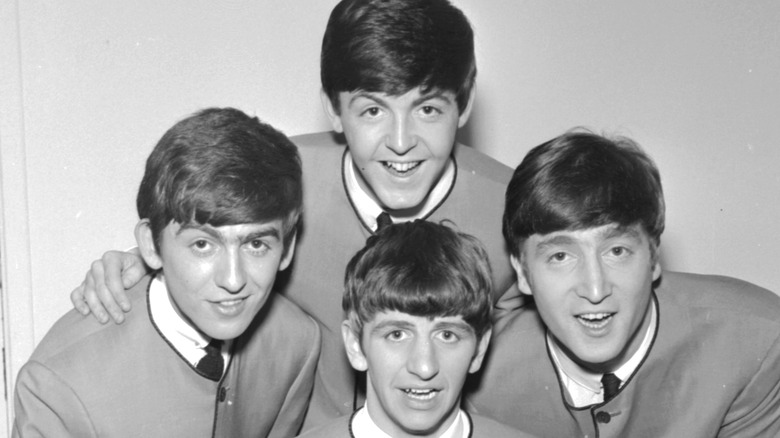 V&a Images/Getty Images
The Beatles have a way with words, and in their list of songs, they created characters with some interesting backstories. Beatles fans are familiar with names such as Sergeant Pepper, Michelle, Jojo, and Sexy Sadie, but perhaps one of the most popular ones is Eleanor Rigby. "Eleanor Rigby" is a Beatles song from the 1966 album "Revolver." The song was written by Paul McCartney, and there are questions on whether Rigby was a real person and if the lyrics of the song pertain to her life. In the song, there is a line that goes, "Eleanor Rigby died in the church and was buried along with her name, nobody came."
According to Find a Grave, there was a real woman named Eleanor Rigby. Her gravestone is at the St. Peter's Parish Church in Woolton, England, and her date of death is listed as 1939. Rigby was reportedly a scullery maid, and she died at the age of 44. Interestingly, it was at that same church where McCartney met John Lennon when they were teens. Lennon sang and played guitar for The Quarrymen, and McCartney was there to watch the performance. After a couple of weeks, McCartney was asked to be a member of the group, per U Discover Music.
How did McCartney think of the name Eleanor Rigby?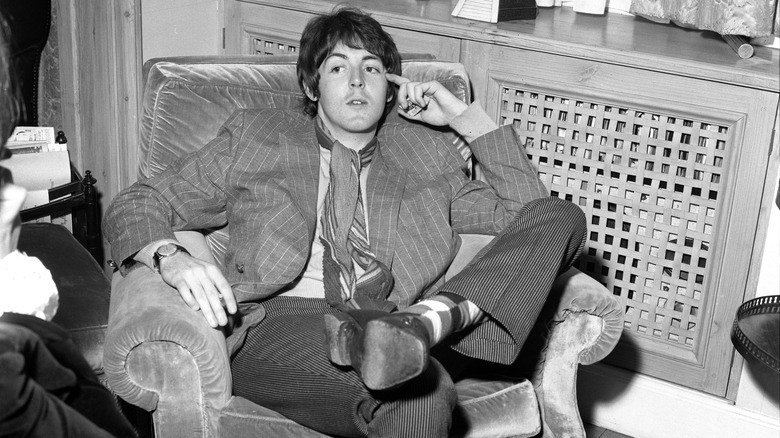 Icon And Image/Getty Images
Despite Eleanor Rigby being a real person, Paul McCartney says that she wasn't the inspiration for the song, contrary to popular belief. In fact, the song's subject was supposed to be named Daisy Hawkins, but he later changed it, as it didn't sound right, he said in a piece he wrote for The New Yorker. The name ended up being Eleanor, named after Eleanor Bron, an actress who appeared in the Beatles' film "Help!" Rigby, on the other hand, was taken from a wine shop in Bristol named Rigby & Evens Ltd, Wine & Spirit Shippers. And before that, Eleanor's surname was at one point changed to Bygraves. In McCartney's mind, Eleanor Rigby certainly had a better ring to it than Daisy Hawkins or Eleanor Bygraves. "I just liked the name. I was looking for a name that sounded natural. Eleanor Rigby sounded natural," McCartney said (via BBC).
Knowing that, was the fact that McCartney and John Lennon met at the church where Eleanor Rigby is buried just a coincidence? McCartney said that he and Lennon used to wander around the church a lot while talking about the future. "I don't remember seeing the grave there, but I suppose I might have registered it subliminally," McCartney wrote.
Who was the song about?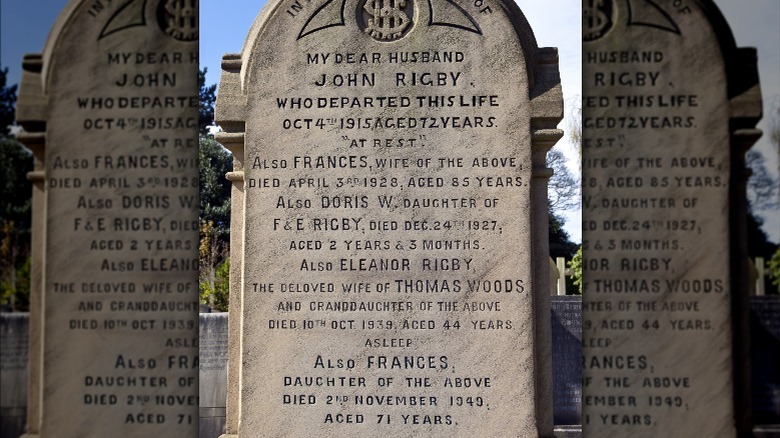 chrisdorney/Shutterstock
Paul McCartney said that the inspiration behind "Eleanor Rigby" was an old woman that he knew. The woman lived alone, and a young McCartney would visit her for a friendly chat. He also did some chores for the woman, such as getting groceries. "So I would visit, and just hearing her stories enriched my soul and influenced the songs I would later write," McCartney stated (via The New Yorker). While writing the song, McCartney said he wanted to arouse the feeling of being lonely and for fans to empathize with that emotion.
In the opening lyrics of the song, Eleanor Rigby is described as a woman picking up rice after a wedding. This may mean that she worked as a cleaner at the church while dreaming of her own wedding. "I wanted to make it more poignant than her just cleaning up afterward, so it became more about someone who was lonely. Someone not likely to have her own wedding, but only the dream of one," McCartney explained.
Despite McCartney's explanation of his inspiration behind "Eleanor Rigby," plenty of Beatles fans still pay tribute and visit the real Eleanor Rigby, who is buried at St. Peter's Church.