Here's Who Inherited Anthony Bourdain's Money After He Died
Kathy Hutchins/Shutterstock
In June 2018, the news of renowned chef Anthony Bourdain's death was the subject of headlines. Bourdain was found deceased in his hotel room in France where he was filming for his TV series "Parts Unknown." The celebrated chef's fans and colleagues in the culinary industry posted their tributes on various social media channels where they described Bourdain as a "giant talent," "unapologetically honest," "generous," and "an "exceptional human being," as reported by CNN.
After the news broke, more details surrounding his death were revealed. It was his fellow chef and good friend, Eric Ripert, who found Bourdain unresponsive in his room. Ripert became worried when Bourdain didn't show up for dinner the night before and for breakfast that day. Ripert called Bourdain his best friend, and he was devastated to have been the one to discover his lifeless body. Per ATI, Bourdain struggled with mental health issues. In one episode of "Parts Unknown," Bourdain talked to a psychotherapist and shared how he would sometimes go into a state of depression that lasted for days. He was also, at one point, addicted to heroin, but toxicology reports indicated that there were no narcotics in his system when he died. The cause of his death was listed as suicide. He was 61 years old. 
Bourdain left behind a daughter, Ariane Bourdain, whom he shared with his ex-wife, Ottavia Busia.
If you or anyone you know is having suicidal thoughts, please call the National Suicide Prevention Lifeline​ at​ 1-800-273-TALK (8255)​.
Anthony Bourdain's culinary journey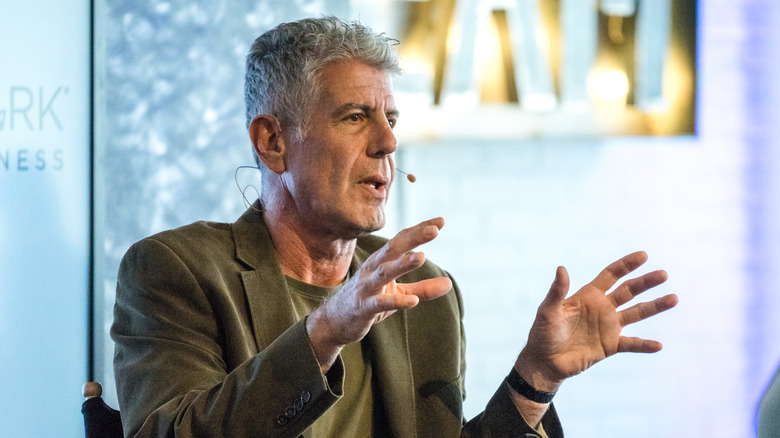 stock_photo_world/Shutterstock
Before his rise to fame, Anthony Bourdain worked in the culinary industry as a professional cook. It was the success of his book "Kitchen Confidential: Adventures in the Culinary Underbelly" that catapulted the chef to stardom, per The Daily Beast. Soon afterward, Bourdain appeared in several TV shows including "A Cook's Tour," "No Reservations," and "Parts Unknown."
Bourdain started his culinary journey as a dishwasher, and he was eventually assigned to cook. However, he quickly realized that his skills weren't on par with his fellow cooks. He then enrolled at the Culinary Institute of America and graduated in 1978. From there, he worked his way up at different restaurants until he released "Kitchen Confidential" in 2000 (via The Culinary Institute of America). Bourdain was entertaining to watch, and many enjoyed watching his culinary adventures. He didn't hold back his opinions and was willing to try anything, and Smithsonian Magazine once described him as "the Elvis of bad boy chefs."
After Bourdain's death, his brother, Chris, spoke about how his brother was able to reach people and open their minds through food. "He had no preconceptions when he jumped into a new place," he told Today. "Some guy in the Congo who would never open up to a western journalist — he would open up to Tony. Tony showed the guy at a foot stool in Manila the same respect as Thomas Keller in Los Angeles, and treated the woman cooking in an apartment in wherever just as equally," he added.
Anthony Bourdain's last will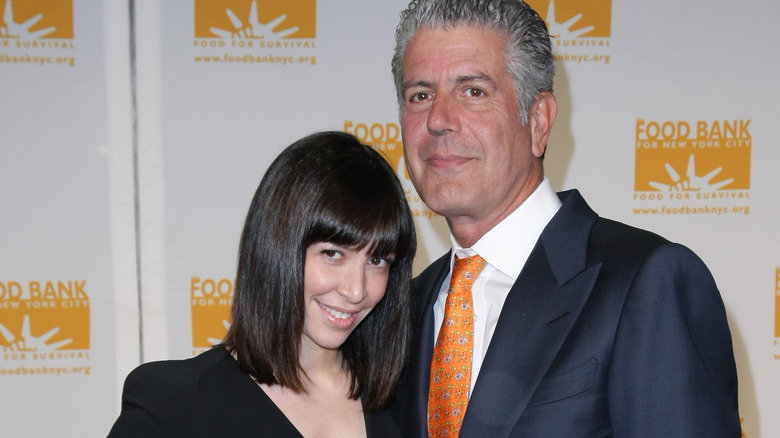 Neilson Barnard/Getty Images
At the time of his death, Anthony Bourdain reportedly had a net worth of $1.2 million. Based on court documents, he had $425,000 in savings, $250,000 worth of personal property, and $35,000 in brokerage accounts. In addition to that, he also had $500,000 in royalties and intangible property, as reported by Variety. The amount may seem low for a big celebrity chef like Bourdain, as he had a few TV shows, books, and a publishing house, among other ventures. However, the number obtained from the court documents is only a portion of his wealth, as he had a separate trust with an undisclosed value.
In his last will, Bourdain left the majority of his estate to his daughter Ariane Bourdain, who was only 11 years old at the time of the chef's death. Ariane has fond memories of her father and said that he always played with her and encouraged her creativity (via The Daily Mail). Ariane's mother, Ottavia Busia, serves as the executor of the estate and was left with the chef's personal possessions to do with them what she believes Bourdain would have wanted. Since Ariane was a minor when Bourdain died, a guardian was tasked to ensure that her inheritance is properly handled until she becomes of age. According to USA Today, Ariane will be given money from the trust on her 25th birthday, and then again when turns 30 years old. At 35 years old, she will have access to the remainder of the amount in the trust.