The Controversial Person John Lennon Wanted On The Cover Of Sgt. Pepper's Lonely Hearts Club Band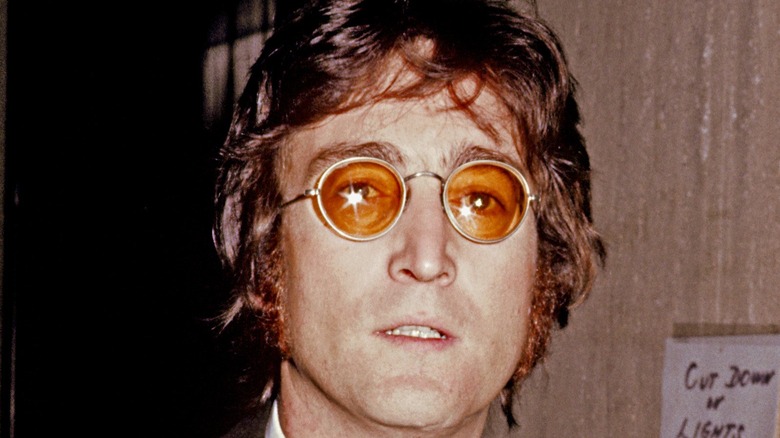 Michael Ochs Archives/Getty Images
In May 1967, The Beatles released their eighth studio album titled "Sgt. Pepper's Lonely Hearts Club Band," which includes hits such as "With a Little Help from My Friends," "Lucy in the Sky with Diamonds," and "A Day in the Life." The album propelled to the top of the music charts worldwide, and fans also noticed the interesting take on the album cover, which featured the four Beatles front and center. Surrounding them is a collage of famous personalities, some of which include psychotherapist Carl Jung, actor Fred Astaire, actress Marlene Dietrich, and poet Edgar Allan Poe, among many others (via Ultimate Classic Rock).
The album cover was designed by artist Peter Blake and his wife Jann Haworth. So what's the story behind all the popular faces on the cover? According to Paul McCartney, it was a collage of people the Beatles personally hailed as their heroes. "To help us get into the character of Sgt. Pepper's band, we started to think about who our heroes might be ... It got to be anyone we liked," he said, per Time. The Beatles compiled a list of people they wanted on the cover, and they ended up with dozens.
People who didn't make the Sgt. Pepper album cover
Keystone/Getty Images
With four talented individuals such as The Beatles, it's no surprise that they came up with a long list of people from various fields that they considered their heroes. However, there were a few personalities that didn't make the cut — and one of them was Adolf Hitler. It was John Lennon who had the idea, but as Paul McCartney explained to GQ in 2018, it was suggested as a joke. "It's a laugh. We're putting famous people on the cover: 'Hitler! He's famous!' And it was like, 'Yeah, but John, we're trying to put heroes on the cover, and he's not your hero. Winston Churchill's your hero, John.' He was a big fan of Winston. So he was just f***ing about. That was John. He was very witty, very wonderful, and would like to push the envelope," McCartney said.
The other personalities that didn't make the cover include Jesus Christ and Mahatma Gandhi — both suggested by Lennon as well. In the end, both were excluded from the final cover out of respect. Per History, EMI — The Beatles' record label — executives at that time were concerned that having them on the cover would be sacrilegious and could affect album sales.
Hitler is on the cover, but is completely obscured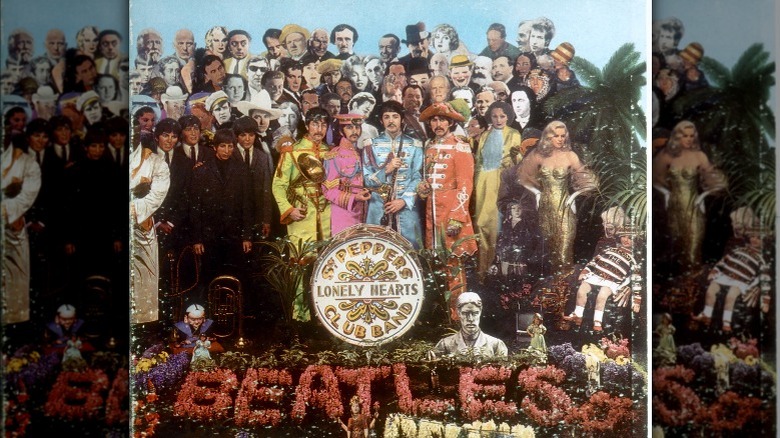 Michael Ochs Archives/Getty Images
Peter Blake and Jann Haworth created the collage by preparing cutouts of the list of famous people. Before that, though, the band and record label asked permission from all of them, and everyone agreed, save for Leo Gorcey, who wanted to be paid for his image to be used. His face was painted over with a palm tree as a result, as reported by Vermilion County First.
Despite objections to Adolf Hitler being included on the cover, he made the cut — sort of. Cardboard images of all the personalities were prepared for the shoot, and Hitler had one as well. In fact, in photo outtakes, the image can be seen in the studio. In the end, Hitler was included in the shot, but he was entirely covered by The Beatles. "Hitler was in fact covered up behind the band," Blake said in an interview with Independent.
Overall, the "Sgt. Pepper's Lonely Hearts Club Band" album cover was a success, but it came at a steep price. Per Louder Sound, it cost £3,000 to make (roughly £55,500 or $75,500 in today's money), a ridiculously huge sum when album covers cost less than £100 to make at that time. "Of course, the record company was screaming at the price of the cover. And now it's probably pinned all over walls," Lennon said.