What Tim Allen's Life In Prison Was Really Like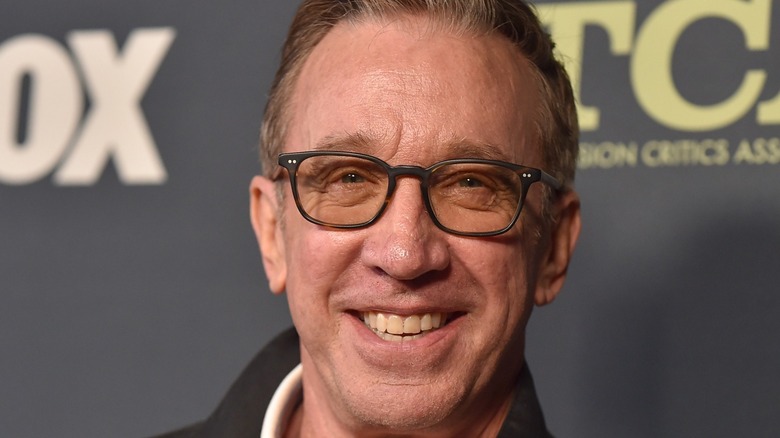 DFree/Shutterstock
Before he was Tim Taylor from "Home Improvement" and the voice of Buzz Lightyear from the "Toy Story" movie franchise, Tim Allen was just a regular guy. However, he had a tough time after losing his father at a young age, and for a while, his life went on a downward spiral. Allen had a good relationship with his father, but that was taken from him when he was just 11 years old. His father was killed in a car crash involving a drunk driver in November 1964. "I loved my father more than anything," the actor said (via ATI). He loved spending time with his father, and his loss was a big blow to him.
The death of his father had a negative impact on his life. "After my old man died, I really just played games with people and told adults what they wanted to hear and then stole their booze," he said. But that wasn't the start of his drinking problem. He revealed that he had already had his taste of alcohol a year before his father passed when he saw cowboys in movies downing whiskey shots, as reported by Yahoo. In addition to alcohol, Allen also started dealing drugs. 
When he was 25 years old in 1979, Allen was arrested at the Kalamazoo-Battle Creek International Airport for drug trafficking, per CBS News. More than a pound of cocaine was found in his possession, and he pleaded guilty to the charges. Allen was sentenced to three to seven years in prison for the crime.
Tim Allen spent more than two years in federal prison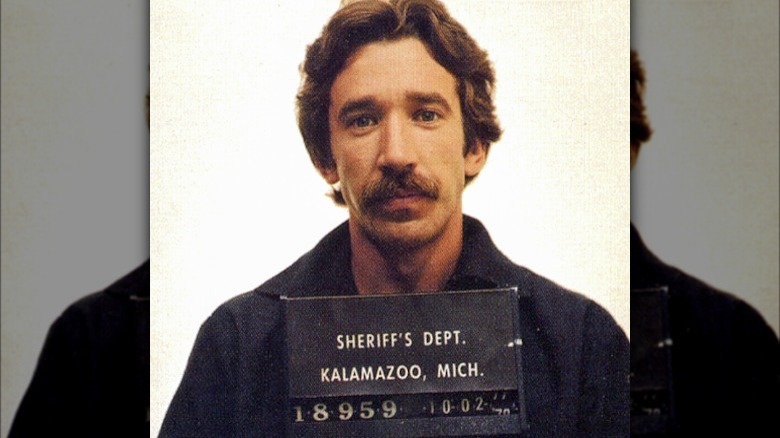 Kypros/Getty Images
Tim Allen faced a sentence of life imprisonment, but he took a plea deal for a shorter sentence in exchange for providing the identities of other drug dealers. The information he gave, per ATI, helped convict four big drug dealers. Two years and four months into his sentence, Allen was granted parole. Allen recalled his stint in prison in a March 2021 episode of the "WTF with Marc Maron" (via People).
For the first time in Allen's life, he learned how to abide by rules. "It was the first time ever I did what I was told and played the game," he said. Being in prison was an adjustment, but he said that he learned how to "shut up" and lived his life "day by day." At first, he was placed in a holding cell, but he was eventually transferred to his own cell and called his mother. "I told her how proud I was that I got my own cell." Having his own space was a big deal, as he shared the holding cell with 20 other prisoners, he told Esquire. He almost gave up and thought about killing himself, but his comedic side won.
As he was contemplating suicide, he thought about how he would fail, and he pictured himself hanging from the ground and struggling "like an idiot" as people looked on. The image made Allen laugh, and that's what kept him going. "The comic in me showed up, the purest form, and saved my life," he stated.
Tim Allen's life now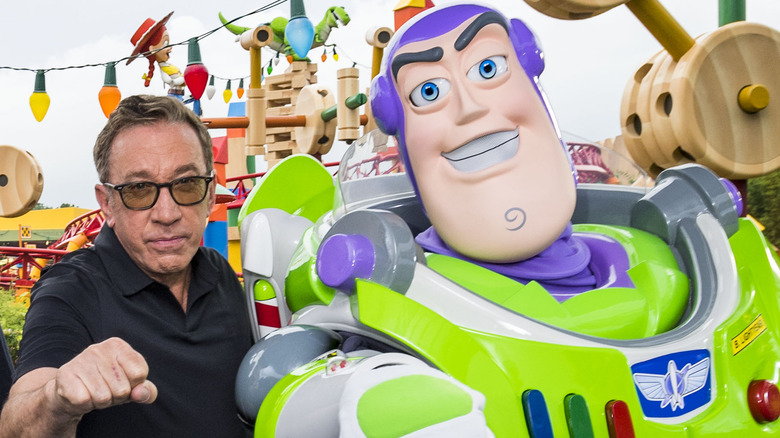 Handout/Getty Images
According to the actor, it took eight months for him to fully adapt to prison life. Tim Allen said that he got along pretty well with the other inmates, as he was known as the funny guy, but had to adjust his humor. "You don't want to be sarcastic in prison. Being funny and doing funny voices is funny. Sarcasm doesn't go over too well. That I learned," he said, per US Magazine. His stint in prison was a wake-up call, as he said in an interview with the Washington Times. "It put me in a position of great humility, and I was able to make amends to friends and family and refocus my life on setting and achieving goals."
Now, Allen is more than two decades sober from narcotics and alcohol, and he says that he's coping by looking for ways to deal with his mental health issues, such as exercising and eating healthy. He also told Parade that doing comedy allowed him to cope. When not working, the actor enjoys spending private time with his family in their Michigan cottage, and he and his wife enjoy playing golf and going to the theater as well. He considers his sobriety the biggest blessing in his life, and he has also learned to manage stress by meditating and appreciating the special moments in his life. "I can get myself so wound up in worrying or stress and I just gotta sit still," he said.