This Is The Oldest Cold Case Solved From DNA
Cryptographer/Shutterstock
Advancements in DNA and forensic analysis have transformed the fields of crime scene investigation, and the wonders of this field of science are proven with every solved investigation. Remarkably, even cold cases from decades ago can be solved with a limited amount of DNA evidence. 
Recently the record for the oldest cold case ever solved with genetic genealogy was made when a murder case more than six decades old was finally closed. According to KIRO 7, a 1956 double murder in Montana was solved 65 years later in the summer of 2021. The gruesome case saw a teenage couple, Duane Bogle, 18, and Patricia Kalitzke, 16, murdered. Kalitzke was also raped. 
NPR reported Bogle's body was discovered next to his car by teenage hikers in a local "lover's lane." He had a bullet wound to the head, and his hands were tied behind his back with his own belt. The next day, a road worker found Kalitzke's body dumped north of Great Falls, also killed by a bullet to the head.
The killer turned out to be a man named Kenneth Gould, a Great Falls local who died in 2007. He was 29 at the time of the crime. Gould's descendants agreed to provide a DNA sample to investigators. With genetic genealogy, a single sperm cell was enough to trace the crime to Gould, making the murder case the oldest ever crime solved in the United States with the help of DNA.
Kenneth Gould was never a suspect after the murders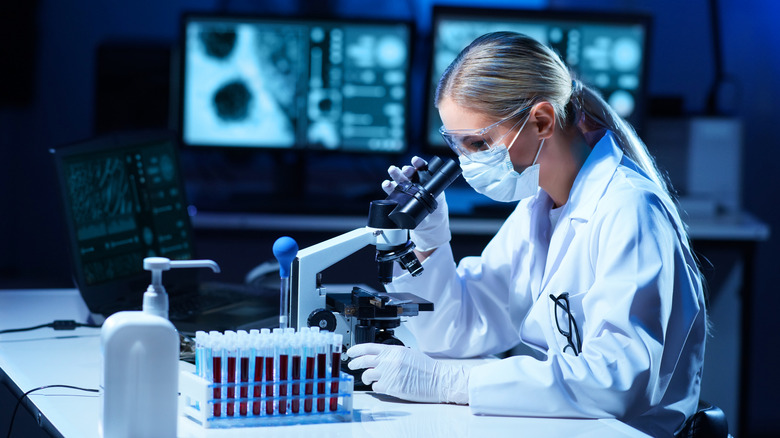 Maksim Shmeljov/Shutterstock
Despite numerous leads in the extensive investigation that followed, nothing substantial turned up and the case went cold. KIRO 7 reported that after the killings three dozen suspects were questioned, including infamous gangster James "Whitey" Bulger, but Gould was never questioned nor named a suspect. 
Local authorities continued working the case on and off over the decades, and in 2012 it was assigned to Detective Jon Kadner, according to NPR. Kadner modernized the investigation, including the painstaking digitization of all the case files. He focused on a swab of sperm taken from Kalitzke's body which was not Bogle's. Kadner set out to find who the sperm came from. 
The growing field of forensic genealogy allows for a DNA profile to be created and compared within public databases to find relatives of a culprit, even if they never provided a DNA sample to the authorities. The testing of the sperm pointed officials toward Gould, and then officials had the unenviable task of contacting Gould's family to see if they would help possibly prove his guilt in a rape and double murder case. 
They complied, and Gould was deemed the rapist and killer more than six decades after his crime and 14 years after his death. Too late for justice, but another step in technology that can help solve long-standing mysteries.