Tragic Details About Will Smith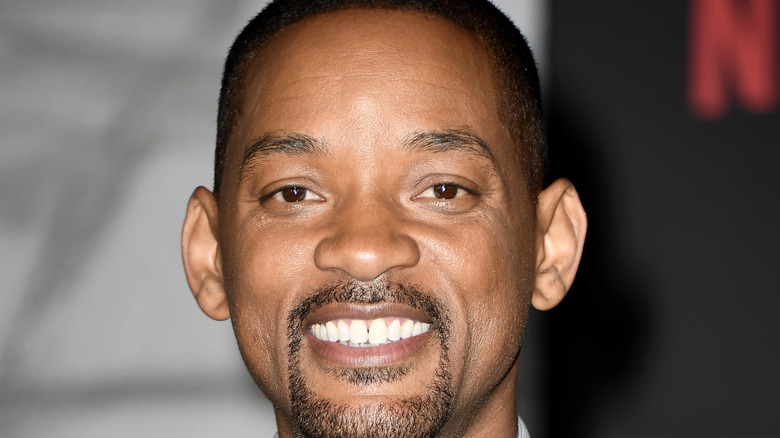 Frazer Harrison/Getty Images
Will Smith of "Fresh Prince of Bel-Air" fame is a rapper and actor who impeccably transitioned from music to movies (via Biography). According to IMDb, he's been nominated for two Academy Awards and won four Grammys. Since his days as a teen star, Smith has established himself as an A-lister with films like "Independence Day" and "Ali." Despite his massive celebrity status, Smith has humble beginnings and was born and raised in Philadelphia. Jrank states that he's the oldest son of four children to his school board employee mother and refrigeration engineer father.
Smith reportedly told Essence magazine that his father, Willard C. Smith, was tough but not tyrannical while he was growing up (per Entertainment Tonight). However, the 53-year-old actor recently opened up the strained relationship he had with his father in his new autobiography "Will," which will be released November 9 (via People). Per Today, he told Facebook Watch's "Red Table Talk" in 2020 that he grew up in an abusive household. Smith discussed how this caused him to develop feelings of inadequacy and unhealthy defense mechanisms. It also affected his relationships with women, as he believed their disapproval meant a loss of love. Most notably, this caused a rift between Smith and his "Fresh Prince of Bel-Air" co-star Janet Hubert, who was eventually replaced. However, the pair have reportedly since made up (per USA Today).
He thought about killing his father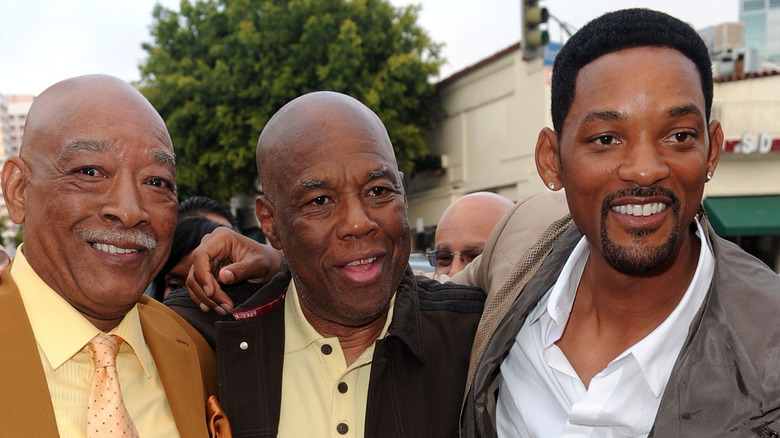 Alberto E. Rodriguez/Getty Images
According to USA Today, the relationship between Will Smith and his father (pictured above on the left) was complicated, to say the least. Though he was there for every important event and milestone in his life (including games and later movie premiers), Smith states that his father was also a violent drunk. People describes a specific childhood incident where Smith, who was 9 at the time, witnessed his father punch his mother in the head so hard she collapsed and bled. He writes that it forever changed his life, and he feels like he failed his mother for not standing up to his father. Smith also stated that all of his successes since then are a "string of apologies" to her. Per Page Six, his parents eventually separated when he was a teen and divorced in 2000.
Most shockingly, Smith confessed to wanting to murder his father over this incident (via CNN). When his father became ill with cancer several years later, Smith cared for him, and one night, he wheeled him from his bedroom to the bathroom. Here, he recalls wanting to throw his elderly father down the stairs to avenge his mother. Smith, of course, did not, and his father eventually died in 2016 (per Entertainment Tonight). Nonetheless, it seems that he is still healing from his trauma. Smith later told "Red Table Talk" that fatherhood — specifically his relationship with his daughter, Willow — has helped him with the process (via Today). Insider reports that he believes it's the only relationship with a female he hasn't ruined.
If you or someone you know is dealing with domestic abuse, you can call the National Domestic Violence Hotline at 1−800−799−7233. You can also find more information, resources, and support
Will Smith's first divorce devastated him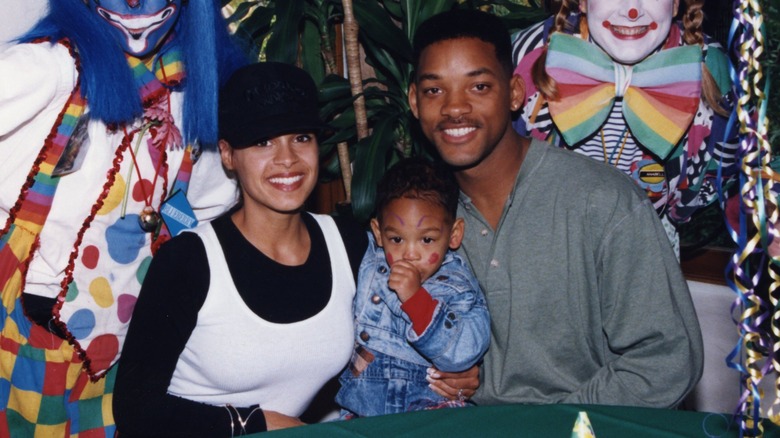 Donaldson Collection/Getty Images
Per Hollywood Life, Smith married his first wife, Sheree Zampino, in 1992. They met on the set of the sitcom "A Different World," which starred Smith's current wife, Jada Pinkett. On that fateful day, Smith had gone to the set to see Pinkett, but he instead met Zampino, who was visiting a friend. As reported by  The U.S. Sun, they went on to have a son named Trey, but the marriage was short-lived, and they divorced in 1995. Why did it end so soon? Showbiz CheatSheet notes that Zampino said they were simply too young and the responsibility was too much. Smith's growing career and success were also a factor. However, she was the one to file for divorce, as he allegedly had no intention to do so.
As reported by Today, Smith opened up about his divorce on "Red Table Talk" and said that for him, it was the ultimate failure and the worst thing that happened to him in adulthood. "I've been hurt a lot in my adult life, but I don't think anything touches the failure of getting divorced from my 2-year-old son's mother," he said. Despite the heartbreak, he later married Pinkett in 1997. Regarding being known as Smith's ex-wife, Zampino told Entertainment Tonight in 2020 that it could be worse and she could be "connected to Charles Manson." And even if she isn't a fan of the label, she acknowledges that the marriage is part of her history. As for Smith and Pinkett, they are still married and have two children, Jaden and Willow. However, their marriage has continually made headlines, as both have been open about their rocky relationship (per BuzzFeed).