This Is Travis Scott's Real Name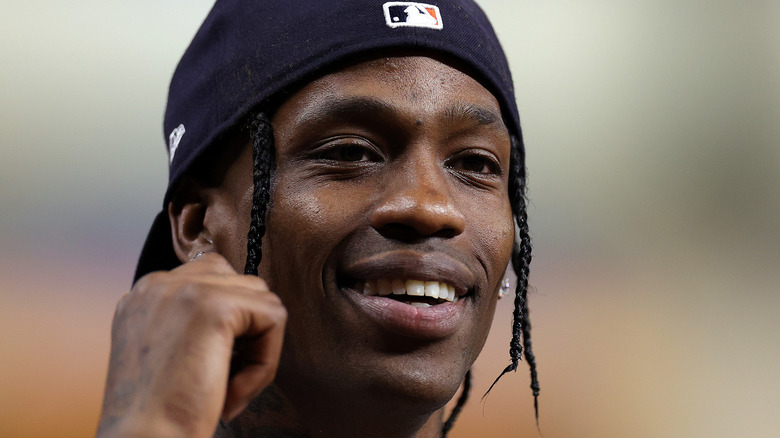 Carmen Mandato/Getty Images
Like many superstars, rapper Travis Scott uses a stage name. As reported by The Sun, the rapper was born in Houston, Texas on April 30, 1991. In 2012, at which point he was still styling his stage name as Travi$ Scott, he told Complex that he had grown up in the middle-class Houston suburb Missouri City with his mother, who worked for Apple, and his father, who owned his own business. He started playing music when his father bought him his first drum set when he was just 3 years old and he later went on to play the piano. At the age of 17, he got serious about making beats; his father didn't support his decision to make music and would come into his room and rip out his power supply, leading to father and son engaging in fisticuffs in front of Scott's friends. Ironically, as Scott told Complex, "my grandfather has his masters in music composition, he was a jazz composer. My dad was a musician too, he played more like soul music." 
Scott graduated from high school and went on to attend the University of Texas at San Antonio, dropping out his sophomore year and heading to New York, followed by Los Angeles, to pursue his dreams of making it as a rapper. Per The Sun, he first released music in 2008 as part of the duo The Graduates with his friend Chris Holloway. Scott's music was later heard by rapper T.I., who invited Scott to his Los Angeles studio and encouraged him to keep going.
Jacques becomes ... Travis?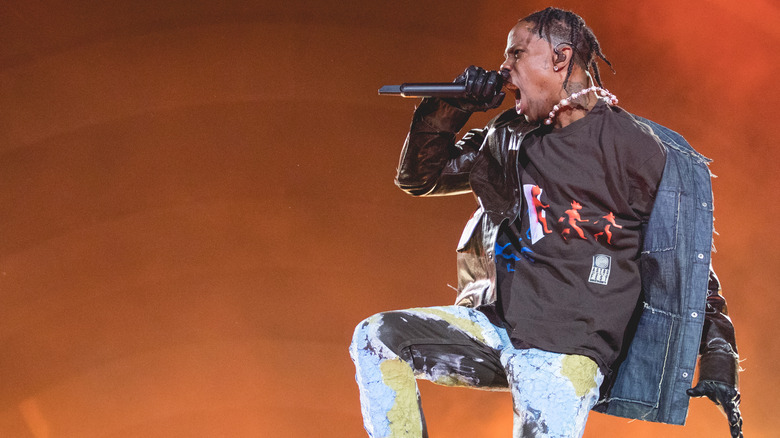 Rick Kern/Getty Images
Why did Travis Scott become Travis Scott instead of using his actual, already stage-worthy given name of Jacques Bermon Webster II? In 2012, Scott relayed his inspiration to Grantland, explaining "My uncle's name is Travis. He was like my favorite uncle. My favorite relative. I looked up to him and s***. [He was] was just cool as f***. He always just had swag. He played golf and s***. He just had swag. [He] was just smart. Always made good decisions, good business decisions." 
As for the Scott portion of his stage name, he discussed that with Jimmy Fallon in a 2018 appearance on "The Tonight Show Starring Jimmy Fallon," available on YouTube, saying "My uncle is named Travis and Kid Cudi is, like, one of my favorite artists of all time, and his real name is Scott Mescudi. And my uncle's friends call him Scott too, so it just kinda worked out like that — my two superheroes." 
Indeed, Scott has discussed his love for Kid Cudi for years, telling Complex in 2012 that as a young aspiring musician, "Kid Cudi opened up this side of my brain to express myself." Despite taking on the names of his "two superheroes," Scott hasn't entirely scrapped the "Webster" from his life. His daughter, Stormi, was born in 2018 to his partner Kylie Jenner. Per the birth certificate posted by TMZ, Stormi's last name is her dad's real last name, Webster. Their son, born in 2022, appears to share the same last name.