What Dylann Roof's Life In Prison Is Really Like
Handout/Getty Images
On July 17, 2015, Dylann Storm Roof was attending a Bible study group at the Emanuel African Methodist Episcopal Church in Charleston, South Carolina. Approximately one hour into the meeting, Roof stood up, pulled out a gun, and opened fire on the other members of the group — who were all Black. As reported by ABC News, nine people were killed in the attack. Several others were injured but eventually recovered.
Roof ran from the scene immediately after the shooting. However, he was caught and taken into custody during a traffic stop the following day.
As reported by CNN, Roof wrote a manifesto which was published on his personal website explaining why he targeted the Emanuel African Methodist Episcopal Church. In the manifesto, he said he had "no choice" as there were no active white supremacist groups in the region, and he felt it was his responsibility to act on their behalf. There were signs of Roof's growing racism, but Roof's friend Joey Meek told CNN, "Dylann wasn't a serious person; no one took him serious. But if someone had taken him serious, this all would all have been avoided."
According to The Washington Post, Roof was ultimately convicted of 33 federal hate crimes. In a separate trial, NPR reported he was convicted on all nine murders, three attempted murders, and a weapons charge. In the federal trial, Roof was sentenced to death. In the state trial, he was sentenced to life in prison without the possibility of parole.
Dylann Roof believes he is being targeted in prison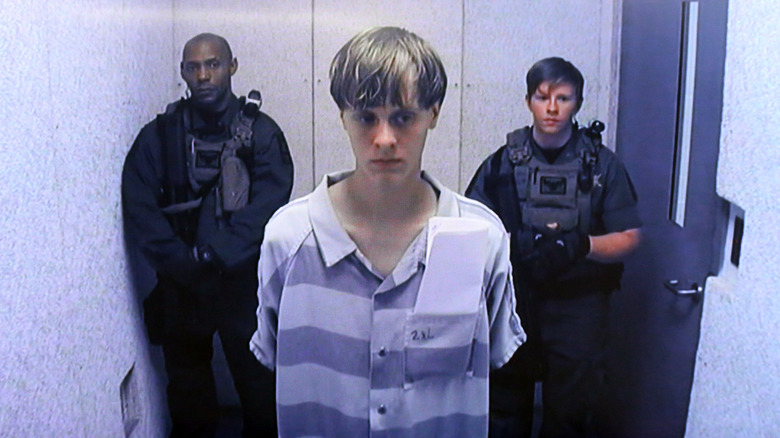 Pool/Getty Images
Dylann Roof is currently on death row at the United States Penitentiary in Terre Haute, Indiana. The Post and Courier reported that Roof claims being repeatedly targeted and harassed by guards and his fellow inmates.
In August 2016, Roof was taking a shower when he was attacked by a fellow inmate — who was supposed to have been locked in his cell. As reported by The Post and Courier, Dwayne Stafford punched Roof in his face and in his back before deputies arrived to escort Stafford back to his cell. Prison administrators eventually acknowledged Stafford's cell was open for "nearly 11 hours." However, the guards insist they made sure it was locked prior to the incident. Records indicate the electronic panel was in working condition and registered that the door was unlocked. Inspectors also verified the door was not compromised in any way.
Per The Post and Courier's coverage, Roof said guards also planted a weapon in his cell, for which he received a six-month punishment. In addition to being placed in isolation, Roof lost his phone and television privileges and was prohibited from using the prison's law library. In response to the incident and the subsequent restrictions, Roof went on a hunger strike. However, according to NBC News, he said he ended the strike within days, after "corrections officers forcibly tried to take his blood and insert an IV into his arm, causing him to briefly pass out."
Dylann Roof still does not have an execution date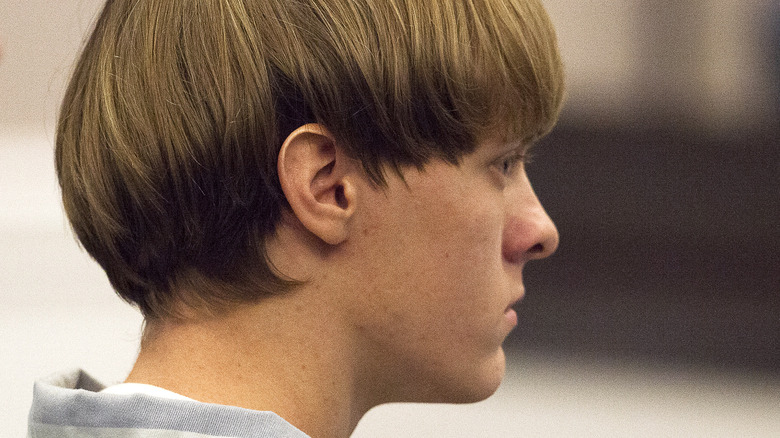 Pool/Getty Images
Throughout his incarceration, Dylann Roof has kept journals and sent letters to family and friends. As reported by Charleston's WCBD News 2, his writings emphasize his lack of remorse and his conviction that the murders were justified. In one particularly chilling journal entry, Roof said he had no sympathy for any of his victims. He did express sympathy for himself though, saying he was essentially forced to commit murder and is now suffering the consequences of that decision.
Videos of Roof's visits with his parents only further underline his lack of empathy for others. Meaww reports Roof openly laughed at his parents' obvious distress and threatened his father. Roof is also in regular contact with a number of "serial killer fanatics," with whom he shares his white supremacist views.
As reported by the Associated Press, Roof's attorneys filed an appeal in August 2021, but three judges with the 4th U.S. Circuit Court of Appeals in Richmond unanimously rejected the appeal, which was filed on the grounds that Roof was incompetent to stand trial. The judges wrote,"No cold record or careful parsing of statutes and precedents can capture the full horror of what Roof did. His crimes qualify him for the harshest penalty that a just society can impose," per the AP.
Roof's execution date cannot be set until all of the appeals have been exhausted. The current moratorium, which halted all federal executions per a policy and procedural review, will also delay Roof's execution.