The Tragic Truth About Black Friday Deaths
Godlikeart/Shutterstock
The day after Thanksgiving is often marked by eating leftovers and of course, shopping for deals and discounts. Known as Black Friday, Insider reports that many believe the origins of the name have to do with stores becoming so profitable they go "into the black" for the year. The truth of the term itself, however, is slightly darker than that. Per HuffPost, the first mention of Black Friday has nothing to do with holiday shopping and everything with an 1869 market crash that severely impacted the U.S. economy. By the early 1960s, the term was used by Philadelphia police to refer to the downtown crowding and traffic from shoppers looking for a post-Thanksgiving deal (via Black Friday).
History states that in the 1980s, the connotation became more positive and Black Friday became what it is today — a massive holiday shopping event that usually lasts all weekend. In 2020, an estimated 186.4 million Americans shopped from Thanksgiving to Cyber Monday (per NRF). Nonetheless, what can start out as a day of bargain hunting can end in tragedy. According to Black Friday Death Count, 14 deaths and 117 injuries associated with Black Friday have occurred between 2006 and 2020.
The worst Black Friday incidents in history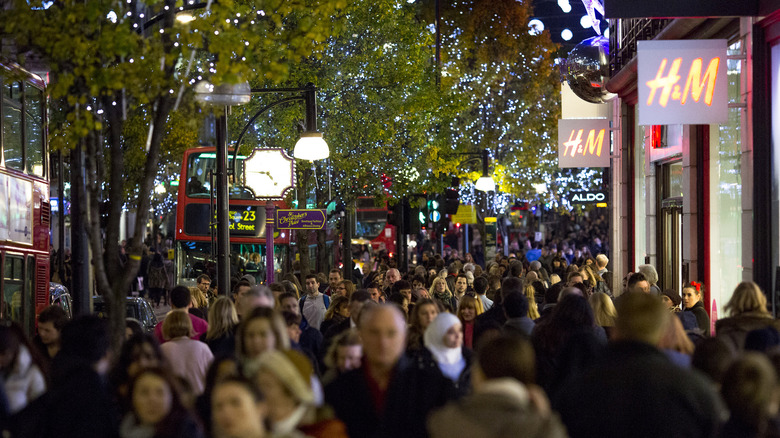 Dan Dennison/Getty Images
As the deals get bigger, so do the crowds and frenzy that surround Black Friday (via All That's Interesting). In 2008, the first recorded Black Friday death occurred on Long Island when a Walmart employee was trampled to death. Though several were injured when a 2,000 person crowd rushed through the door, The Guardian reports that only 34-year-old Jdimytai Damour died of asphyxiation. He had only been working at Walmart for a week before his death (per Insider). HuffPost states that in 2011, 61-year-old Walter Vance collapsed while shopping at a Target on Black Friday. Although Vance had a known heart condition, what makes his death tragic is the circumstances. Shoppers ignored his limp body and walked all over it. Vance later died at a hospital.
A San Antonio man, Isidro Zarate, was shot and killed at a Walmart on Black Friday when he defended a woman being assaulted (via News 4 San Antonio). Another tragic incident happened on a drive after a night of Black Friday shopping when the Tandel family got into their car and headed back to their Northern California home. According to the New York Daily News, the father, who was driving had only slept for three hours. He nodded off and crashed, killing his two daughters aged 20 and 24. 
The Black Friday frenzy will surely continue, as it's predicted that spending will be up from last year (per Black Friday). To stay safe while shopping, Fox 8 suggests that one should be aware of their surroundings and not fight over items.