The Truth About Felicity Huffman's Time In Jail
Kathy Hutchins/Shutterstock
Felicity Huffman is an actress, a desperate housewife, and most recently, a former inmate. According to USA Today, Huffman paid $15,000 to correct answers on the SAT exam of her daughter Sophia Macy (whom she shares with actor and husband William H. Macy). In May 2019, she pleaded guilty to conspiracy to commit mail fraud and honest services mail fraud (via NPR). Huffman, however, was not the only wealthy or famous parent to do this. Known as the college admissions scandal, CNN reports that 11 other parents pleaded guilty on the same charges. The Justice Department ultimately charged more than people, including "Full House" actress Lori Loughlin (per NBC News). Collectively, they paid $25 million to fraudulently get their children into their dream university.
Per Yahoo, Huffman said she did it in desperation to be a good mother and to help her daughter, who has a learning disability. The BBC states that Huffman was sentenced to 14 days in prison, 250 hours of community service, and ordered to pay a $30,000 fine for her role in the scandal. She later apologized for her actions and said the hardest part was facing her daughter, who had no idea what Huffman had done in order to boost her chances of getting into the college of her choice.
Felicity Huffman served less than two weeks in jail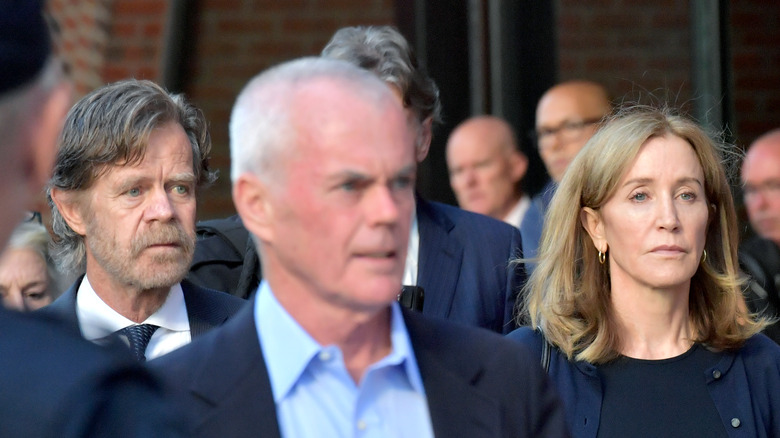 Paul Marotta/Getty Images
According to NPR, Huffman started her sentence on October 15, 2019, at a low-security prison in Dublin, California, near San Francisco. CNN refers to it as one of the "cushiest" institutions in the country. Huffman was expected to wear a khaki uniform and make her bed at 6:30 a.m., except on weekends, where she could sleep in until 10 a.m. Inmates can also sunbathe during the weekend and watch TV in the evenings. However, Fox Business reports that due to her notoriety, Huffman received special privileges that irked other inmates. She quickly got visitations approved, while others have to wait weeks or months.
In addition, phone and email usage in the prison was said to have been banned to protect Huffman. Thus, the other inmates were unable to communicate with their loved ones. After serving 11 days, Huffman was released from prison (via NBC News). Because her release date landed on a Sunday, prison policy allowed her to be released a few days earlier. By October 2020, Huffman had completed her community service. Since her stint in prison, she's had no trouble returning to work as an actress. Per Marie Claire, Huffman is currently working on a pilot for ABC.