What Happened To The Infamous LaLaurie Mansion In New Orleans?
JustPixs/Shutterstock
The LaLaurie Mansion in New Orleans' French Quarter is believed by some to be haunted by the souls of those who were secretly tortured and murdered in the home nearly 200 years ago, according to Ghost City Tours. Madame Delphine LaLaurie moved into the neoclassical home in 1832 with her third husband, Dr. Leonard Louis Nicolas Lalaurie, per New Orleans Historical. Known for being a wealthy socialite, no one could have known that Madame LaLaurie was also a sadist and murderer. 
Like most affluent Southerners, LaLaurie owned enslaved people. She was said to have been kind to them in public. However, the death of an enslaved child who fell off the mansion roof while LaLaurie was chasing her with a whip raised suspicions, according to History.  
The following year, in 1834, the mansion caught fire. Rescuers stormed the mansion but were met with a hellish scene when they got to one particular room and kicked down the door. LaLaurie's slaves had been beaten, tortured, mutilated, and experimented on in grievous ways, Atlas Obscura reported. 
An elderly enslaved woman started the fire to kill herself so she could escape LaLaurie's sadistic wrath. So disturbed were the townspeople of New Orleans that they formed a mob and pillaged the mansion. Blackpast reports that LaLaurie fled and most likely died in Paris, France, in 1849 without facing any repercussions for her horrific crimes. The mansion, however, still stands as a reminder of what LaLaurie's slaves endured.
The LaLaurie mansion was later purchased by Nicholas Cage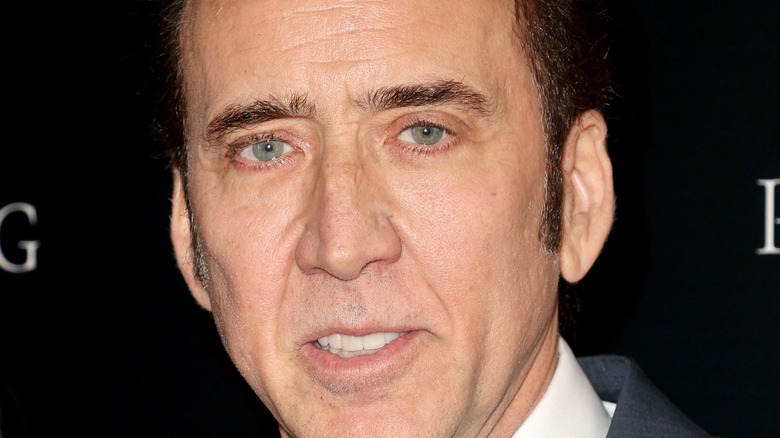 Kevin Winter/Getty Images
According to Nola, since the 1834 fire, the LaLaurie mansion has been a girl's school, apartments, a furniture store, a homeless shelter, and a private residence. Deadline reports that public access to the home hasn't been allowed since 1932. Still, thousands flock to New Orleans each year to get a glimpse of the infamous property.  
Besides LaLaurie herself, the mansion's most famous owner is perhaps Nicholas Cage, who purchased the home in 2006 for $3.4 million (per Preservation Resource Center of New Orleans). According to Vanity Fair, Cage bought the mansion to get inspiration to write a horror novel. The novel, however, was never written and Cage lost the home to foreclosure in 2009. He later told the New York Daily News that owning the LaLaurie mansion was a childhood dream come true. 
In 2010, Michael Whelan bought the mansion and is the current owner. Per Deadline, Whelan is giving access to the home to the creators of "The Conjuring," a 2013 movie based on an alleged haunted house in Rhode Island. The filmmakers are currently working on creating a new horror franchise based on the LaLaurie mansion's macabre history.