Here's Who Inherited Joan Rivers' Money After She Died
Michael Ochs Archives/Getty Images
Legendary comedian Joan Alexandra Molinsky, better known as Joan Rivers, seemingly came from nowhere in the 1960s, per ABC News. From that point, Rivers went on to break down comedy barriers, while she also courted controversy both on and off the stage. All the while, she never made any apologies for her brash, sometimes abrasive, but frequently funny persona. For these reasons and more, Joan Rivers is the stuff of comedy history. The star performer also made a significant amount of money throughout her career, and not just in comedy. She also wrote bestselling books, appeared on TV,  acted in films, and even had her own line of jewelry, according to Fortune. All combined, Joan Rivers' estimated net worth was an impressive $150 million, as Entertainment Tonight reports. Where did all that money go when she died?
Always open about plastic surgery, it seemed like Joan River might live forever. She sadly died, though, due to complications from throat surgery in 2014 at the age of 81, per Biography. Joan Rivers was married twice in her life, but had only one daughter, Melissa Rivers, who was born in 1968, per IMDb. Melissa Rivers, whose real name was Melissa Warburg Rosenberg, was close with her mother, and the two entertainers worked together on several occasions. For this reason, Melissa Rivers and her son, Edgar Cooper Endicott, who just goes by Cooper, were the first persons Rivers thought of when it came time to put all her assets in a living trust.
Joan Rivers' daughter, Melissa, was named executor of the estate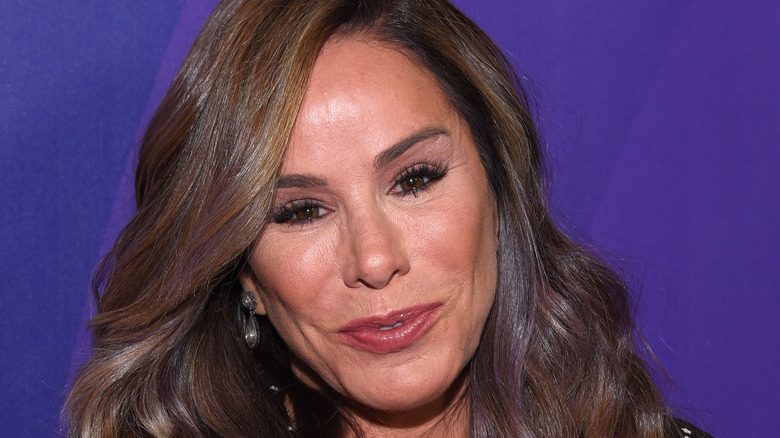 DFree/Shutterstock
The first party Joan Rivers took care of in her estate planning was her daughter, Melissa (above), as well as Melissa's son, Cooper, Joan Rivers' grandson. She also made provisions for her niece and nephew, Caroline and Andrew Waxler. As Business Insider reports, the majority of the legendary performer's significant fortune remained with her family. That money, however, went into a blind trust, so specific amounts and distribution schedules are not public record. It's estimated, though, that Melissa Rivers was left with $75 million of her mother's money, as well as Joan's lavish New York City condo, valued at $35 million at the time that Joan Rivers died, according to Insider. The penthouse triplex, with more than 5,000 square feet, was put on the market for $38 million in 2021, according to Realtor. 
Joan Rivers also passed down all her possessions to Melissa, but for her part, Rivers made clear to her daughter that she cared little about what happened to her possessions after she was gone. Via Daily Beast, Joan Rivers told Melissa, "'Sell anything and everything you don't want. Don't feel beholden to my possessions.' I feel almost hysterical on that. I don't want them to have a sense of guilt ... In your 80s, you'd be foolish not to think about that," Joan said. In addition to family members, Joan Rivers left some money to devoted assistants Jocelyn Pickett and Sabrina Lott Miller. She also named her former publicist Scott Currie in the trust.
She also left money to charity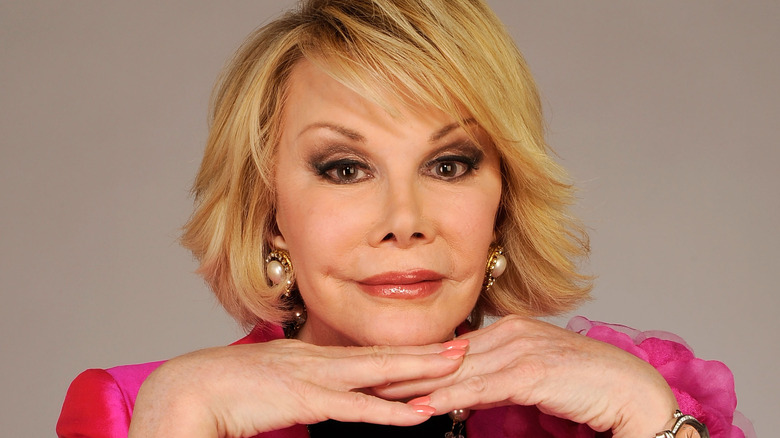 Larry Busacca/Getty Images
In addition to family members and close and trusted employees, the smart comedienne also remembered several charitable organizations when it came time to make her final arrangements. Per Entertainment Tonight, Joan Rivers left unspecified sums to the Jewish Guild for the Blind in Manhattan, the Jewish Home and Hospital Federation of Manhattan, the Simon Wiesenthal Center, and the Cystic Fibrosis Foundation, among others. One other charity that Joan Rivers remembered in her estate, the California's Guide Dogs for the Blind, also reveals the star's undying devotion to dogs and animal welfare in general. It makes sense then, the last things named in her trust were her dog, Spike. 
If it weren't for Spike, in fact, Rivers might have died much sooner. Joan Rivers' second husband died by suicide in 1987, which left Rivers so distraught she nearly followed suit. It was her dog's companionship that saved her, according to ABC News. "I was sitting in this big empty house in Bel Air ... I had the gun in my lap, and the dog sat on the gun. I lecture on suicide because things turn around," Rivers told Daily Beast. Because of this, Rivers also set aside money for the continued care of her beloved pet, Spike. Anyone who knew Joan Rivers felt her loss acutely. As her former publicist and longtime friend Scott Currie explained to Page Six in 2014, "Nothing can ever make up for the loss I feel every day."
If you or anyone you know is having suicidal thoughts, please call the National Suicide Prevention Lifeline​ at​ 1-800-273-TALK (8255)​.