This Is The First President Born In A Hospital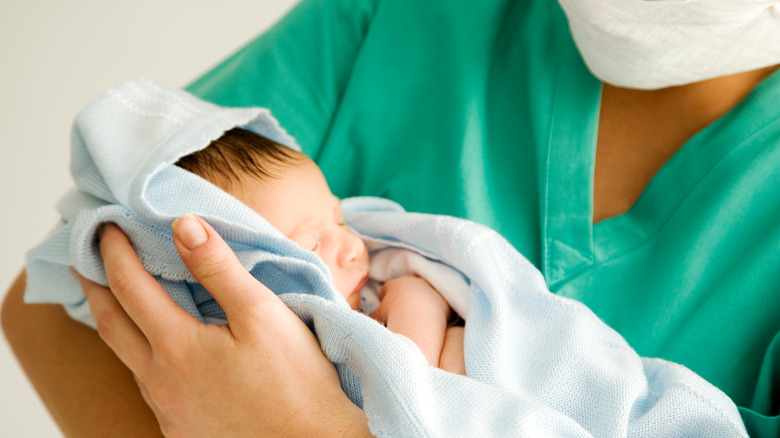 Air Images/Shutterstock
Part of the allure of presidential history resides in the homespun and, sometimes surprising ways they entered this world. Two presidents, James Polk (1795) and Warren Harding (1865), were even born on the same day: November 2 (from World Strides).  Polk, our 11th leader had a folksy beginning and first appeared in his family's log cabin in Mecklenburg, North Carolina. The eldest of 10, Polk experienced several operations during his youth to remove urinary stones — surgeries done before anesthesia. Brandy allegedly offered the future president his only comfort (via History). 
The 29th president, Harding, was born on a farm in Blooming Grove, Morrow County, Ohio, said American History, and was the eldest of eight. Lots of presidents came from a farming background. Abraham Lincoln's birthplace in Knob Creek, Kentucky can even be visited today as a National Park Service historic site. "No other human occupation opens so wide a field for the profitable and agreeable combination of labor with cultivated thought, as agriculture," said Lincoln in an 1859 Wisconsin State Agricultural Society speech, quoted Modern Farmer. Lyndon B. Johnson, our 36th president, was born on the ranch he would own (and later be buried) — another site the NPS oversees.
Another farming president — maybe the most famous of the collection — was actually the first one born in a hospital. Can you guess who that is?
A peanut farmer becomes president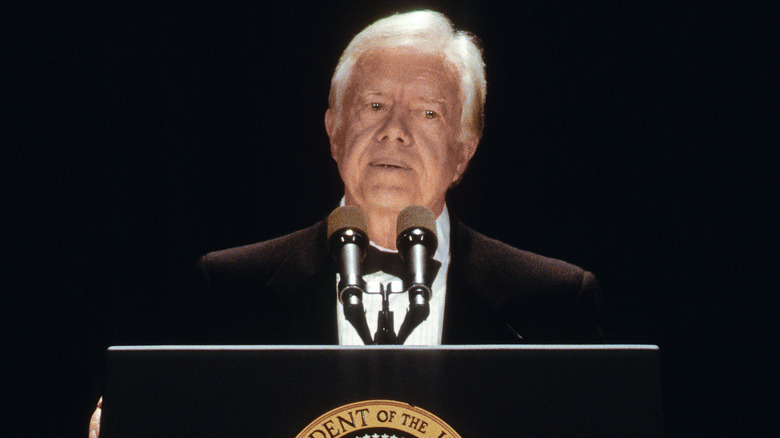 mark reinstein/Shutterstock
Not only was Jimmy Carter, the United State's 39th president, born on his parents' peanut farm in Plains, Georgia, but he also grew up there. Farming was such a part of his life, he even was a member of his high school's "Future Farmers of America" chapter, reported Modern Farmer. When his father passed away in 1953, Carter oversaw the farm's day-to-day business, including battling a terrible drought in 1954, where the farm only earned $187 ... for the year!  By the time he ran for governor in 1970, Carter had made the farm prosper. "The early years of my life on the farm were full and enjoyable, isolated but not lonely," he is quoted on the website. "We always had enough to eat, no economic hardship, but no money to waste. We felt close to nature, close to members of our family, and close to God."
While farming might have built the man he became, it was not the place he entered this world. That would be at the Lillian G. Carter Nursing Center, the first child of four, according to the National Park Service. Carter was born in 1924. Our first prez, George Washington, was born on February 22, 1732. It only took nearly 200 years for a president to be delivered in a hospital.