Did JFK Have An Illegitimate Love Child?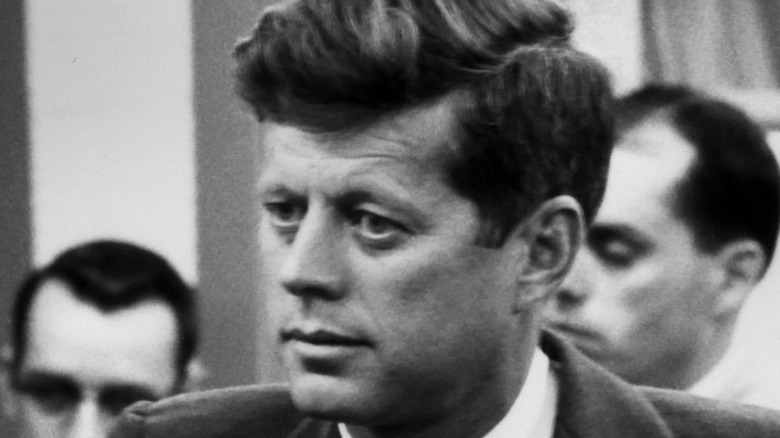 Galerie Bilderwelt/Getty Images
It's relatively common knowledge at this point in history that former president John F. Kennedy had a rocky and dramatic personal life, particularly when it came to his many alleged extramarital affairs. Kennedy is rumored to have had relationships with a slew of women outside of his marriage to Jacqueline Bouvier Kennedy, including actress Marilyn Monroe, White House intern Mimi Alford, and Swedish aristocrat Gunilla Von Post, who later auctioned off letters from Kennedy and wrote a book entitled "Love, Jack." In 2008, Vanity Fair magazine investigated the possibility that one of Kennedy's alleged affairs had resulted in the birth of a son. 
Jack Rodney Worthington II was born in Texas on November 22, 1961 to Jack Rodney Worthington and Mary Evelyn Bibb Worthington. According to Worthington II, in August 2006 he visited his parents as his father was dying from a genetic disorder that affected his lungs. When Worthington expresssed concerns to his mother about getting his children genetically tested to see if they had inherited the disorder, Mary reportedly told him that he didn't have to worry, as his biological father was John F. Kennedy. Via his lawyer, Worthington approached Vanity Fair and offered the magazine exclusive rights to the story if they could validate paternity via a DNA test.
The younger Worthington's mother, known as Evelyn, had won several beauty pageants and came from a family involved in Texas politics, including an uncle who was a judge in Maverick County and friends with Kennedy's vice president, Lyndon B. Johnson. She married Jack Worthington in 1960. 
Did Jack Worthington's mother even know JFK?
As reported by Vanity Fair, Jack Worthington II's mother, Evelyn, could have met John F. Kennedy at several points during the late 1950s or early 1960s, given her family's proximity to the political realm in which Kennedy operated. However, per Worthington (shown above), he didn't have a close relationship with his mother and she refused to offer up any details about how she had come to have an affair with Kennedy. Furthermore, she refused to provide a DNA sample of her own or from her husband. 
Vanity Fair did obtain some of Kennedy's hair from collector John Reznikoff who, per Guinness World Records, owns the world's largest collection of hair from historical figures. Comparisons of the DNA tests from Kennedy and Worthington led Dr. Robert Bever of Bode labs, who oversaw the tests, to state, "It doesn't look like the [donor of the] hair could be the father of [the person who gave the sample on] the swab." A family spokesperson eventually issued a statement to Vanity Fair claiming that Evelyn had never met John F. Kennedy nor had a conversation with her son regarding his paternity. Speaking with ABC News, Worthington called the Vanity Fair story "a hack job" and claimed his mother had changed her story, saying, "If her statement is true then I have the congenital disease my father died from and my children have a 50% chance of having it. I just don't believe my mother is that cruel or stupid to have misrepresented my parentage."