The Untold Truth Of Ink Master Judge Chris Nunez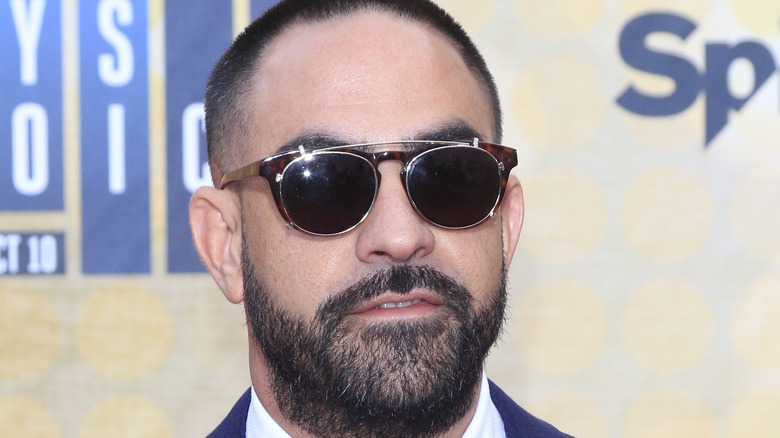 Kathy Hutchins/Shutterstock
The public has a fascination with tattoos, as evidenced by the popularity of the Paramount Network show, "Ink Master."  The show, which debuted in 2012 and came to an end in 2020, pitted tattoo artists against one another in all types of tattoo-inspired challenges. 
Chris Núñez, one of the show's judges, demonstrated his insight on what makes tattoos extraordinary as he shepherded in the next generation of artists on the show. Núñez, who started off as a graffiti artist, knows the field well. He had already made a name for himself in the industry before the show tapped him as a judge.
After all, the TLC reality show, "Miami Ink," which aired from 2005 to 2008, was set in the shop, Love Hate Tattoos (first called 305 Ink), which he co-owned at the time with Ami James. While known for his European and Japanese tattoos, Núñez likes to seek out new designs. "If you do your style every day, all day, you don't grow as an artist," he said to Next Luxury. He has owned several tattooing places, including Handcrafted Tattoo and Art Gallery in Fort Lauderdale, Florida, which he owned from 2013 to 2018. But Núñez is much more than a mere tattoo artist, he is a world traveler, entrepreneur, and philanthropist.
His parents encouraged his art, even the graffiti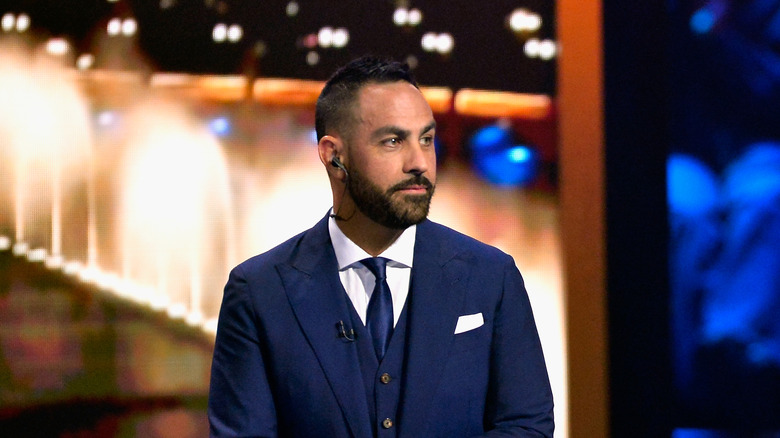 Bryan Steffy/Getty Images
Even at a young age while growing up in Miami, Florida, Núñez appreciated art. He apprenticed at a neighborhood tattoo shop and explored graffiti. He liked sketching on walls in his community, using an assortment of colors but especially blue, according to The Cinemaholic.  Núñez credits his parents for his success because of their unmitigated support (even of graffiti) and his first tattoo at 16 was of their names. His father, who passed away when Núñez was 18, often told him to "Ride or Die" in his pursuit of success.
After his father's death, Núñez entered a dark and self-destructive period of his life defined by rebelliousness. With the help of his mother, by his late 20s he managed to turn his bitterness and frustration into academic success, and soon got his life back on track.
For Núñez, tattoos are just another way to explore his interest in art. "I think tattooing has kind of hit an almost a Renaissance form of art," he said to the Miami New Times. "You have so many crossover artists; you have so many graffiti artists that became tattoo artists, you have sign painting, classic painting, pop painters, all these different art forms. Even fashion, clothing — they all kind of fuse. A lot of people have found inspiration from tattoos and have drawn inspiration from tattooers for their personal art." 
His favorite tattoos are not what you'd expect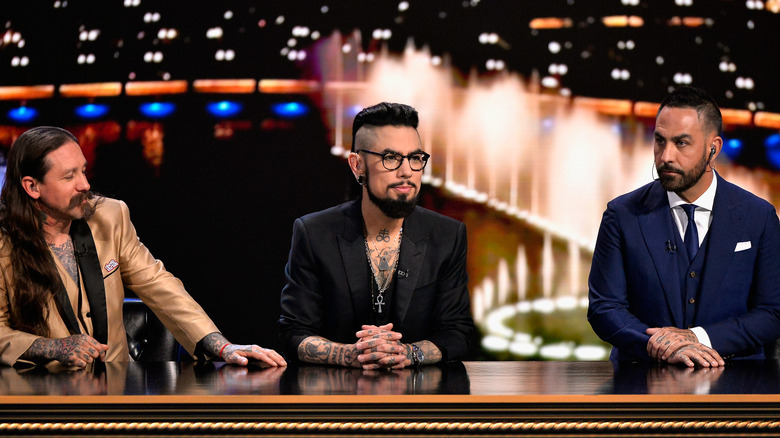 Bryan Steffy/Getty Images
Núñez has lots of tattoos. But some of his favorites are "drunk tattoos." "You're with a bunch of your friends and you have a tattoo shop and you have the keys to the show, and you also own a bar," he said to Format magazine. "I mean I've woken up in the morning literally like, "Ow, why does that hurt? And you look down and you have this little stupid quarter-sized tattoo from last night on you."
He finds it meaningful to have friends and special people in his life tattoo him, even if the work doesn't come out as beautiful as if a real artist attempted it. "I think you have to kind of hit it off with the person who you're getting it from or it's only half the experience," he said to the publication. His mom even tattooed him, writing the word "Mom" on his body. "It was something I really wanted ... I probably only have like 10 or 15 of those ... little tattoos all on my legs in between big real tattoos, but they're my favorites."
And unlike some who may be reluctant to get tattoos, or regret one of their impulsive tattoo decisions, Núñez never regrets his tattoos, or finds himself in a situation in which he feels ashamed of them. "I grew up with a father who wore a suit every day but had definitely gangster tendencies," he said, "and there was nothing cooler. To be able to do all kinds of different things and play all kinds of different roles. That's what keeps me feeling alive."
Chris Nunez is quite the traveler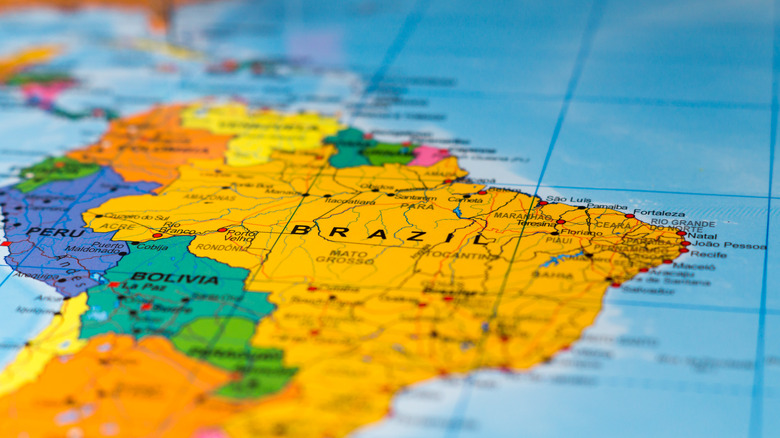 timyee/Shutterstock
"Tattooing is a gypsy lifestyle so I've worked everywhere," Núñez admitted to Format magazine. When Núñez was 21, he took a trip to Brazil and enjoyed the country so much he remained there for five years. His brother had been living there, and he impulsively purchased a plane ticket to visit. While there, he opened up a tattoo shop with Maurizio, someone he calls "one of the most talented people I've ever worked with." The place didn't last long since Núñez got deported. "I actually got deported twice," he admitted to the publication. "That's what you do for Brazilian women I guess. I had a girlfriend there, and at the moment it was like true love."
When that relationship ended, he went next to Europe where he traveled around, working with various tattoo artists he admired (via Paramount Network). By the time he returned to the United States he had been gone for about eight years.
Nunez is a talented entrepreneur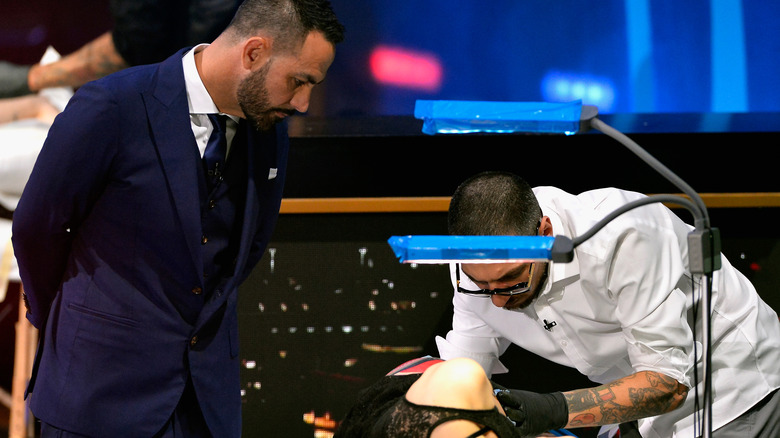 Bryan Steffy/Getty Images
The tattoo artist is good at running businesses ... and not just those that ink people. Besides his tattoo parlors, he is a partner at a strategic content and media company, Ridgeline Empire, which has two subsidiaries, Ink Skins and Upset Gentleman, as well as part of an animation studio that developed two series, "Hoodbrats" and "Toothians" (via Paramount Network). 
He also helped create a free digital coloring book app with a friend, Tobias Sherman, whom he first met at a tattoo place, and Simon Abitbol. Núñez hopes to facilitate creativity by allowing new artists to work with each other as well as more experienced ones through a competition (from Color Collab). "We built something because I was an artist and I got so many bad deals," he said to Nicki Swift. "We collaboratively built something that we could give back to our artists that would be amazing. And then we decided to gamify it by creating this competitive component."
All his various business dealings have given Núñez a net worth of $7 million according to Heightline. 
He takes giving back seriously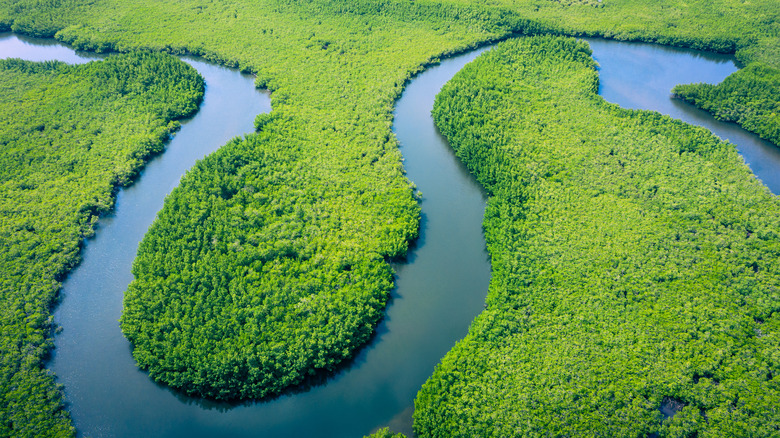 Curioso.Photography/Shutterstock
The traveling Núñez has done gave him an appreciation for the Amazon rainforest, and he's done fundraising for the Benki Piyãko and the Yorenka Tasorentsi Institute to raise money for a satellite internet connection for the area, according to Next Luxury. He also uses the revenue his app, Color Collab, generates to support various charities, including the Amazon, according to Forbes.  
"My passions that I have in the Amazon and bringing designs from each tribe in the Amazon that we work with as well as Native American tribes and putting all those proceeds to create awareness, the proceeds go 100% back to the tribes," Núñez said to the publication. "We know they protect our earth, we know they have all of this great knowledge and they have a plant-based technology that rivals your supercomputer, so, in all reality, the defense we get on one side of the earth should be on the other and that is what we push for — that is what I am pushing for — and that is what I am pulling my team along for to do."