How Emily Blunt And Stanley Tucci Are Related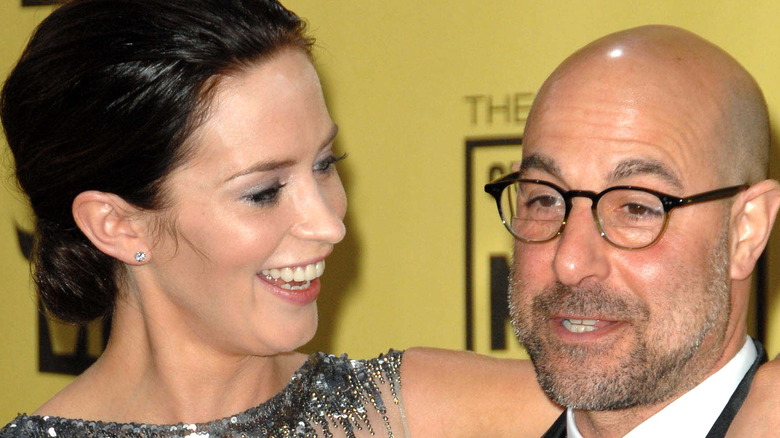 s_bukley/Shutterstock
In 2006, actors Emily Blunt and Stanley Tucci starred in the now cult-classic film "The Devil Wears Prada" (via Showbiz Cheatsheet). According to Biography, Tucci was cast only 72 hours before filming began. Moreover, the studio had auditioned more than 100 actresses for the role of Emily, before it went to Blunt. One can argue that it was meant to be, as the film later led Tucci to his second wife. Per Mamamia, Tucci married his first wife, Kathryn Spath, a social worker in 1995. The couple had three children and briefly separated in 2002 when Tucci had an affair with fellow actor, Edie Falco.
Nonetheless, they reconciled and People states that they remained married until Spath's death in 2009 from breast cancer. In 2010, four years after "The Devil Wears Prada" was released, Blunt married actor John Krasinski in a lavish Italian ceremony. Blunt invited the recently widowed Tucci as a guest and introduced him to her sister, Felicity (per TheThings). The pair instantly hit it off and one of their first dates lasted hours (via Today).
Stanley Tucci is Emily Blunt's brother-in-law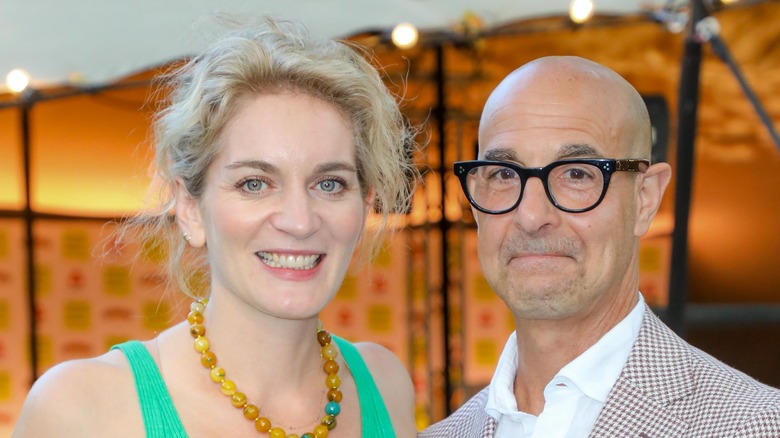 David M. Benett/Getty Images
According to Showbiz Cheatsheet, Tucci and Blunt (pictured above) later married in 2012. Thus, Tucci and Emily Blunt are in-laws. Tucci later relocated to the UK, where the Blunt sisters are from (per TheThings). He became a father again in his 50s, as the couple shares two young children, Matteo and Emilia (via Closer Weekly). Who exactly is Blunt? Good Housekeeping writes that she has been a literary agent since 2005 and represents fiction writers at Curtis Brown.
Despite their now nearly 10-year marriage, Tucci has admitted to feeling guilty for proposing and being with Blunt after his wife's death (per Oprah Daily). He has also expressed that he and his children will never stop grieving his wife. Tucci has previously recounted that his late wife, Spath, and his now-wife Blunt, actually met at the "The Devil Wears Prada" premiere in 2006 in a situation he now refers to as "odd" (via People). Regarding his blended family, Tucci told The Guardian in 2017 that it was not easy for Blunt to take in a widower and three children but that she was up for the challenge.