The Kyle Rittenhouse Kenosha Verdict Explained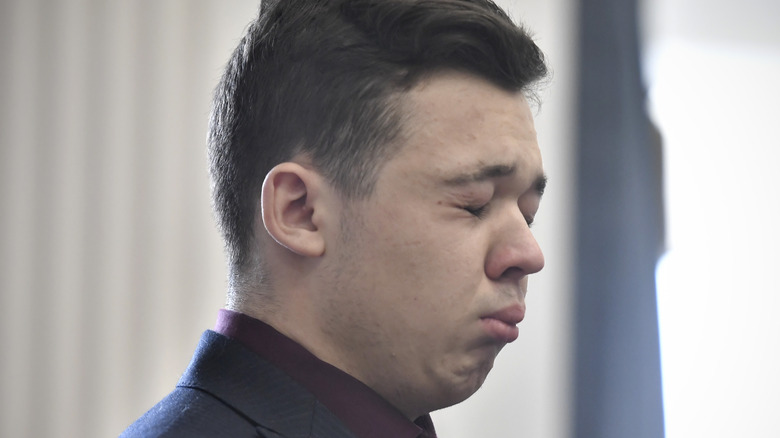 Pool/Getty Images
Kyle Rittenhouse, the 18-year-old who was arrested after the deaths of two people at 2020 protests in Kenosha, Washington, was acquitted of all five charges on November 19, bringing a closely-watched trial to its conclusion (via CNN). Investigators had charged Rittenhouse with five felonies, including one each of intentional homicide and reckless homicide, as well as two counts of recklessly endangering safety.
On August 25, 2020, Rittenhouse, then 17 and living in Antioch, Illinois, left his house with a rifle, ammunition, and a medical kit, and made a 30-minute drive across state lines to the town of Kenosha, Washington, which had erupted in raucous protest after the police shooting of Jacob Blake, a Black man (via NPR). Rittenhouse had claimed that he was attending the protests in an attempt to serve as a medic and to protect nearby property.
At the protests, Rittenhouse was filmed shooting three people, resulting in the deaths of two: Joseph Rosenbaum, 36, and Anthony Huber, 26. Gaige Grosskreutz, then 26, was injured. The encounter was recorded by multiple people — so how did Rittenhouse eventually get cleared of all charges?
In his testimony, Rittenhouse claimed self-defense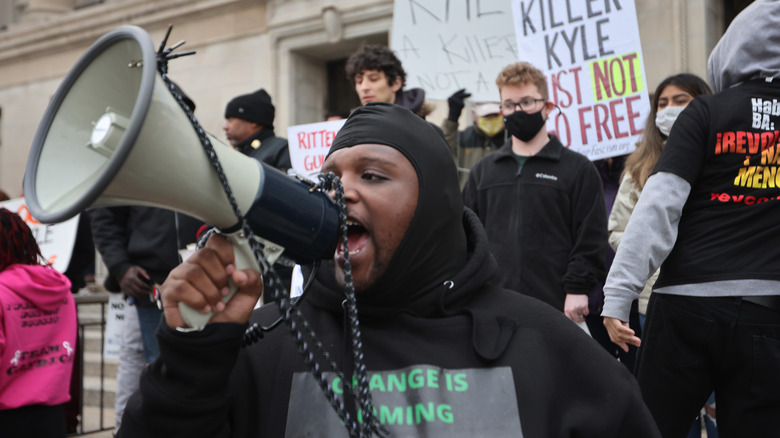 Scott Olson/Getty Images
The jury deliberated in the trial for more than 24 hours before delivering their verdict in the controversial case, according to CNN. In the end, lawyers for Rittenhouse were able to convince jurors that the teenager had acted in self-defense.
"Mr. Rosenbaum was chasing me," Rittenhouse said in his testimony, according to NPR. "He said he was going to kill me if he got me alone. I was alone. I was running from him. I pointed it at him, and it didn't stop him from continuing to chase me." After he ran toward police, Rittenhouse said that other protesters began to chase him, including Huber and Grosskreutz. Huber struck him with a skateboard, video shows. Grosskreutz was holding a loaded pistol, and pointing it at Rittenhouse, Grosskreutz said during the trial, something which he claimed was accidental.
Rosenbaum, however, was unarmed, and Huber was armed with just his skateboard. Still, even if jurors believed that Rittenhouse behaved foolishly, the burden of proof here always needed to be high, according Chris Zachar, a defense attorney analyzing the case from the outside, speaking to to NPR. "[Unless] the state proves beyond a reasonable doubt that this wasn't reasonable and that he didn't believe that he needed to use deadly force to defend himself, then the only proper verdict is acquittal," Zachar said.