The Kenosha Shooting Timeline Explained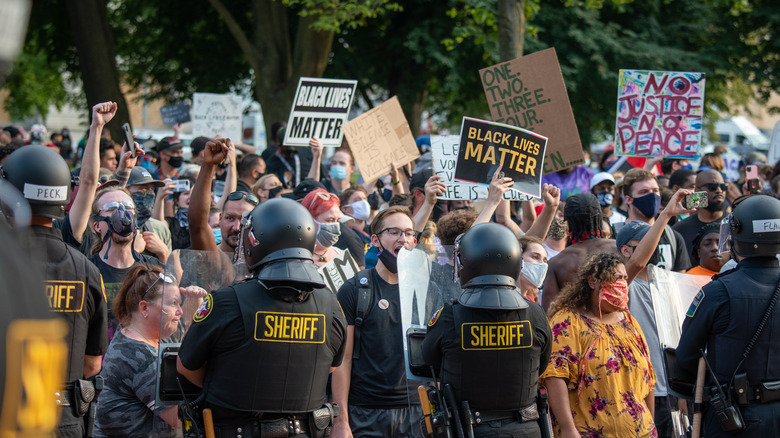 Michael R. Schmidt/Shutterstock
Kyle Rittenhouse allegedly shot three protesters, killing two of them, in August 2020. Here's what led up to this deadly attack on demonstrators, reportedly by a 17-year-old from Antioch, Illinois (via ABC News). Protests erupted in Kenosha, Wisconsin, after local police shot Jacob Blake, an African American man, seven times in the back in front of his three children on August 23, 2020 (via USA Today). People angry about this excessive use of force took the streets of the town, and a curfew was put in place for that Sunday night in an attempt to calm the situation. Buildings were burned, and property was destroyed.
The protest against the Blake shooting and police brutality continued for the next two days and stretched into that fateful Tuesday evening. During this time, tensions between the police and protesters were only made more complicated by the presence of armed individuals on the scene. Kyle Rittenhouse was one of those people, and he reportedly was armed with a semi-automatic rifle. At around 10 p.m. that night, he was purportedly seen standing with a group of armed men who claimed to be guarding an auto shop. Rittenhouse was still there, 45 minutes later, when he spoke with police officers and asked for some water. There were no clear signs of the violence that was about to unfold. 
Kyle Rittenhouse clashed with crowd at protest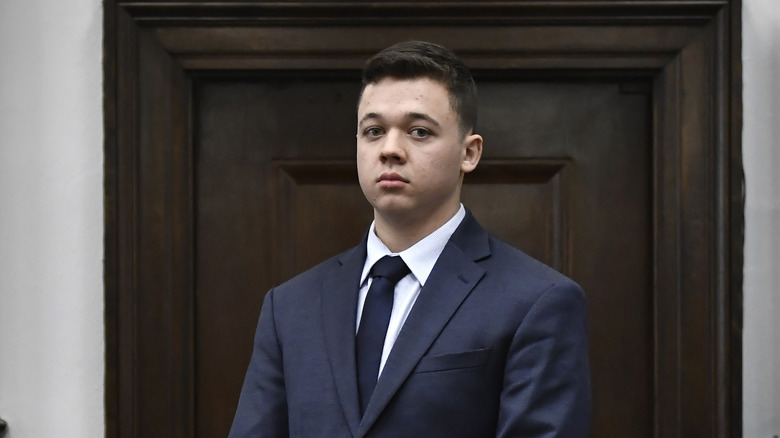 Pool/Getty Images
Kyle Rittenhouse later left the shop, and he was allegedly involved in some form of altercation that led to him being chased by another man around 11:45 p.m., according to USA Today. (Other reports said more than one person was running after Rittenhouse.) That man is later identified as 36-year-old Joseph Rosenbaum, and Rosenbaum was reportedly seen throwing something at Rittenhouse. Rittenhouse allegedly ended up shooting him during a confrontation. Not long after reportedly firing the fatal shot, Rittenhouse ran away from the scene and was pursued by others who saw what happened to Rosenbaum. 
While trying to get away, Rittenhouse fell, and he allegedly turned his weapon on three people who were trying to apprehend him (via The New York Times). This came only a few minutes after the first shooting. Rittenhouse reportedly managed to fire four shots, striking one person in the chest and another was hit in the arm. Those two victims are later identified as Gaige Grosskreutz and Anthony Huber. Huber later died from his injury. Rittenhouse is seen walking toward approaching police cars with his arms up in the air, but the police drove past him (via ABC News).
Police didn't catch up with Rittenhouse until the next day. They arrested him at his home in Illinois on August 26, 2020. The following day, Rittenhouse was charged with five felony counts, including two counts of first-degree intentional homicide. In January 2021, he pleaded not guilty. Rittenhouse went on trial for these crimes in November.