What Amanda Knox's Life Is Like After Being Released From Jail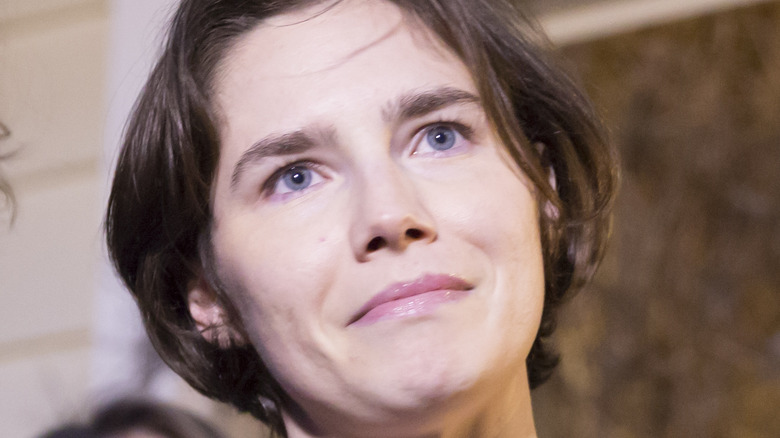 Stephen Brashear/Getty Images
In 2015, the Italian Supreme Court overturned Amanda Knox's murder conviction. It was a final victory in her nearly decade-long case within the Italian judicial system for the murder of her British roommate, Meredith Kercher. The Seattle-born college student had stood trial and was previously found guilty of the crime twice. The story captured the world as people clamored to learn the details of what led to her arrest and trial.
On November 1, 2007, someone murdered Kercher in the cottage that she shared with Knox and two other women in Perugia, Italy. The pair had only met two months earlier. The following morning on November 2, Knox arrived home from work to find Kercher dead in a bloody crime scene. A few days later, Knox, her boyfriend Raffaele Sollecito, and her former boss Patrick Lumumba were charged with murder (via History). A few weeks later, the case became even more interesting when a knife with Kercher's DNA was found in Sollecito's home and a fourth suspect named Rudy Guede was also implicated in the case, according to a timeline of the case (via Biography).
Two trials, two convictions, and two acquittals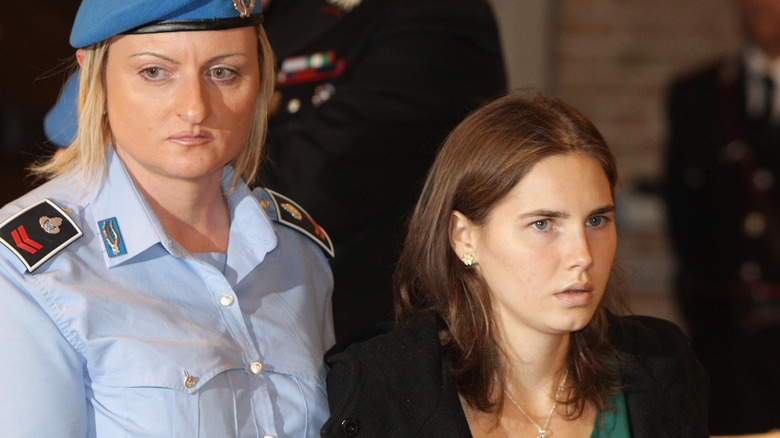 Oli Scarff/Getty Images
The case went to trial in early 2009 and Knox was found guilty by the end of that year. She was sentenced to 26 years but after a successful appeal, her conviction was overturned in 2011. She returned to the U.S. for the first time after spending three years in prison, and gave a press conference from Seattle when she arrived (via BBC). 
But Knox's freedom smile would later turn into a frown. In mid-2013, Italy opened a new trial, and a jury convicted Knox and her ex-boyfriend Sollecito again for the crime in 2014, and she was sentenced to 28 years (CBS News). The second trial was conducted without Knox present, and after her conviction, she did not have to face extradition as the verdict was reviewed by Italy's supreme court on whether the conviction would be upheld, reported ABC News. About a year and a half later, she was acquitted for a second time, per Time Magazine.
Amanda Knox since her return to the U.S.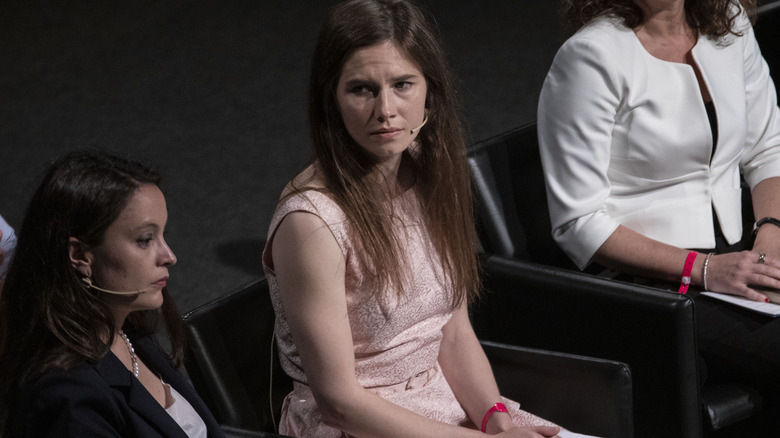 Emanuele Cremaschi/Getty Images
What has Amanda Knox been doing since her 2011 release? Upon her return home, the University of Washington student went back to school to complete her studies, per Biography. In 2013, she wrote a book about her experience abroad titled "Waiting to Be Heard: A Memoir." She later found work as a freelance journalist for a Seattle publication, per Sky News. In 2018, she also started a podcast called "The Truth About True Crime with Amanda Knox," where famous cases and how media reporting drives opinion are discussed.
The next year, she returned to Italy for the first time since her release and second acquittal to speak on a panel (via ABC News). In 2019, she also started working with the Innocence Project — a nonprofit aimed at seeking exoneration for wrongly convicted people. Then in 2020, she married her husband Christopher Robinson and the two started a podcast, "Labyrinths: Getting Lost with Amanda Knox." The pair recently celebrated the birth of their daughter last month (via the Today Show).