The Tragic Death Of Jamal Khashoggi Explained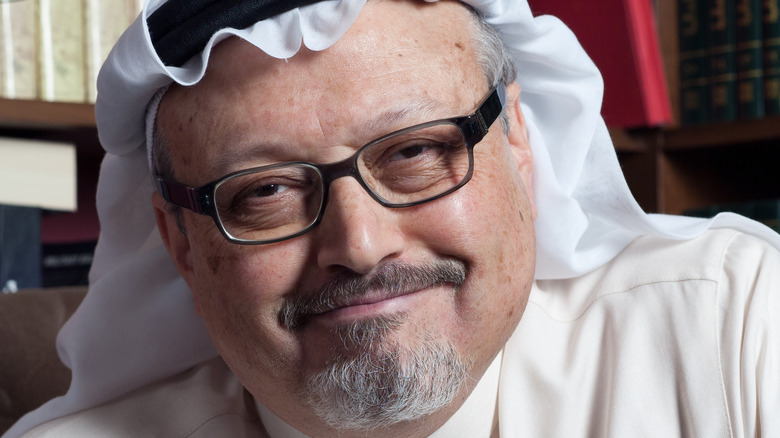 Hany Musallam/Shutterstock
On October 2, 2018, Jamal Khashoggi entered the Saudi Consulate in Istanbul, Turkey and never left (via Al Jazeera). The US-based journalist was a Saudi Arabia native who was a columnist for the Washington Post. According to Insider, Khashoggi was often critical of the Saudi Monarchy, including Crown Prince Mohammed bin Salman and his policies. This would ultimately prove fatal for the 59-year-old. Khashoggi had gone to the consulate in order to receive the proper documents he needed to marry his Turkish fiancée, Hatice Cengiz. She had accompanied him to the consulate but stayed outside while he went in. After three hours of waiting, Cengiz knew something was wrong.
Khashoggi had once been close to the Saudi royal family and was formerly an adviser. When he fell out of favor, he feared being arrested and moved to the U.S. in 2017. Per the BBC, the Saudi government stated that Khashoggi had left the building within minutes and had no involvement in his disappearance. However, it's now widely agreed that he was killed at the consulate and dismembered on orders of the Saudi Prince (via NPR). Despite this conclusion, both Saudi Arabia and Turkey have different stories on what exactly went down when Khashoggi walked through the consulate's doors.
Accounts of what happened to Jamal Khashoggi vary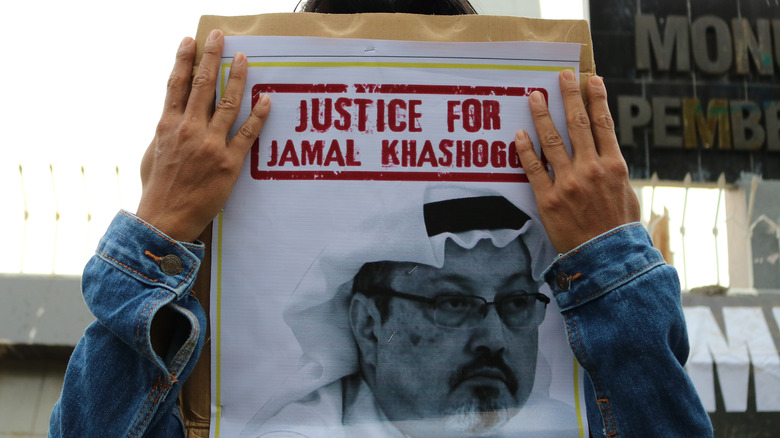 Herwin Bahar/Shutterstock
Although the Saudi government denied for weeks that they had anything to do with Khashoggi's disappearance, they soon changed their story (via Insider). According to the BBC, they stated that Khashoggi had been murdered by what they called a "negotiations team" after resisting being forced back to Saudi Arabia. First, they said it was a chokehold that caused his death and later an overdose from attempts in restraining him. Whatever the cause of death was, Saudi officials agreed he had been dismembered and disposed of. Per NPR, five unnamed men were later sentenced to death by Saudi courts for their alleged involvement in the murder. However, Turkish officials have a slightly different version of events.
They believe several Saudi agents and intelligence officers arrived in Istanbul to murder Khashoggi and that he was suffocated as soon he walked into the consulate. His body was dismembered and destroyed. Despite the varying accounts, Al Jazeera reports that in 2021, U.S. intelligence concluded that Prince Mohammed bin Salman not only knew of the murder plot but what was behind it. This coincides with a 2019 report from the UN (via BBC). Even with these conclusions, the truth of what really happened to Khashoggi will perhaps remain forever unknown. His body has never been found and Saudi Arabia refuses to answer any questions about the murder. His fiancée, Cengiz, recently pleaded for Justin Bieber to cancel an upcoming performance in Saudi Arabia. She urged Bieber to not perform for Khashoggi's killers and to take a stance (per Reuters). As of this writing, the event remains on the schedule, though Human Rights Watch (via Reuters) asserts that "Saudi Arabia has a history of using celebrities and major international events to deflect scrutiny from its pervasive abuses."