How Tom Hanks And Fred Rogers Are Related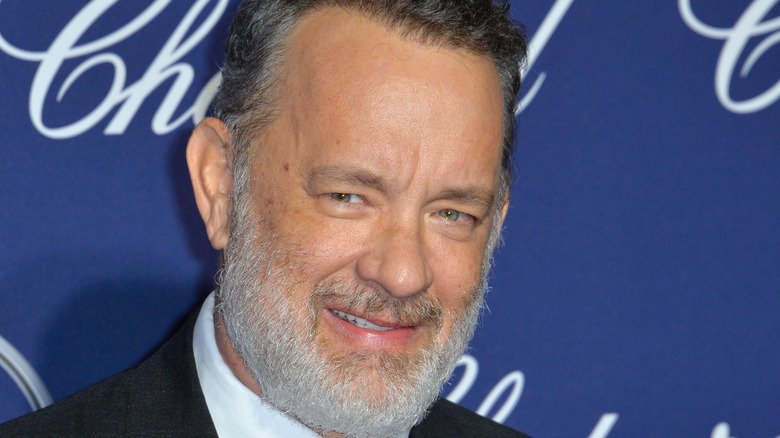 Featureflash Photo Agency/Shutterstock
One of the most beloved figures in the history of American television was Fred Rogers. His iconic tv show, "Mister Rogers' Neighborhood" was one of the longest-running and most successful programs in history. He used his musical and theatrical talents to entertain and educate children for more than three decades. Through the use of puppets, songs, and various "neighborhoods" created from his own imagination, Rogers left a lasting impact on multiple generations of children. Not only did he entertain kids in their homes, he even testified before the U.S. Senate to stop cuts to funding for national public television, which he felt would negatively affect the children. Though Fred Rogers is a national treasure in his own right, it turns out he has a connection to another American icon, actor Tom Hanks.
Tom Hanks is one of those Hollywood guys that you never hear anything negative about. During his 40-year acting career, he has starred in multiple blockbuster films, including "Saving Private Ryan," "Castaway," "Toy Story," and, of course, the memorable "Forrest Gump". He has been rewarded for his acting talents with multiple Emmys, Golden Globes, and two Academy Awards. In 2016, he was even awarded the Presidential Medal of Freedom by President Barack Obama for his contributions to the arts. Hanks has portrayed many famous figures during his career, and in 2019, he signed on to be the legendary Mr. Rogers in "A Beautiful Day In The Neighborhood." He had no idea when he took the role that he would be getting a whole lot closer to Fred Rogers than he could have ever imagined.
The Mr. Nice Guy Gene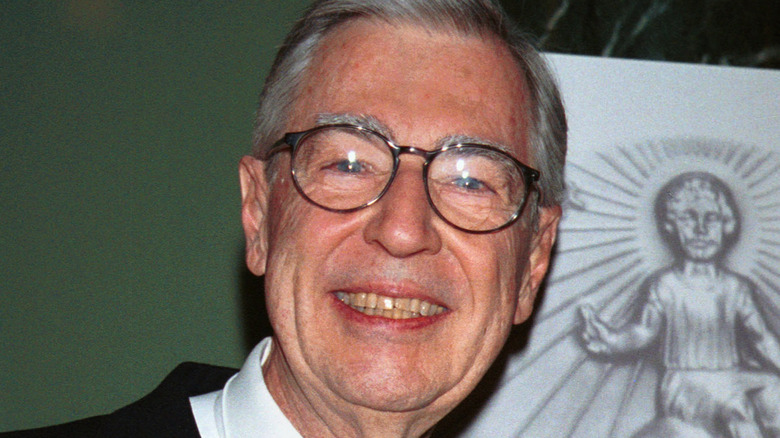 Arnaldo Magnani/Getty Images
When watching "A Beautiful Day In The Neighborhood," it's easy to see how the resemblance between Tom Hanks and Fred Rogers is almost uncanny. Most would assume that is simply because of good costume design and great makeup, but there may be more to that than meets the eye. According to Time, Hanks and Rogers are actually related. No joke. Research on Ancestry.com showed that the two had a common ancestor, who emigrated to the United States from Germany. The two are legitimately sixth cousins due to this connection. 
The video of Tom Hanks and his wife's reaction to finding out the news is one of the most wholesome things you could imagine. Fred Rogers' widow is even quoted as saying, "Fred would have loved it. He loved family tree stuff." Hanks also has a link to another famous American, President Abraham Lincoln. Both Tom Hanks and Fred Rogers are known for their kind and compassionate natures, so it is fair to speculate there may be a genetic component at play there.