The First Lady Who Created Themes For White House Christmases
Tasos Katopodis/Getty Images
Christmas is a time of tradition, when homes all over the world are decorated with festive lights and welcoming decor. One of the most reliable and most anticipated holiday traditions, in the United States at least, is the annual establishment of a theme for the White House Christmas decor, led primarily by the vision of the first lady of the administration in office at the time. Year in and year out, how the White House ends up decorated for the holiday is seen as not only a reflection of the nation's mood, but also the priorities of the president.
Different presidential administrations have been adding Christmas decorations to the White House for decades. According to Town & Country Magazine, in the 1930s and '40s, Franklin Delano Roosevelt not only held a holiday church service, his White House had Christmas trees with real candles. Prior to that, some degree of Christmas decoration was added to the White House as far back as the late 19th century administration of President Benjamin Harrison. As we know it today, though, the headline-grabbing reveal of the first lady's choices of White House Christmas decor is a much more recent phenomenon than many people think.
Jackie Kennedy was the first to do it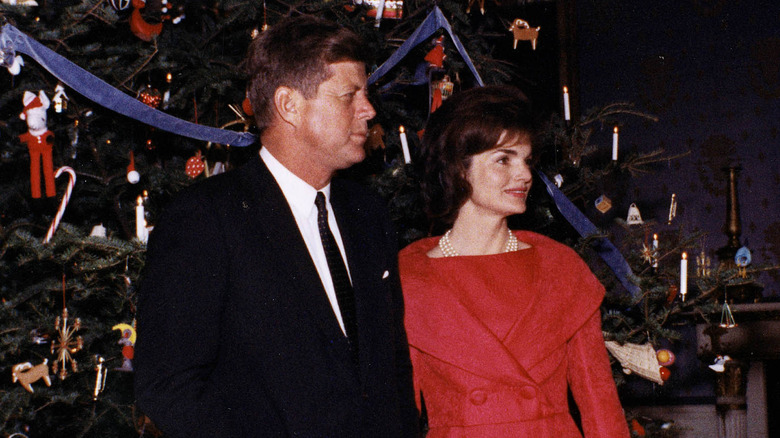 Darren Mccollester/Getty Images
Although different administrations have decorated the White House for decades, Jackie Kennedy (above, with her husband, John) started the tradition of the first lady picking a White House Christmas theme in 1961, according to White House History. The Kennedy administration — an era known by some as Camelot — was a time of hopeful idealism, but the Kennedy family were seen as style icons, representing a shift in power to a new, younger generation. For this reason, everything the Kennedy family did — from how Jackie dressed, and of course, how she chose to decorate her home for the holidays — became front page news. 
After first ceremoniously revealing her vision for the 1961 holiday spent at 1600 Pennsylvania Avenue, she would go on to put a Christmas tree in the entrance hall of the White House in 1962, resplendent with packages, ornaments, and candy canes. Partially due to the popularity of the Kennedy administration and the tragic death of President Kennedy in 1963, the tradition of the first lady leading a theme for the White House Christmas celebration stuck. Revealing the holiday's theme is now a highly-anticipated point in the Washington D.C. Christmas calendar.