This Is The First President To Put A Christmas Tree In The White House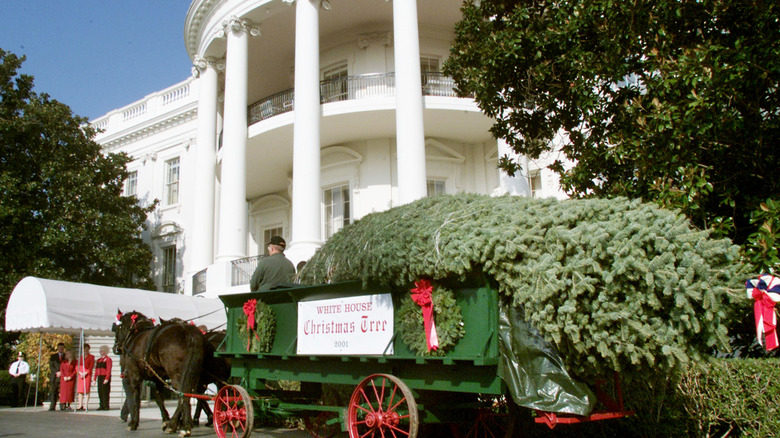 Mark Wilson/Getty Images
For as long as any of us can remember, dozens of sparkling Christmas trees have had a place in and around the White House as a matter of holiday tradition. But that wasn't always true — a tree in the White House wasn't always what it is today. For nearly all of the 19th century, first families decorated for the holidays in the president's residence with understated greenery, such as wreaths and garland punctuated with ornaments.
Who was the first president to put a Christmas tree in the White House? Although there are conflicting reports, the White House Historical Association states that the first president on official record to have a Christmas tree was 23rd commander-in-chief, Benjamin Harrison, in 1889. The Christmas tree was placed upstairs in the second floor Oval Room, which at the time was used as a library and family gathering spot. The tree was reportedly decorated with candles, toys, and ornaments to delight his grandchildren. According to the White House Historical Association, executive clerk William H. Crook, who had known the White House intimately since Lincoln's time, described the Harrison tree on Christmas morning thusly: "From the topmost point to the floor it was laden with decorations, with toys innumerable for the children and gifts for the older ones."
Harrison's Christmas celebration was marked by family tragedy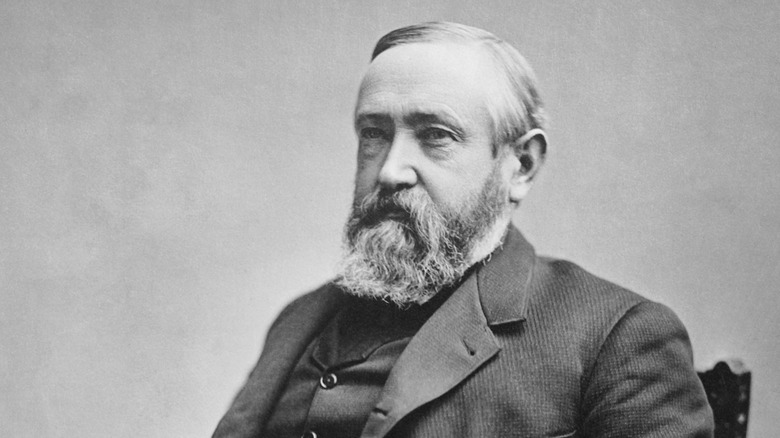 Everett Collection/Shutterstock
December 1889 was a difficult month for the first family, filled with death and melancholy, according to Mental Floss. Elizabeth Lord, sister of first lady Caroline Harrison, died on December 10 following a long struggle in the hospital. Just three days later, the president's 25-year-old nephew, William Sheets Harrison, also faced an untimely death. The newly-elected president found little comfort in his new home at 1600 Pennsylvania Ave., writing, "This big house — about which I wander without any sense of its being a home," according to biographer Charles W. Calhoun's "Benjamin Harrison: The 23rd President, 1889-1893."
Still, Harrison made an effort to bring some joy to his family on that Christmas by being the first resident of the White House to put up an indoor Christmas tree. With his grandchildren spending the holiday at the White House, he later said, "I am an ardent believer in the duty we owe ourselves at Christmas to make merry for children at Christmas time," according to the Benjamin Harrison Presidential Site. The room was also decorated with holly, "prince's feather" ferns, and sprigs of mistletoe. Per the White House Historical Association, in the center of the room was what one onlooker described as "the most beautiful and perfect tree that could be found in all the country."