The History Of Writing Letters To Santa Explained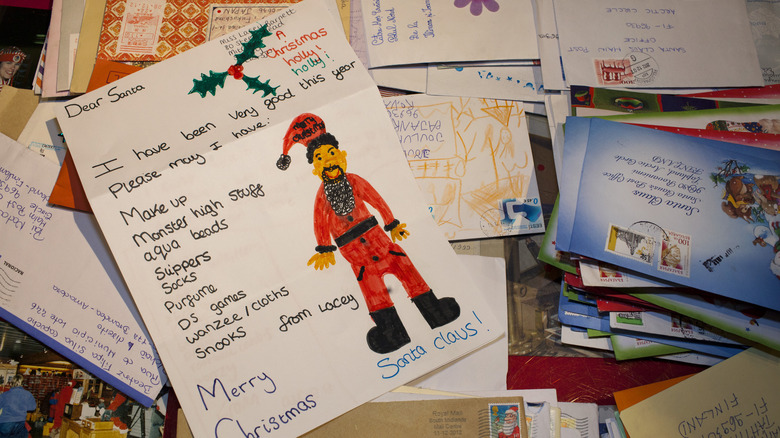 Peter Dench/Getty Images
It's hard to imagine a time when children didn't write letters to Santa Claus, but the idea of sharing a wish list with the big guy in the red suit is actually a fairly modern idea. The whole phenomenon of communicating with jolly St. Nick really started up in the 1800s, and, in the beginning, it was Santa who did most of the talking. According to a 2015 report in Smithsonian Magazine, children used to receive messages from Santa. The Santa from this era was a strict, no-nonsense kind of fellow who gave kids pointers on how to improve their behavior. He was definitely a tough enforcer, trying to keep children off the naughty list.
At first, messages to and from Santa were left by fireplaces — a logical move, considering that's where he made his entrance and exit from people's homes. After the Civil War, sending letters in the mail became more popular and more affordable. And how the public perceived Santa changed as well. Images of the merry man in the fur-trimmed suit, drawn by famed cartoonist Thomas Nast, began appearing in Harper's Weekly, and it is Nast's interpretation of Santa that has endured into the modern era (via History Daily). For his depiction of Santa, Nast found inspiration in the 1822 poem "A Visit from St. Nicholas" by Clement Clark Moore (now better known by its first line, "T'was the night before Christmas"). This kinder, gentler Santa was soon on the receiving end of a lot of letters.
U.S. Postal Service helps handle Santa's letters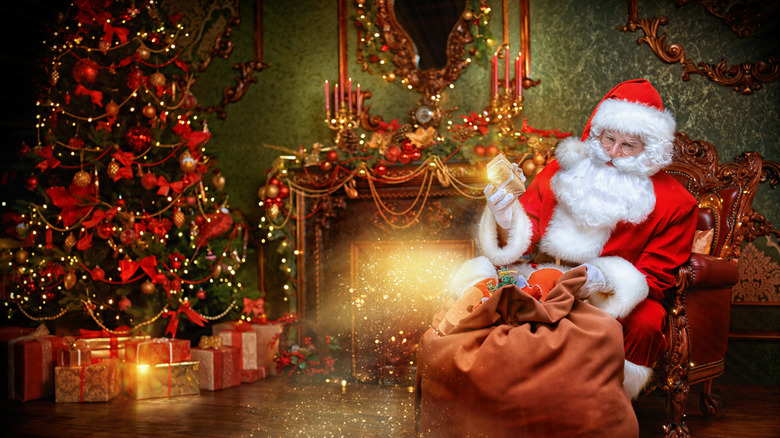 Kiselev Andrey Valerevich/Shutterstock
In the beginning, letters to Santa really didn't have a clear destination. Some of these notes found their way onto the pages of newspapers, but a lot of them ended up in the dead letter office of the Post Office Department (via Smithsonian Magazine). Charitable organizations requested access to these notes from children with hope of answering all these requests. In 1912, the Post Office Department made a change in its official policy to help with the letters (via the United States Postal Service). It allowed local postmasters to handle these Dear Santa messages in their own communities, letting postal employees and other community members review and respond through a program called Operation Santa.
In the following decades, the postal service received so many letters to Santa that it sought support from charities and businesses to help them out. Operation Santa went digital in 2017 with a pilot program in New York City, and then the program rolled out nationwide in 2020. The process is pretty simple: the postal service receives the letters and removes all the personal information before making the letters available online. Then generous individuals review the letters and select to adopt one if they so choose. The postal service will handle the delivery of the gist. So anyone from any community can adopt a letter from Santa and spread a bit of holiday cheer. And those looking to send their own note to Santa, his official address is 123 Elf Road, North Pole 88888.