The Tragic Murder Of Playboy Playmate Dorothy Stratten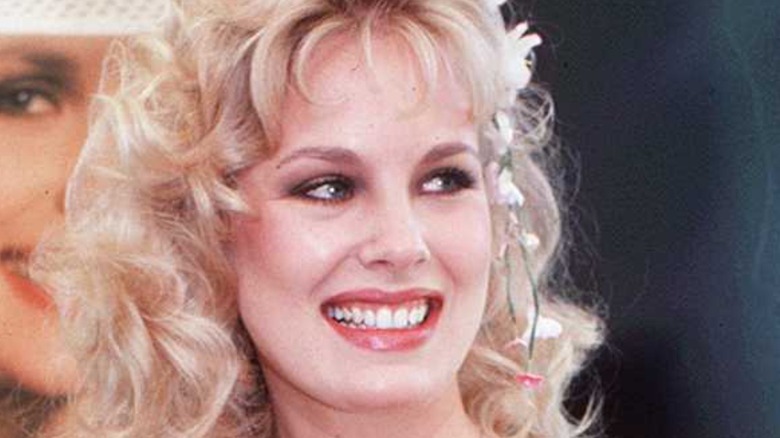 Julian Wasser/Online USA Inc./Getty Images
In 1977, Dorothy Hoogstraten was a 17-year-old working at a Vancouver, B.C. Dairy Queen when in walked her future husband, Paul Snider (via Harper's Bazaar). According to Heavy, Snider was a local pimp and hustler who took one look at the statuesque blond and knew he had found his next meal ticket. The 26-year-old Snider began grooming Stratten. He lavished her with gifts and even took her to her senior prom (per ABC News). He eventually convinced Stratten to pose nude so that he could submit the photos to Playboy. It was a decision that would ultimately change and end her life.
Shortly after, she headed to Los Angeles and became Playmate of the month for August, 1979. With her career on the rise, and her name changed to Stratten, she was on her way to becoming a star. People reports that in 1979, Stratten and Snider got married. Her inner circle, including Hugh Hefner, opposed the marriage. They saw Snider for who he was; a sleazy opportunist who was using her for money and fame. Stratten, however, felt like she owed her success to Snider. As the marriage unraveled, All That's Interesting states, Snider became more controlling and jealous.
Dorothy Stratten's relationship with Peter Bogdanovich may have enraged Snider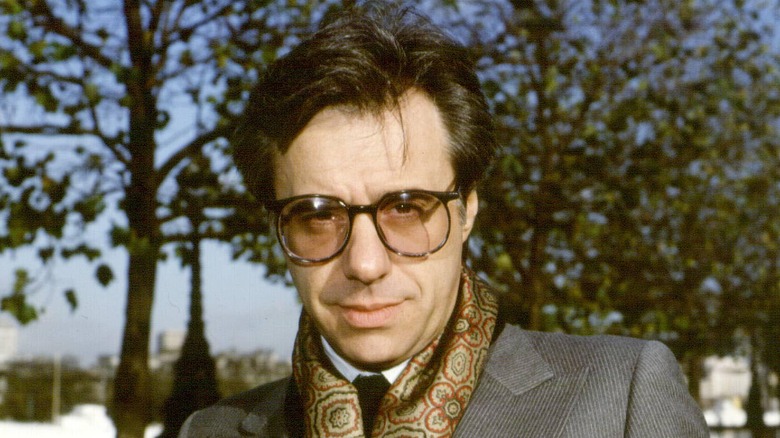 Avalon/Getty Images
According to People, as Dorothy Stratten's Playboy fame grew, she turned her focus to acting. She starred in "Galaxina" and later got the opportunity of a lifetime when director Peter Bogdanovich (above, in 1982) cast her in "They All Laughed" with Audrey Hepburn (via Harper's Bazaar). 
It's during this time that Stratten and Paul Snider separated. Stratten then quietly began a relationship with Bogdanovich during filming. The pair had previously met at the Playboy Mansion and had hit it off. "She wasn't simply beautiful, but unbelievably exquisite beauty ... Her beauty was like an extraordinary mirage, too glorious to be real," Bogdanovich would later write of Stratten in his book, "The Killing of the Unicorn," as noted by Harper's Bazaar.
Although she felt guilty for leaving Snider, All That's Interesting states, Stratten was ready to divorce him. Snider, however, did not want the marriage to end. "As she started to slip away, he started to realize he owned nothing," actor Mariel Hemingway, who portrayed Stratten in "Star 80," claimed (via Heavy).
Dorothy Stratten was only 20 when she died
On August 14, 1980, the estranged couple met at the house they once shared to discuss details of their impending divorce.
Heavy reports that's where Paul Snider, presumably upset by their breakup, brutally attacked and murdered Dorothy Stratten. The 20-year-old had been beaten and raped; the cause of death was a shotgun blast to the face. Snider had then turned the 12-gauge shotgun on himself. According to the Associated Press, she had been "found sprawled across a bed near that of her estranged husband." Both naked, Stratten and Snider's bodies were reportedly found a day after their deaths. Blond hair was said to have been found in Snider's hand.
Per ABC News, Peter Bogdanovich was devastated over Stratten's death. In his book "The Killing of The Unicorn," Bogdanovich blames Hefner and Playboy for Stratten's death. Stratten's friends have gone on to say that her only flaw was not being able to see the evil in people.